As any adventurer knows, forgetting essential items can happen. That's why you should use a thorough hammock camping equipment checklist while packing for your next trip out in the great outdoors.
In this ultimate guide, you'll learn about everything you need to bring with you on a hammock camping trip. By the end of this checklist, you'll be fully prepared to lace up your hiking boots, zip up your hiking bag and head to your next campsite.
What do you need to take on a hammock camping trip?
Have you ever seen hammock campers? They make it look extremely easy and care-free just swinging away between trees like that. But what may surprise you is that there's a lot more to it than meets the eye, particularly in the equipment department.
You might feel pulled to just go with the bare essentials on your next camping trip. But oftentimes, you'll find you're lacking in comfort or flexibility. Instead, use this hammock camping equipment checklist and gear up for a cozy night under the stars!
Here are 16 must-have items to be ready for any type of hammock camping adventure that comes your way.
1. Your hammock
It would be quite difficult to go hammock camping without a hammock, don't ya think? Still, it's worth mentioning because it is definitely possible to forget to pack the main player here. Plus, you'll want to take the time to carefully select your hammock, especially if you have several options for different climates.
Generally, the best hammocks for hammock camping will be lightweight yet durable. No need to get one with all the bells and whistles on it for warmth or comfort as there are better secondary items you should pack that will take care of both just fine. Instead, your main concern should be with your hammock weight. Aim for hammocks specifically designed for outdoor camping and backpacking rather than leisure.
When in doubt, aim for quality over anything. The last thing you want to have when hammock camping is a faulty hammock that tears, breaks, or slips.
2. Suspension system
How are you going to hang your hammock is the next big question — rope, cord, or tree straps? Tree straps are the best solution to hang a hammock, as they do not harm or scar the trees like hooks or cord do.
Hammock straps are also the easiest to set up and are better for making exact adjustments to suit your needs for height and length between trees. Luckily, hammock straps aren't expensive and they pack up pretty small in your bag making them easy items to include in your hammock camping equipment.
3. Sleeping pad
A common tool to use when tent camping or hammock camping is a foam or inflatable sleeping pad. While sleeping bags compress under your weight throughout the night, allowing cold air to seep in, sleeping pads act as an extra layer of cushioning to prevent just that.
That said, sleeping pads work well but can be tricky to keep in place as you try to bend the shape to make it fit inside the hammock. One way you can prevent slippage is by using an accessory sleeve. If you're having trouble with an air pad, try deflating it just slightly so it conforms better to the shape of your hammock.
Alternatively, you could invest in a hammock underquilt!
4. Underquilt
Underquilts are arguably one of the best pieces of hammock camping equipment. They get rid of sleeping bag compression and therefore "ice butt syndrome" entirely by lining the outside bottom of the hammock for extra insulation.
When searching for the right underquilt, consider temperature and weight. Ideally, you want an underquilt that will keep you toasty even if the fall or wintery night temperature drops down to 20 degrees or below.
You should also seek out underquilts that are lightweight for easy portability. Some underquilts can be as light as 1.5 pounds, whereas some underquilts made for all seasons can weigh up 3.5 pounds or more.
5. Top quilt
Like underquilts, top quilts are designed to keep your top body warm and dry all night.
Essentially, top quilts are like unzipped sleeping bags without the hassle. But many campers prefer the versatility and comfort that top quilts provide over sleeping bags.
Top quilts are a must when it comes to essential hammock camping gear because they pack down ultra-thin without sacrificing on protection and insulation.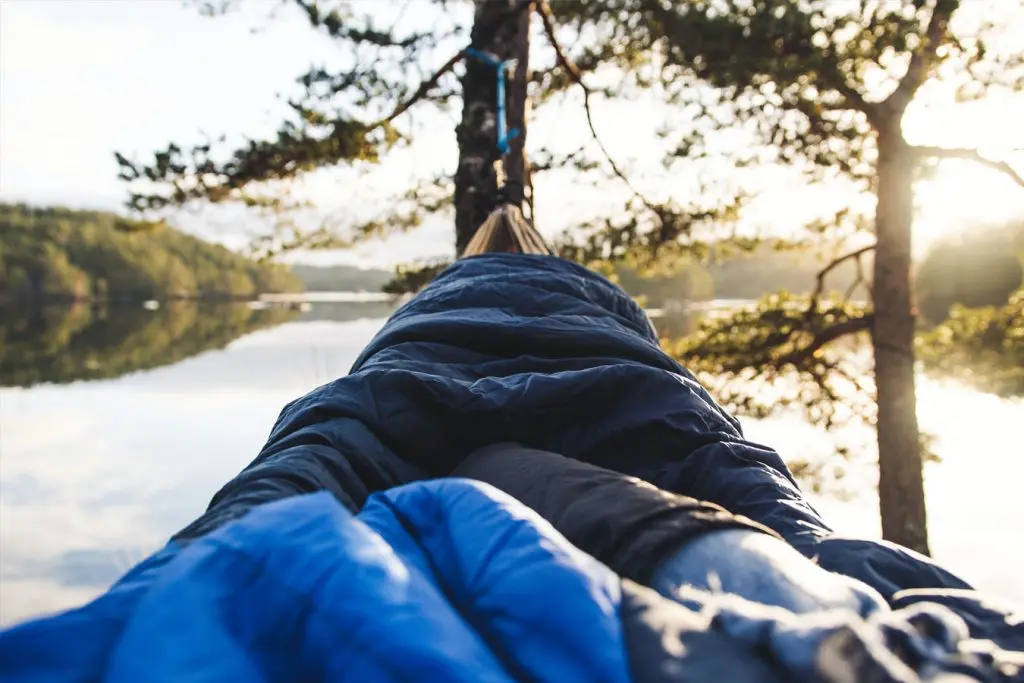 6. Rain tarp (or rainfly) + extra tarp
When the weather turns sour, reach for this next hammock camping staple – the rainfly. A hammock tarp or rainfly is one of the items you do not want to skip on your hammock camping equipment checklist! Without one, there's no other way to stay dry should it rain while you're camping.
Hang your tarp higher than your hammock with a ridgeline so that it slants and creates a tent-like dome over your hammock. This way, rain will expel and run down the tarp past your hammock leaving you safe and dry. But a rainfly is not only great at protecting you from the rain. It protects you from the sun's mighty rays on a hot day, too!
You might also want to bring spare tarp just in case you find an inconvenient hole or tear that could cause leakage and put a damper on your trip.
7. Bug net
If there's any drawbacks from camping in a hammock, it's being exposed to all sorts of biting insects and creepy crawlers. That's where a bug net comes. Many camper hammocks don't come with a bug net accessory. Instead, you might want to invest in a high-quality bug net suitable to your budget (most nets range in price from $15-50).
8. Camping pillow
Have you ever slept in a hammock without a pillow? Some argue that hammocks have the perfect curvature to rest your head. But most find it not to be very comfortable for one of two reasons; either your neck hangs back awkwardly or your face uncomfortably presses against the bare nylon fabric of the hammock.
Luckily, packing a camping pillow doesn't take too much space or hassle. You'll thank yourself for including it in your hammock camping equipment checklist later when you get a blissful night's sleep in your hammock!
9. Ridgeline
You may have heard about hammock ridgeline length before if you've ever gone hammock camping. Ridgeline lengths should measure around 83-85% of the total hammock length.
Most hammock tarps or bug nets will already have a ridgeline which you can suspend above your hammock from one gathered end to the other.
Ridgelines are useful for hanging your accessories and personal items to keep them within easy reach whilst inside the hammock. For example, to keep your boots dry off the ground and protected under your rainfly, you could hang them from your ridgeline.
You can make do without a ridgeline, but they're easy and lightweight and will make life just a smidge easier when out hammock camping.
10. Stakes
Although stakes are normally used for tent camping, they do have their uses for hammock camping as well. For example, if your hammock tarp or rainfly is swaying too much in the wind, you can use a stake and guyline to secure it into the ground. If you don't have stakes, you could use a nearby bush or tree, but it won't be as effective for tightening the tarp or hammock down.
11. Guylines + extra guylines
Guylines – aka ropes or cables – are another hammock camping necessity that often can get lost in the midst of packing for a hammock camping or hiking adventure.
They're extremely useful when it comes to securing your hammock, rainfly, or bug net in places that are loose or need structure. You never know exactly how many guylines you'll need as your destination can be unpredictable, so it's worthwhile to pack a few extra.
12. Carabiners + extra carabiners
Carabiners – the metal loop hooks to attach your hammock or gear – are so small they can be easy to forget at home. They are handy little tools for all types of purposes but are mainly used to safely secure your hammock to its suspension system.
The types of carabiners to get for hammock camping should be hefty-duty. So while clipping water bottles to your backpack might come in handy, that's not what carabiners are really meant for. With that said, don't leave these little guys behind!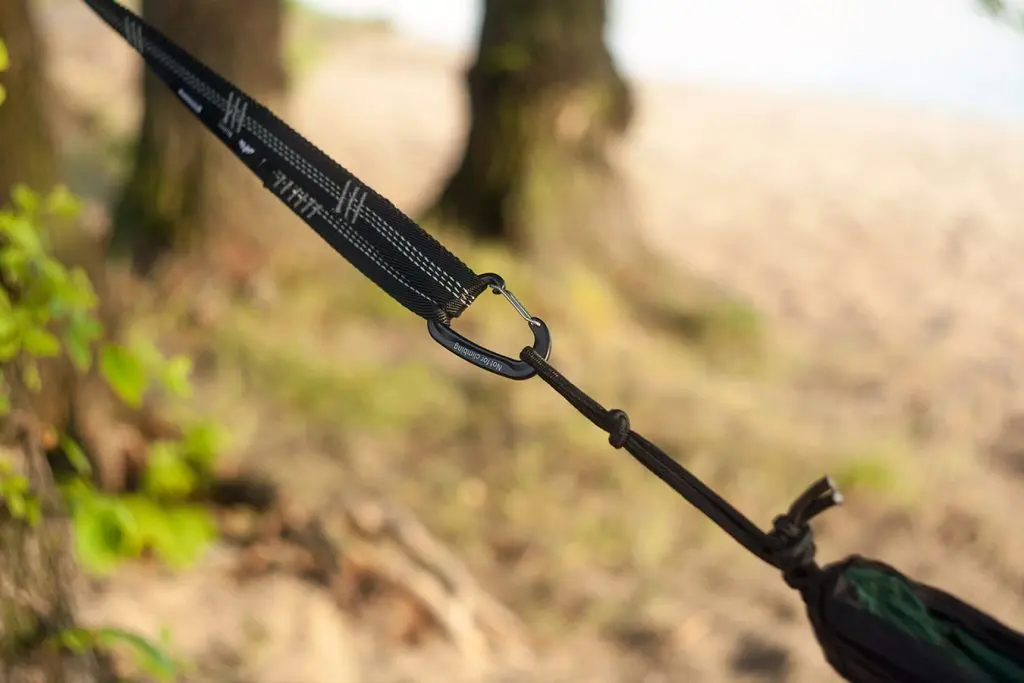 13. Paracord
The paracord, or parachute cord or 550 cord,  is a staple item in any hiker or camper's survival kit. Paracords, thanks to their durability and thickness, have multiple uses ideal for hammock camping. You can use it for securing your suspension system, camping gear, and more.
Remember to keep in mind that, should you use a paracord for securing your hammock, it should be able to carry more than your body weight.
14. Food & water
How much food and water should you take to go hammock camping? It depends on how long you intend to camp for, but you should plan for at least 2x full meals per day, high-energy snacks, and 64 ounces of water per day per person.
You can either prepare your meals in advance to keep cooking while camping a minimum, or pack a whole lot of fresh produce and meal ideas to cook on a portable stove.
15. Stove & fuel
If you plan to hammock camp for a week or more, it's wise to bring along your own stove and fuel to prepare meals as you go. Because let's face it – making a fire every night to cook a hot meal isn't really ideal. And rather than packing several cooler bags full of already prepared food that may spoil or attract wildlife, using a portable stove and fuel will save you lots of frustration, time, and money.
There are several types of backpacking stoves to choose from, such as: Pressurized liquid fuel stoves, canister stoves, alcohol stoves, wood stoves, and more. Which method you choose will depend upon your camping needs, but if you're camping solo or as a couple, all you really need is an ultralight canister stove that burns isobutane/propane mix.
16. First aid kit
Last but not least on this hammock camping equipment checklist is a handy first aid kit. No need to explain why you need one, other than the fact that it's impossible to prepare for an accident when out hammock camping. Should one arise, at least you'll have a well-stocked first aid kit on hand.
When packing for your hammock camping trip, take time to make sure the basics in your first aid kit are there, such as:
Bandaids and bandages of various sizes
Sterile wipes
Antiseptic + antibacterial ointments
Pain relief medication
Any additional creams and rinse solutions
Gauze pads and roll
Extra hammock camping equipment
Depending on the duration and destination of your trip, you might also want to include some of these common camping items and accessories:
Knives
Extra paracord
GPS or maps
Spare towels and clothes
Dry bag
Emergency needle and thread + tape
Flashlight
Biodegradable sunscreen
Summary
The above hammock camping equipment checklist details the most essential tools and gear you should bring with you on your next trip!
If in doubt, check back here to see if you've got everything covered. Happy camping!
Related guides
35 Hammock Tips For First-Time Campers
How Do You Camp With A Hammock?
How To Find The Right Portable Hammock Camping Stand
How To Take Your Dog Hammock Camping