Often overlooked, a hammock sleeping pad is considered one of the most important items of camping gear to ensure warmth and comfort during the night.
In this article we take a deep look into what makes these pads such a useful and versatile companion when hammock camping, and discuss what exactly we need to look out for before purchasing one.
Do you need a sleeping pad with a hammock?
For most people, sleeping in a hammock is an extremely comfortable experience, however during the evening and night when temperatures drop, there is little to no insulation to protect you and sleeping bag from the cold air coming up from the ground; and this is where a sleeping pad comes in.
Often compared to underquilts, a sleeping pad sits between you and the top of your hammock. Some users however prefer to place the pad inside their sleeping bag, as this can also stop it from moving around and add stability to the entire sleeping setup.
When comparing a sleeping pad to an underquilt, a sleeping pad is much more versatile than an underquilt as it can also be used on the ground. But most importantly, it is the air-space inside the sleeping pad that provides the much-needed nighttime insulation. An underquilt does not have this.
With the right approach, a sleeping pad can be both comfortable and insulating, providing extra warmth during both the night and day.
Advantages of using a sleeping pad
Hammock sleeping pads are made for thermal protection. Their main role is to trap air between the cold hammock and the user. Here's what users say the benefits of a sleeping pad are.
An extra layer of insulation against cold air.
Improved comfort with extra cushioning.
Helps maintain body temperature.
Keeps the user dry.
Types of sleeping pads
Closed-cell foam pads, inflatable pads, and self-inflating pads are the 3 types of sleeping pads that are predominantly used today. Neither one of them is truly superior to the other however, as each has its own merits and uses.
Closed-cell foam pads
Closed-cell foam pads or simply foam pads are made from foam, as their name suggests. There's no air that can come out of these sleeping pads which makes them highly durable, and risk adverse to punctures.
Typically smaller, these foam pads are also practical as many of them fold and role up to be attached to the underside of a backpack.
While they come in different thicknesses, the main drawback of a closed-cell foam pad is that they lack cushioning or proper support. In a hammock, this might not be as big of a problem. But if used on the ground for a quick nap it won't offer sufficient cushioning from small rocks and rough ground.
Inflatable pads
Inflatable pads are hard to match for comfort, since they tend to be the thickest, and therefore provide the most cushioning. When fully deflated, they're also the smallest as there's only thin nylon left without the air, which helps with storage space.
A disadvantage of using this type of pad however, is that under the user's weight the air can get displaced, and both thermal insulation and comfort can suffer.
This is what led some manufacturers into creating additional support to minimize air displacement. Inflatable pads can also be prone to puncture and/or losing air during the night, especially in cold weather when its materials contract.
Self-inflating pads
Self-inflating pads pride themselves for not requiring user input. They come with an air valve, normally in one of the 4 corners, that allows air in and out with quick clockwise and counterclockwise movement.
However, most self-inflating pads are not truly independent as they do often require several breaths from the user to get them started.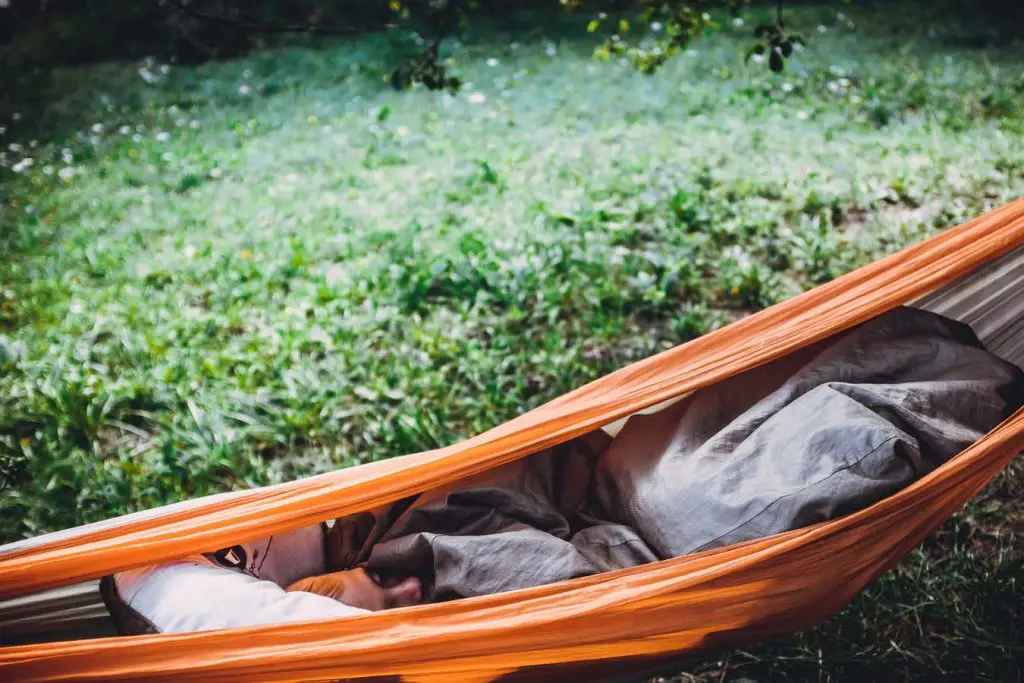 How to choose the best sleeping pad for your hammock
When it comes to choosing the best sleeping pad, it's all about the details. Not all of them are made the same, and those new to the outdoor world should learn how to assess them via their most common characteristics.
R-value
The amount of insulation a sleeping pad provides can be quantified under its R-value. This rating system is used to guide users on the thermal level of a sleeping pad. The higher the R-value, the more thermal protection provided.
The R-value can also be tied to seasons and their changing temperatures. During the warm months of summer nights, users can rest on sleeping pads with an R-value of 2 or 3. As the temperature begins to drop, outdoor enthusiasts need to choose a higher R-value rating of 4, especially in conditions close to freezing temperatures.
Warmth
A sleeping pad improves thermal insulation. But many still use them with a sleeping bag. When it comes to pure warmth, underquilts are superior as they come with the wrap-around design. But as seen above, sleeping pads use thin nylon materials which generally allows them to be lightweight.
The R-value of the sleeping pad is the value used to determine warmth. In general, it's difficult to rely on R-value alone to establish thermal protection as they're mainly used with sleeping bags. But they can be categorized as follows
Warm weather – R-value of 2
Cool-weather – R-value ranging from 2 to 4
Cool-weather – R-value ranging from 4 to 5.5
Freezing temperatures – R-value of 5 and above
D-value
D-value or denier-value is used to measure the durability of materials such as nylon. Manufacturers often advertise sleeping pods made out of 40D or 20D nylon.
This refers to the D-value of the material. The lower the D value is, the lighter the nylon is. However, low D-value nylon is less durable. High D-value of 50D and above nylons are thicker and heavier. But they're also superior in terms of durability.
Materials
The cover of the sleeping pad is often made out of nylon or polyester. The material is lightweight and affordable, which makes it a popular solution for hiking and camping. Within the sleeping pad itself, the air is what determines the price of the sleeping pad further.
Air sleeping pads are the most expensive and the most popular. Some sleeping pads are filled with synthetic materials and they require no air at all. These can be slightly harder to come by, but feature materials such as memory foam for thermal insulation.
Pads vs underquilts
The pad vs underquilt debate is highly subjective and a matter of personal preference. While many users find an underquilt to be more comfortable, there are instances where the sleeping pad performs better. For example, those who also like to sleep on the ground will find sleeping pads far more versatile.
In some instances there is also an issue of user size. A few outdoor fans note most sleeping pads are limited to 20" width, which is not enough to insulate the shoulders.
Shape
Depending on the manufacturer, there are various sleeping pad shapes. Those who've slept on a straight sleeping pad know they can slide easily. This is where the V-shaped sleeping pad comes in handy as is prevents this.
Air sleeping pads come with a fixed shape. Some closed-cell sleeping pads, as well as foam sleeping pads, can be cut to a very specific shape, which may help to shorten the sleeping pad or making it narrower to fit the hammock better.
Packing and storing
Low bulk materials such as nylon can be popular when it comes to packing and storing as they save space. Once deflated, they can measure only 9in X 3.5in and can easily be attached to a backpack. The weight of the sleeping pad can also vary between 8oz and 15oz for most popular products available today.
Noise
Sleeping pad noise is a real issue for comfortable sleeping. The scratchy nylon noise is something that can't really be minimized, especially in contact with a sleeping bag. Nylon and polyurethane materials are noisy regardless of the type of sleeping pad and its thickness.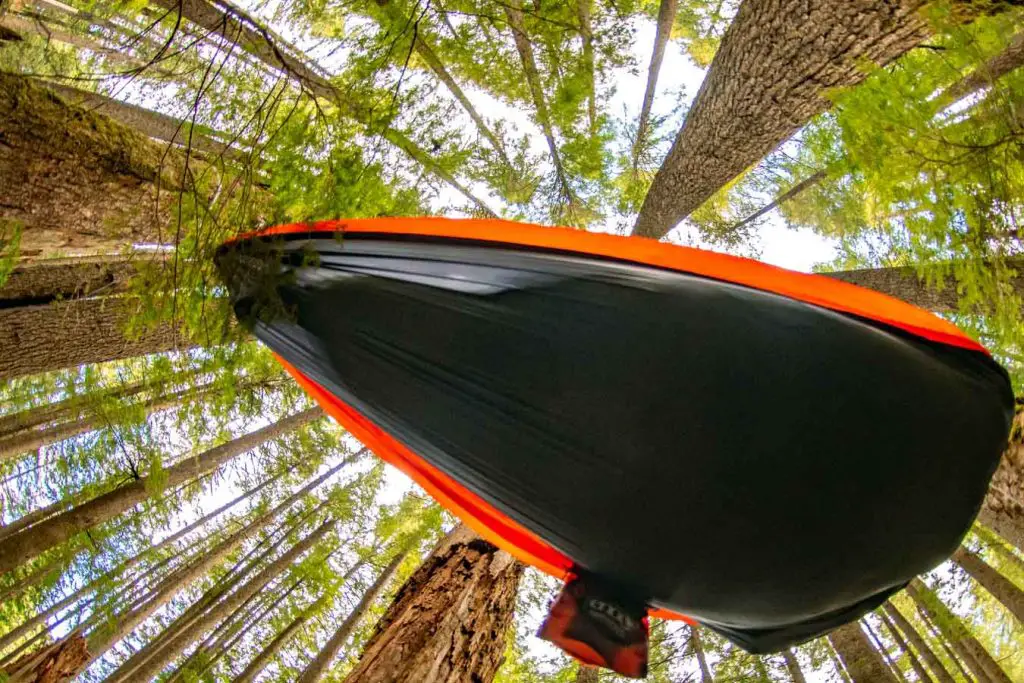 Air pads vs foam pads
Air pads and foam pads are different. Due to the materials, foam pads are more expensive but they can also represent a more versatile option. Here are the mains strengths of the sleeping pads.
Inflatable sleeping pads are more comfortable
The extra air in the sleeping pad allows proper cushioning. This can't be achieved with most foam pads with a foldable profile. Today, inflatable air pads are also made with multiple seams and structural support to keep the air from moving around and offer support in the right and key areas.
Lightweight and reliable in warm weather
Air pads are very lightweight. Their thin materials are a good option for those hiking with heavy gear, or for anyone who prefers to travel light.
Foam pads prevent punctures
On the other hand, foam pads have their advantages. Preventing punctures is often stated as their biggest asset, which makes them more durable. From this perspective, they can be useful for frequent users.
Due to the nature of the materials, foam pads have a higher R-value rating. Users who prefer to use a hammock outside the warm summer months might need to also choose a foam pad for extra thermal comfort.
Foam pads now come in foldable designs which means they can be used on the ground as well, without the risk of punctures. Once folded, they can be used as sitting surfaces replacing chairs.
---
The best hammock sleeping pads ranked
With these characteristics in mind, anyone looking to spend one or multiple nights outdoors in a hammock, can choose one of the following sleeping pads to relax and stay warm.
01 – Klymit Static V Lightweight Sleeping Pad
Dimensions – 72in x 23in | Packed Size – 3in x 8in | Weight – 18.1 oz | Thickness – 2.5in | Material – 75D polyester | R-Value – 1.3 | Pad Type – Inflatable pads
This sleeping pad comes with a supportive nature and only takes up to 15 breathes to fully inflate.
Based on 75D polyester materials, it's one of the most durable options for frequent users. Anyone into serious camping is going to need a thicker type of polyester, such as the 75D.
Available in 7 colors, it also suits all types of camping gear from a design perspective. Klymit focused the design efforts in creating the V-shaped construction which has 2 main benefits. Firstly, it limits slipping on the sleeping pad on the hammock, and secondly, the design with deep weld patterning prevents the air from moving around, ensuring proper support in key areas.
The sleeping pad also benefits from side rails that aim to keep the user-centered. If this is not necessarily an issue within your hammock, it can be a plus for those who might also sleep directly on the ground on occasion.
---
02 – Sea to Summit Ultralight Insulated Sleeping Pad
Dimensions – 6 ft x 21.5 in| Packed Size – 3 x 6.5 in| Weight – 13.9 oz | Thickness – 2in | Material – 40D nylon | R-Value – 0.7 | Pad Type – Closed Cell Inflatable Pads
No products found.
Dealing with thermal insulation for those with wide shoulders, the Sea Summit sleeping pad is one of the rare designs that is made wider at the top. This allows it to offer proper support for the entire length of the body. It's also available in various sizes for users of various heights.
Based on an air-sprung cell, the sleeping pad is a bit more durable than other air sleeping pads. In the case of a puncture, it's one of the few sleeping pads which can still be used based on this cell construction.
With a built-in valve, the sleeping pad is also easy to inflate and deflate. Those who like to camp or hike frequently might also find their treatments interesting. Among them, antimicrobial treatment is what makes it an interesting choice.
Practicality is also enhanced by its small profile which is useful to those who want a compact sleeping pad. Based on medium-size resolution cells, it doesn't take up too much space when folded, and it also comes with a convenient carrying bag for storage and transportation.
---
03 –Therm-a-Rest Prolite Ultralight Self-Inflating Sleeping Pad
Dimensions – 47 X 20 | Packed Size – 11×3.3in | Weight – 12 oz| Thickness – 1in | Material – 50D hex rip polyester | R-Value – 2.4 | Pad Type – Self-Inflating Pads
This sleeping pad is one of the most compact self-inflating designs on the market. With a thickness of just 1in and an R-value of 2.4, it's made for the summer months.
It represents one of the most sustainable options with its diagonally-cut foam which adds comfort and thermal protection.
The sleeping pad is available in small, medium, and large sizes. User can rely only on the size which fits them the best without carrying an unnecessarily heavy sleeping pad. But the self-inflating foam core is what makes the sleeping pod even more practical.
As many Thermarest products, the sleeping pad also comes with a lifetime warranty. Fans of the manufacturer know that with the exception of its electronics, all Thermarest products are backed by a lifetime warranty.
Users who need a dependable product that doesn't need to be upgraded in the following years might consider the sleeping pad with the extra benefit of long-term trust based on this warranty.
---
04 – KLYMIT Static V2 Sleeping Pad
Dimensions – 72 x 23in | Packed Size – 3 x 8in | Weight – 16.6 oz | Thickness – 2.5in | Material – 30D top + 75D polyester bottom | R-Value – 1.3 | Pad Type – Inflatable Pads
With 10-15 breaths, this is another sleeping pad by KLYMIT that comes ready to offer full support and thermal protection to outdoor enthusiasts. It combines thin and thick polyester for the right combination of low weight and durability.
The sleeping pad comes with a thick bottom part where the manufacturer used 7D5D polyester for added durability even when placed on the ground and not only in a hammock.
Together with the solid materials, it also features a practical design. It allows users to sleep both on their side and back to maintain comfortableness even when away from home. Body mapping technology has been used to create this design.
Compact and easy to carry, the sleeping pad also comes with a repair kit. This kit can be used to quickly deal with any accidents such as punctures so that users can always have the peace of mind their gear is up for the task.
---
05 – Therm-a-Rest NeoAir XTherm MAX Ultralight Sleeping Pad
Dimensions – 77×25 in | Packed Size – 11×4.5in | Weight – 20 ounces | Thickness – 2.5 | Material – nylon + polyurethane | R-Value – 6.9 | Pad Type – Inflatable Pads
With a high 6.9 R-value, this inflatable sleeping pad is one of the main players when it comes to wintertime thermal protection. It has a very high rating for keeping users warm at even below freezing temperatures. At the same time, it might be too warm when used during the summer months.
To inflate the sleeping pad, users simply need to blow into the valve. It's estimated that the average user can fully inflate the sleeping pod within 2 minutes.
The sleeping pad also comes with a few accessories. Among them, users can find a repair kit as well as a pump sack.
It's the warmth to weight ratio that its biggest feature. For such a thin sleeping pod, it offers plenty of warmth and it might be an option for anyone who loves to stay out in nature once the summer has gone.
---
06- KLYMIT Hammock V Sleeping Pad
Dimensions – 78 x 47in | Packed Size – 8 x 4in | Weight – 28.8 oz | Thickness – 2.5in | Material – 20D polyester | R-Value – 1.6 | Pad Type – Inflatable Pads
Made to fit single and double-wide hammocks, this sleeping pad is highly practical. It features a non-slip bottom surface that ensures the user doesn't move too much while sleeping. Additionally the sleeping pad also features wings that flare out the hammock to ensure a bit more room inside for the sleeping bag.
With its V chambers design, the sleeping pad also limits how air moves when under the user's weight. It ensures proper support even when the user sits on a small area, such as when side sleeping.
Made with an R-value of 1.6, it's one of the sleeping pads made for summer use. Some users might get away with sleeping on it in late spring or early fall as well. But its low R-value makes it primarily a bit more comfortable when sleeping during the summer.
While it's only made with thin 20D polyester materials, it features durable construction. To back this claim, the manufacturer offers a lifetime warranty for the product. An emergency patch kit is also included in the pack. Outdoor fans can rely on the kit to repair a small section of the sleeping pad in case of a puncture.
However, based on its V chambers design, the sleeping pad can still be used even in case of a puncture even without relying on the repair kit.
---
Conclusion
The Klymit Static V Lightweight Sleeping Pad is the best choice out of these sleeping pads. With its 75D polyester materials, it has a very durable profile. But at the same time, the sleeping pad features one of the most practical constructions which keep the user-centered.
With a packed size of just 3 X 8in. the sleeping pad is superior in terms of portability as well. Apart from its durability and practicality, it also features 2 other advantages. It comes in multiple colors and even in a camo design to maintain a low profile out in the wilderness.
Furthermore, most will find this sleeping pad fairly affordable. With the rising costs of camping gear, it's always reassuring to find good products at an affordable rate. Its low price doesn't make it a short term purchase. Users who want to deal with possible punctures on the spot also need to know it comes with a repair kit. Even so, the product features a full lifetime warranty. In case anything goes wrong with it, Klymit replaces it.
Related guides
How To Find The Best Hammock Rain Fly
Finding The Best Hammock Mosquito & Bug Net
Best Hammock with a Bug and Mosquito Net
How To Find The Best Hammock Straps
How To Hang Your Hammock Between Two Trees
How To Find The Right Portable Hammock Camping Stand