There are a lot of factors that need to be considered and kept in mind when searching for a new or replacement camping hammock; from size and weight, to the different types of shapes and profiles …for new campers in particular, this can be minefield.
In this article we aim to provide a definitive guide to these elements, and determine exactly what you need to consider, and what is actually less crucial to an enjoyable and comfortable camping experience.
Benefits of hammock camping
Hammocks have been in use for a long time by people in Central and South America but improvements in its overall design have made them a more attractive option among more and more outdoor enthusiasts.
With many benefits leading to their increased popularity, we believe the key and most important areas are:
Portability
Backpackers and car campers prefer hammocks mainly for this reason. Hammocks weigh a lot less than the smallest tent, and they pack into a pretty compact size. This is due to hammocks not needing heavy equipment such as poles to set them up. 
Space saved on carrying equipment is space that can be used to carry food and other essential items.
Comfort
Picture this, you've found the perfect spot to pitch your tent, and once you set up and it is time to go to bed, you realize that your sleeping bag is on uneven ground and/or on top of a root.
If you have a hammock, you only have to find two strong and well-spaced trees to support it, and sleeping in a hammock also prevents the chances of you being bitten by crawling bugs.
Versatility 
With a hammock, you can set up camp pretty much anywhere, as long as you can find two well-spaced anchor points. Aside from trees, you can also use a portable stand, car racks, and even large boulders as anchor points.
Also, there are a lot of ways you can use your hammock around the campsite. It can serve as a chair and a lounge during the day, and can even be of use even when you are out of the campsite setting. You can use it as a lounge for chilling in the backyard.
Ease of setting up
Compared to tents, hammocks are much easier to set up. Getting a hammock means saying goodbye to tent poles and hammering stakes. Hammocks also take less time to put together, including finding proper anchor points.
Fresh air
With a hammock, you don't have to sleep in a stuffy tent and wake up all sweaty. Having a hammock lets you enjoy the cool breeze, a view of the night sky, and a nice sunrise.
In case it rains, you can always use a rain fly over your hammock.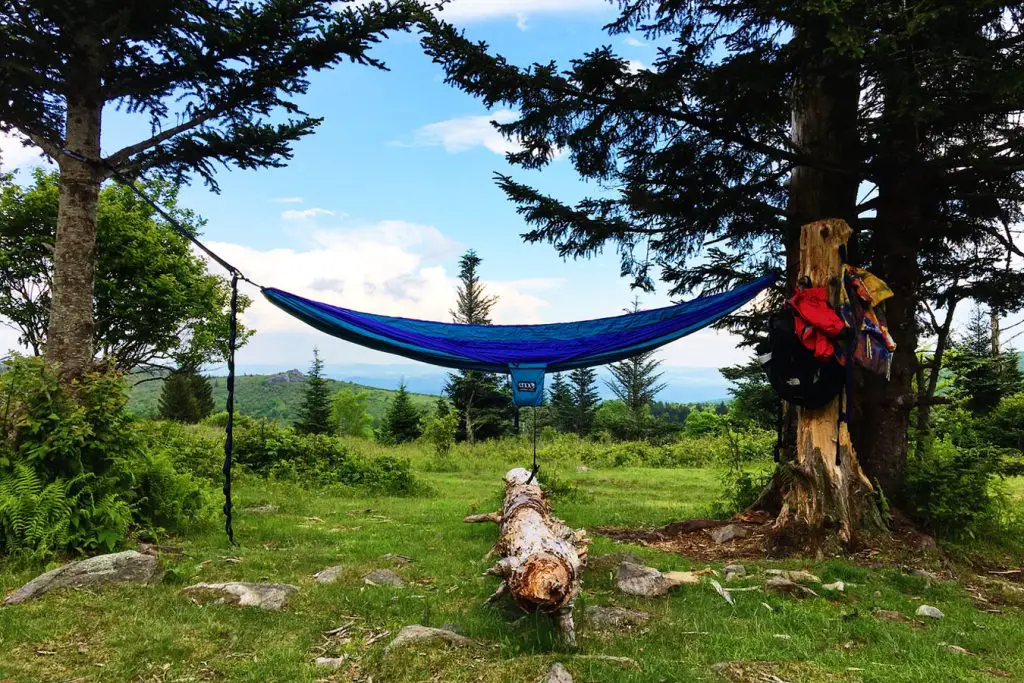 Hammock types, sizes, and specifications
When it comes to size, hammocks fall into 2 categories; single and double.
Single hammocks
As the name suggests, these are hammocks made for one person to sleep in, hence the name. One is usually between 4 and 5 feet wide.
This type of hammock is preferred by backpackers and hikers since it weighs less but this means that you have less sleeping space. 
A single hammock can comfortably support between 200 and 300 pounds, but some ultralight varieties can only handle up to 250 pounds.
Double hammocks
Double hammocks are larger than singles and they can accommodate 2 people at once. They are more spacious but they weigh more since more material is used to make them.
Doubles are capable of holding between 400 and 500 pounds and the ultralight ones have a weight limit of 350 pounds.
Hammocks can also be grouped by the appearance of the ends, like so:
Gathered end hammocks
These are also known as Brazilian style hammocks. The fabric is usually bunched up at the ends. This makes it cocoon-like and the only way you can keep it open is with your body once inside. 
If you properly set up your gathered end hammock, you are unlikely to fall out of it.
Some manufacturers decided to create a modified gathered end hammock called the asymmetrical (asym) hammock. This does not mean that the hammock is asymmetrical, though. Asym hammocks come with tie-outs that give you a place to rest your head and legs to be comfortable in there.
Gathered hammocks can further be grouped into:
Parachute nylon hammocks
These are hammocks that are made out of a type of crinkle taffeta. This material resembles the one used to make parachutes, although it cannot serve that purpose. Crinkle taffeta is preferred for making camping equipment like sleeping bags
This material is perfect for hammocks as it is waterproof, mold-resistant, and durable. However, its tendency to stretch might ruin your perfect set up.
Ultralight hammocks
Ultralight hammocks are a favorite in the backpacker community thanks to their lightness. They are usually made out of ripstop nylon or polyester, which keeps them durable.
Expedition/ backcountry hammocks
These are heavy-duty hammocks designed for more intense trips. If you are going to be in the wild for a while, you need a hammock that won't get torn in the middle of your trip.
It comes with a rain fly, a bug net, and a storage space. Although they are heavy and a little more tricky to set up, you can enjoy your trip knowing that you have everything you might need.
Spreader bar hammocks
They are also known as bridge hammocks. As the name suggests, they have a bar at each end whose job is too spread out the hammock's fabric, making it flatter. This makes sleeping more comfortable.
This type is not preferred by campers because the spreader bar is added weight but if the thought of being cocooned doesn't sit well with you, go for it!
90° hammocks
These hammocks are fairly new to the hammock scene and it is almost impossible to tell how long they are going to last.
Unlike the others, their suspension system is on the sides rather than the ends. Although this setup provides stability, it might take some time to understand how to set up. Getting in and out of the hammock might also be tricky. 
Camping hammock systems
A hammock system consists of the hammock and all the other components you might need to set it up correctly and be comfortable. A complete hammock system consists of the hammock, a suspension system, an underquilt, a rain fly, and a bug net. 
Hammock systems vary depending on the camping style you plan on using. 
For backpacking, you want to save as much weight as you can. This means the hammock will be smaller (at least as tall as you are). Less than strong materials will be used in construction, which might compromise durability.
This also means that the hammock will have a lower weight limit.
When it comes to car and RV camping, weight and size are a non-issue. This gives you the chance to choose a larger and more durable hammock while considering its purpose.
Will you be sleeping in it or is it for lounging outside your tent? If it is the former, you might need to invest in more accessories like a tarp. 
What should I look for when buying a hammock?
Once you have a general idea of what hammock you need, there are some particulars you need to keep in mind. Here are a few factors to consider when getting a hammock:
Dimensions
As mentioned earlier, hammocks can be grouped into single hammocks and double hammocks based on their sizes. If you are planning on sharing a hammock, you should get a double.
The perfect hammock size is relative to you, so you should get one that's large enough to allow you to lie on it diagonally. If the hammock is too wide, you might feel too enclosed in it.  
Suspension systems
How you hang your hammock decides whether you'll wake up on the ground. There are 3 systems for you to choose from: rope, tree straps, or webbing.
A rope is the oldest suspension system and although it gets the job done, it hurts the trees in the process. A rope is too thin, so it grips the tree and destroys the bark, which sometimes kills the trees.
Webbing is a thick polyester strap that you wrap around the tree using rather complicated knots. You also have to use a carabiner to fully secure your hammock. 
Hammock tree straps are the safest and easiest to use suspension system since you don't need to tie any knots, and they are thick enough not to hurt the trees.
They also have special loops that make adjusting easier. Some hammocks come with tree straps but if yours don't, it would be a good idea to invest in a pair.
Ridgeline
The ridgeline refers to the distance between the 2 ends of your hammock when it has been suspended.
Since your hammock curves when hung, the ridgeline will be shorter than your hammock's length when it is laid flat. A ridgeline should be around a foot shorter than the hammock length to give the perfect sag.
Although it is an imaginary line, you can attach a cord on each hammock end to create a structural ridgeline. This will guide you as you hang your hammock so that you get the ideal sag each time regardless of the distance between the anchor points and the hanging angle. 
You can also use the ridgeline to hang your hammock tarp.
Insulation
Before you get a hammock, you should know that they are a lot colder than tents. Using your sleeping bag won't do much since they are rated to work best if you don't move about. Also, your bottom will get quite cold since your weight on the bag reduces its ability to hold air. 
Underquilts and top quilts, however, make this problem go away. Top quilts are like sleeping bags with the foot box but without the hood and the back. Drape the top quilt over yourself after you have found a comfortable position then secure it to the hammock with hooks or carabiners if it allows it.
Underquilts are attached under the hammock to prevent your backside from freezing. They work better since your weight doesn't compress the inner filling.
Fabric
Like other outdoor equipment, the hammock's durability determines if you will get value for your money.look for hammocks made from strong material that can handle your weight.
You can use the hammock's denier numbers to see how robust the fabric is. The higher the number, the heavier the fabric.
Weight capacity
You want a hammock that can support your weight and that of any accessories. Keep in mind that a hammock's weight capacity is not the same as the straps' weight capacity. 
Double hammocks are more heavy-duty than single hammocks, but ultralight hammocks can carry less.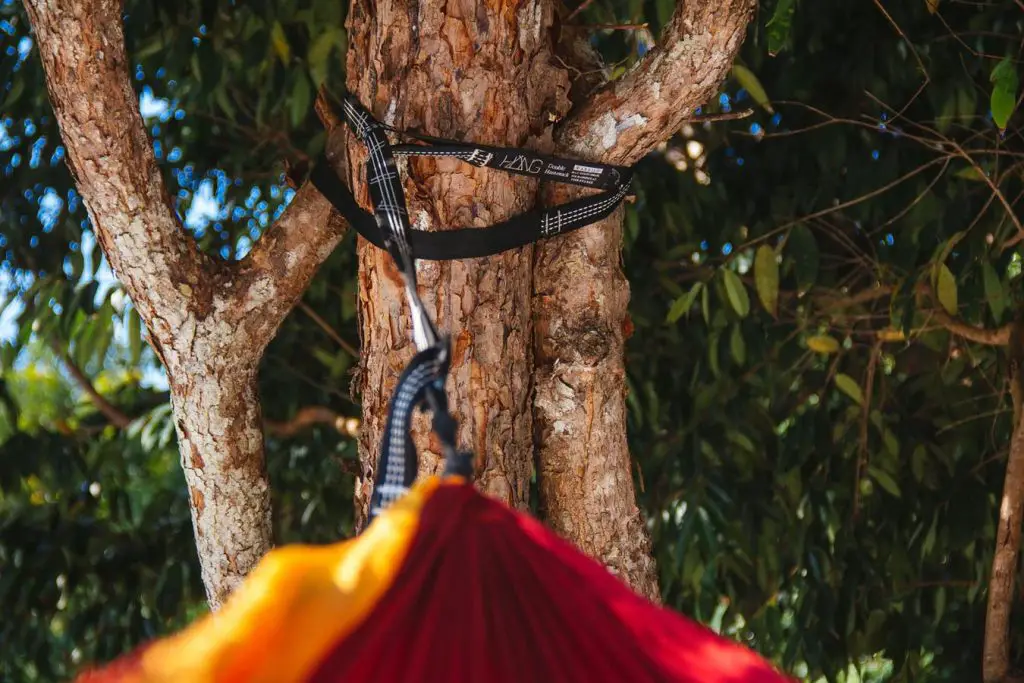 Camping hammock accessories
There are plenty of things you can add to your hammock to make your camping trip easier. Before you get any, check to make sure that they are compatible with the hammock brand that you have. 
Suspension system
This is the part that keeps your hammock above the ground. Ensure the carabiners have a strength rating that can hold you up. You should also check that the strap is a least 0.75 inches thick so that they don't dig into the tree bark.
Underquilt
An underquilt prevents your body heat from escaping through the bottom of the hammock. An alternative to underquilts would be to use a sleeping pad but they are less efficient since they also need to be placed inside the hammock.
Rainfly
This is a special type of tarp that is draped over your hammock to keep you dry in case it rains or snows. Rain flies can also be used for protection against too much sun or strong winds.
the rain fly hangs above the hammock on the structural ridgeline and it is kept in place by guylines. You should get a rain fly that covers your hammock and some of the space around it for extra protection.
Bug net
Although you are safe from crawling bugs, flying insects are still an issue. Having a bug not only protects you from mosquitoes, but also any falling leaves and other debris. Get a bug net that offers 360° protection since they protect you from all angles. 
Ensure that it also has no-see-um netting to protect you from the tinier critters. If the net is treated with permethrin, the better. This gives it insect repellent properties so you can get in and out of the hammock without any worries.
These are the most common and important accessories to your hammock, but there are other things you can add. A drip line, for example, might come in handy when it rains since it changes the course of water that runs along your drip line, keeping you and your hammock dry.
Should I buy a single or a double hammock?
If you are hammocking as a couple, you will appreciate the double hammock's size. However, even as an individual, you might like it.
Its width allows you to sleep comfortably whether you choose to lie down horizontally or diagonally. This way, you get a flat sleeping surface and your body isn't curved like a banana all night.
How wide should a hammock be?
A hammock's width is the distance on the midsection of the hammock where you lie on when it is already hung. Aside from the weight capacity, this is what decides whether the hammock will comfortably hold more than one person. 
Aside from the single and double hammocks, there are matrimonial (queen) and family (king) sized beds. A queen-sized hammock is capable of comfortably holding two average-sized adults while a king-sized one can carry up to three adults. 
When choosing hammock widths, you should keep in mind that the terms single and double do not have a standard size. A double from one brand could be smaller than a double from another, so you should always check the dimensions before making any purchase.
Good luck!
Related guides
How To Find The Best Hammock Top Quilt
How To Take Your Dog Hammock Camping