Since standard camping hammocks require two trees for support, they can be limited to certain camping locations and ultimately the areas to be explored out in nature.
Portable camping hammocks can (within reason) provide a greater level of flexibility when it comes to pitching, but when on uneven and/or sloping ground are they actually useful for camping, or better suited for the beach?
Why buy a portable hammock stand?
Purchasing a hammock stand is an exciting time as it has the potential of solving many camping issues. Offering practicality and bridging the gap between hammocks and tents, hammock stands offer the option to sleep anywhere, even above the tree line.
Hammock stands are practical – Hammock stands support hammocks without trees. They offer a practical solution to camping issues such as not being able to find 2 good trees to hang from.
Camping above the treeline – A hammock stand can enable campers to sleep above the treeline. Those hiking high peaks rarely have an alternative to tents but hammock stands are made to solve these issues replacing the 2 trees needed to set up camp.
Finding a sleeping spot in the campsite – Popular campsites are often too crowded to find a good sleeping position using a hammock. Those already relying on hammock stands can find the right spot for comfortable sleeping even when all the good trees are taken.
Camping in the desert – Desert trekking might be difficult due to the high heat and heavy camping gear. Hammock stands offer a breathable alternative to camping in a tent while enjoying the rugged beauty of a desert.
Comfortable sleeping at events and festivals – Most outdoor festivals now allow hammock stands. These events might last for days and having a place to take a nap can be just what's needed to recharge the batteries.
Characteristics of a portable hammock stand
If you're considering purchasing a hammock stand, you need to know what to look for, as the multiple options made today can confuse those just starting out.
Weight – You will find hammock stands with weights between 25 and 35 pounds. Those under 25 pounds are considered lightweight and are particularly helpful for multi-day camping.
Hammock stands above 35 pounds are considered heavy, buy can be very useful for festivals and/or backyard camping.
Material – Wood and steel are the most popular materials used to make hammock stands. Since wood can be damaged by rain, a steel hammock stand can be the right alternative for the enthusiast camper.
Size – You need to think about the size of the hammock stand compared to your camping gear, but also when it comes to its weight capacity.
Who are hammock stands made for?
Dedicated campers who like to go a little further with every outdoor adventure are among the perfect users. These outdoor enthusiasts require a bit more versatility from their hammocks as they venture away from the forests.
On the other hand, most portable hammock stands aren't made for those with a backpack or anyone struggling to carry camping gear, and in our opinion there is only one product that's suitable.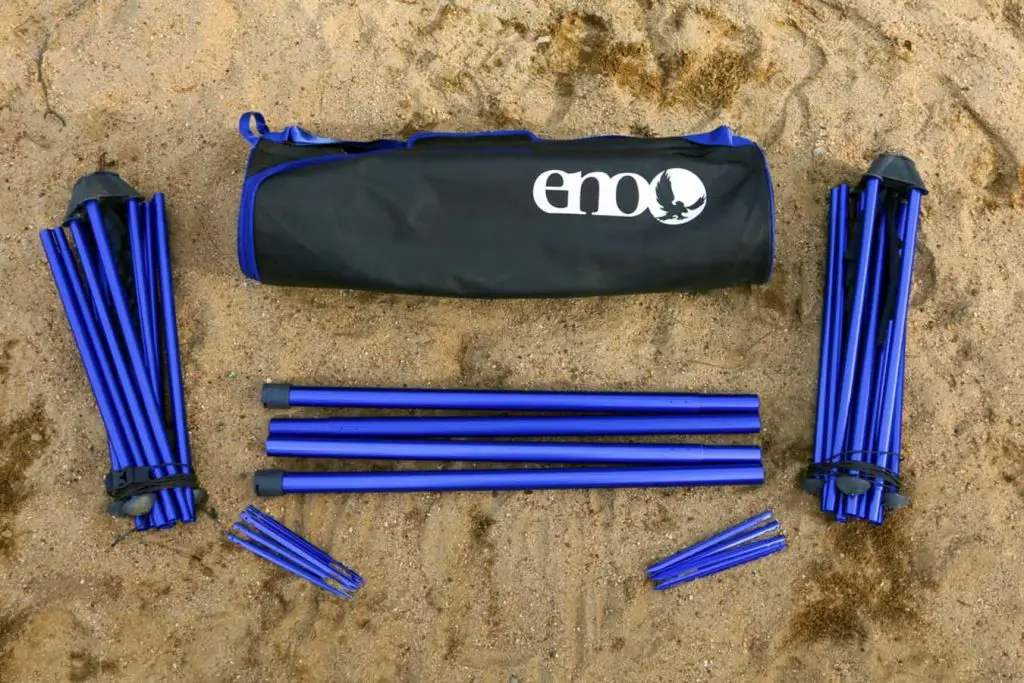 Why use a portable hammock stand?
Portable hammock stands might seem like extra weight but they offer reliable versatility which is sometimes overlooked by those unable to find a good camping spot.
It's easy to hang – Hammock stands make hanging hammocks very easy. Campers can position a stand on the flat ground anywhere out in the wilderness, which is not the case with a simple hammock that solely relies on trees.
Camping in protected areas – Some campsites prohibit hammock camping as it can damage trees. But the right hammock stand can be the advantage campers need to be able to camp in these regulated areas safely.
Hammocks are environmentally friendly – Even in areas that aren't protected, hammock stands are perfect for low environmental impact. The biggest concern here is with potentially damaging tree bark.
This leads to multiple tree health problems such as the inability to absorb nutrients.
Superior portability – Since some hammock stands are now portable, campers can set up a hammock multiple times per day. During long hikes, this can be an advantage in areas where simply lying on rocking ground might not be the most comfortable method of resting.
The benefits of using a portable hammock stand
Alternative to trees – Campers tired of looking for the perfect hammock tree don't need to overlook hammocks if they consider a stand.
Easy assembly – Setting up a hammock stand is not complicated. It only takes a few minutes to have the stand ready and to set up the hammock for sleeping.
Camping at high altitude – Trees are few and far in-between at high altitude. Also known as the timberline, the tree line is where hammock camping locations stop. But a hammock stand can ensure a hammock provides the right sleeping comfort even above the tree line altitude.
Desert camping – Those looking to explore deserts don't have any hammock camping options since there are no trees around. While tents can be an option, not everybody is comfortable with the idea of being at the same level with lizards and/or bugs and a hammock stand ensures elevated sleeping even when there are no trees to count on.
Kayak camping – Kayak camping is growing in popularity. Since it requires a kayak, all camping locations are near water sources. But trees aren't always easy to find near some rivers and lakes.
Carrying a portable hammock stand is one of the options for comfortable sleeping next to the kayak.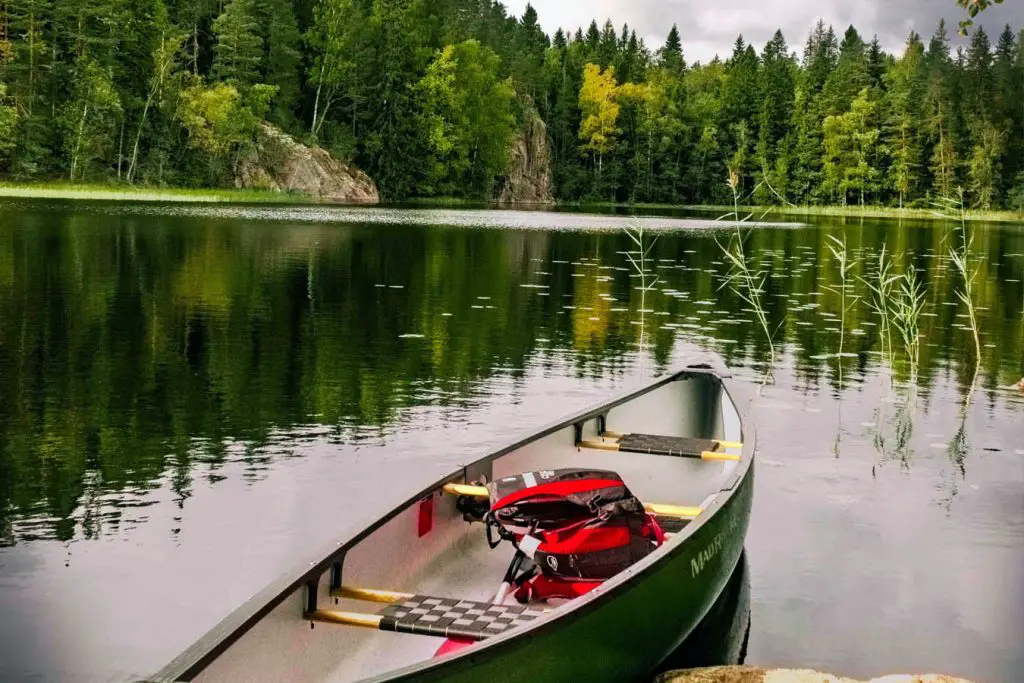 …Disadvantages
One of the biggest disadvantages of hammock stands is the extra weight they come with.
Camping gear can already be heavy, especially when traveling with a backpack. Adding 30 extra pounds to the camping gear might be too much, especially for those trekking for days on difficult terrain.
What to look for in a portable hammock stand
Choosing the right hammock stand shouldn't be too complicated. The size and the weight capacity are good quality indicators, together with ease of assembly.
Weight capacity – Before purchasing a hammock stand, you need to ensure you check its maximum weight capacity. If you're using double hammocks to camp with your partner, you'll need to take the extra weight into consideration, especially with a hammock.
Stand size – The stand size has 2 variables. Folded and unfolded sizes need to be taken into account.
Footprint – In general, you need up to 15 feet to hang a hammock on a portable hammock stand. The footprint of the hammock isn't as important when using it outside the home where there's plenty of outdoor space to hang it freely.
Carrying case – Many hammock stands come with an included carry case. This helps those who want a practical alternative to hanging the standoff their backpacks.
Ease of assembly – A stand should be assembled with no tools. Otherwise, it may proves difficult to set up the stand when the sun is going down and time is short before nightfall.
Hammock tarp and bug net compatibility – Not all stands accommodate tarp. As a result, it's crucial to only think about the options for rain protection, especially at high camping altitudes where the weather changes quickly.
ENO Nomad hammock stand – made for location-free hammocking
The hammock stand has been specifically made for ENO hammocks. Campers who already own an EMO hammock or those who want to purchase one can consider the stand as a camping gear addition.
Based on 6 legs, the hammock stand offers the ability to camp even on slightly uneven surfaces, which opens up a new camping world.
Quick setup makes it a useful option for users who go camping over those who might only use it at home on the deck or in the backyard.
With a top ridgepole for added stability, the stand offers stability when trekking mountains or when enjoying the cool summer night breeze on the beach.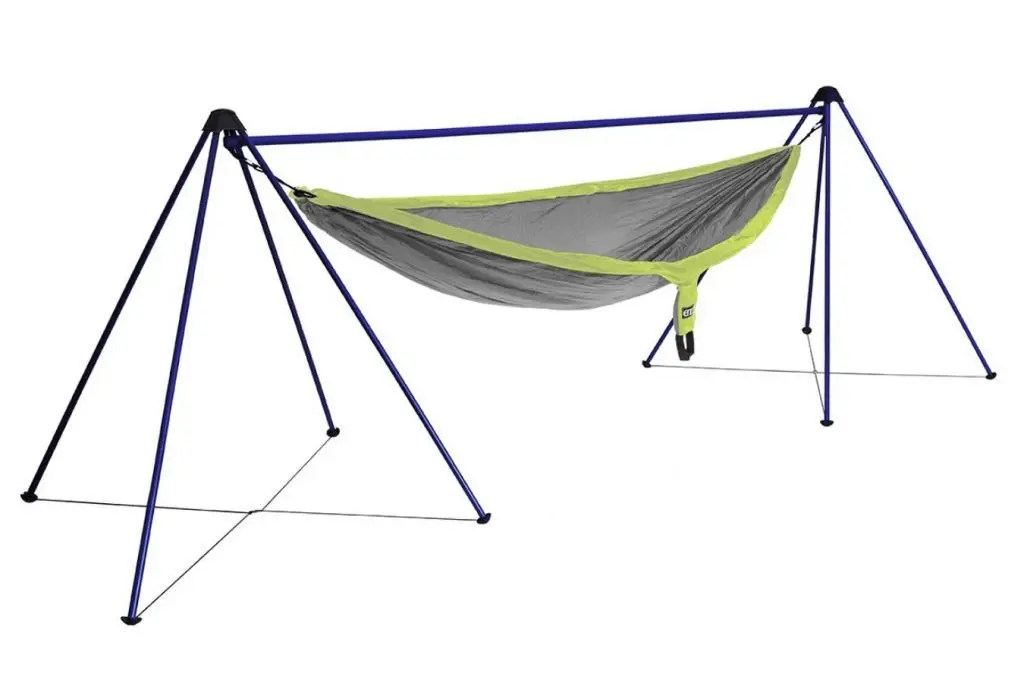 Pros
Compatible with the ProFly XL tarp
Stand set up only takes a few minutes
A compatible solution for ENO hammock users
Ships with a carrying case for effortless transportation
Cons
High center of gravity
The ridgepole needs a bit of initial effort to attach to the pole slots
Not the highest weight capacity
Features and benefits
This hammock stand meets the criteria of most campers both in weight capacity and in its ease of assembly. Made from aluminum, it stands out with its low weight.
A quick look at the features of the ENO Hammock stand
300lbs weight rating
Compatible with ENO hammocks
Made from lightweight aluminum
Included cargo loops
13 ft. 9 in. X 4 ft. 2 in. X 4 ft. 8 in. unfolded dimensions
34 x 11 x 10 in when folded
15lbs weight
It takes around 2 minutes to assemble the stand – The portable stand is fairly easy to put together, especially for those who've already had experience with tents.
Adding a hammock is easy – The way a hammock is hung from the stand is also smart. There's a system of loops which allows users to pull the hammock higher or lower.
Some users prefer to hang the hammock tightly while others prefer to have it hanging looser for better sag. The stand allows users to even raise the leg end higher which has been proven to come with a better sleeping position.
Low weight advantages – With a weight of 15lbs, this hammock stand is relatively easy to carry, with the help of the supplied useful carry bag, albeit not padded however.
Tarp and bug net compatibility – The hammock is already a very popular choice for users of the ProFly XL tarp which covers the hammock efficiently as a result.
But the interesting part is users don't need to install a ridgeline as the top bar already offers the structural support needed for the tarp.
What users say about this stand…
Most users agree the stand is sturdy and very easy to use, and feel it offers stability and easy assembly, which covers its practicality in different environments.
By far, the biggest advantage its users agree on is the ability to hang the stand anywhere. This makes it a bit more versatile than other simple hammock setups which open up new camping opportunities while away from home.
Alternatives to the ENO hammock stand
Testing out the hammock in various conditions also led us to compare it to its alternatives:
Grand Trunk Hangout – A hammock stand is also a solid option for those looking into comfortable hammock sleeping. It features adjustable straps and steel tubing for durability. However, it's nearly twice as heavy as the ENO hammock stand. This limits its use to festivals, campsites, or fixed locations as it can't be easily carried.
ENO Roadie Car Stand – As its name suggests, the hammock stand is a top option for those camping next to their cars or SUVs. However, campers who want to venture out further into the wilderness can't use this stand as it secures under the vehicle's wheels for stability.
Byer of Maine Ceara Stand – Byer's stand has a similar design. It features a higher 440lbs weight capacity but it lacks the lightweight construction to be easily carried on multi-day camping trips. Those who prefer to take their hammock hiking are going to be better off with the lighter ENO alternative.
Conclusion
As seen above, the ENO hammock stand is lightweight and easy to assemble. Its reduced weight is something many users feel comfortable with when carrying camping gear.
It's unique ridgepole design enables users to hang clothes, boots, and/or flashlights. The pole is also used to hang rain tarps for the ultimate protection.
Most importantly, this stand isn't limited to any specific location for use. It doesn't need to be anchored underneath a car for example, and this allows it to be highly adaptable.
Free from trees, it can offer a sleeping location above the tree line, on the beach or anywhere where hammocking trees aren't in close proximity. You can click here to check more details about the ENO hammock stand.
Related guides
Best Hammock Sleeping Pads For Summer And Winter
Finding The Best Hammock Mosquito & Bug Net
Best Hammock with a Bug and Mosquito Net
How To Find The Best Hammock Straps
Hammock Camping Under Quilts vs Sleeping Pads
How To Hammock Camp As A Couple