When many people think of camping, they imagine having to carry and pitch what is often quite a cumbersome tent. With hammock camping however, the experience of living outdoors is stripped back to its essential and basic roots, of simply being amongst nature, and using its natural terrain and elements to your advantage. All whilst have a much smaller load on your back.
When opting for this, a rain fly is one of the most essential items you will require. As once installed over your hammock, it will keep you dry and protected from rainfall, strong winds, too much sun, as well as providing a certain amount of privacy.
In this article we take a look at all the aspects that need to considered before buying such a product, and conclude with 5 of what we consider to be some of the best rain fly's currently on market.
How to select the perfect hammock rain fly
Shape
Discussed in more detail below, hammock rain flies generally come in four shapes, diamond, rectangular, hexagonal, and catenary. The difference in shapes makes for different levels of protection and portability.
Rectangular rain flies are bulky and their air circulation isn't perfect, but they offer a large amount of coverage. 
Diamond shapes are lighter and easier to set up since they only have two anchor points, but consequently provide the least amount of coverage. 
Hexagonal-shaped flies cover the largest area, and in this way are very similar to rectangular profiles, however the corners curve inwards, making them lighter. Which as a result tends to make them the most expensive.
The catenary rain fly's design makes use of a specialized curve that prevents sagging or flapping.
Size
It hopefully goes without saying that you should always choose a rain fly that is a larger than your hammock.
The longitudinal length of some of the smallest hammock tarps is about 10 feet, which is enough for most people. Buy the lateral length of the hammock will depend on the angle in which you set the guylines. 
As hammocks sag when they are suspended and in use, once set up; a 10ft hammock for example may in reality be 8ft once someone is inside, and therefore require a small area of coverage than initially anticipated.
The type of weather you plan to camp in also plays a large part in this, as it heavily influences the angle the rain fly is set up to.
As if installed at say a sharp angle to protect against prevailing winds, there will be less square footage of overall vertical protection, but more much more from the side it is angled to.
Equally, setting it at a gentler angle increases the vertical area the rain fly will cover, but leaves its occupants far more exposed horizontally, and the impact of this is largely determined by the time of year and season you are camping.
Easy setup and takedown
You don't want to waste time wondering how the rain fly works and how to assemble it. Whilst looking for a tarp, try to find one that doesn't need much time and skill to set up.
You can do this by looking for a tarp that comes with pre-attached strings. This way, all you have to do is put the rope through the hole.
Before you set off, it might be useful to do a test run and pre-assemble the tarp. You can do this in either your backyard or in a nearby park.
This way, you learn exactly how to put it together and take it apart in a safe and comfortable environment. Saving time at the campsite and checking that all parts needed are included.
Weight
If you are going backpacking, you want to have the lightest load possible. This means cutting weight wherever necessary. However when travelling by car this does obviously become much less of a concern.
The weight of your rain fly will be influenced by its size and the materials used to manufacture it. Most tarps weigh under 2 pounds, with the lightest ones weighing about one pound.
If you don't have much to carry, or you are going to a place with unfavorable weather conditions, you will want to go for a heavier polythene tarp. 
Material coating
The ideal material for a rain fly should be durable to give it a fighting chance against the elements, tears, and punctures that can cause leaks into your sleeping area. The material should also be light for ease of portability, storage, and assembly.
Most hammock rain flies are made out of either nylon or polyester. These materials check all the boxes when it comes to weight, durability, and cost. 
With time, nylon stretches when wet, so you might have to keep adjusting the guy-lines. Some nylon rain flies are reinforced with fibers sewn in a rip-stop pattern. Since nylon isn't waterproof, the tarp is coated with either silicone or polyurethane (PU).
Silicon-coated nylon (silinylon) is lightweight but is less durable and more prone to punctures. Nylon can also be reinforced, and this new material is called ripstop nylon. The material is more resistant to tears, and any holes can be fixed with a patch or some fabric tape.
Polyester rain flies are more affordable but they're very noisy. It is also difficult to patch up any holes since the material is slick.
Polythene can also be used to make rain flies. Although they are durable and affordable, these tarps are heavy and noisy.
Cuben fiber is the least common material used to make hammock rain flies. This is because they are the most expensive but the high pricing is due to the waterproof nature of the material.
Versatility
Your hammock rain fly doesn't have to serve only one purpose. It would be economic to get a tarp that can function in other camp settings. You should consider choosing a rain-fly that can also work as a tent cover in case you go for both tent camping and hammock camping.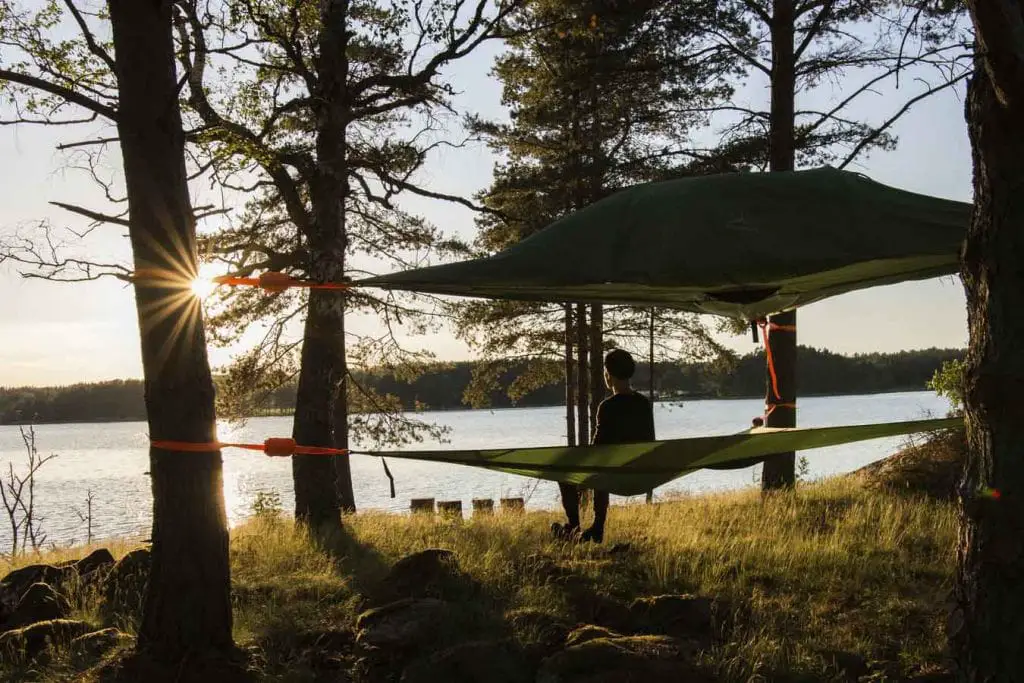 Materials: Durability & tarp weight
There are various materials that can be used to make hammock rain flies. This accounts for the durability of the tarp and how heavy it will be. This section takes a quick look at some of these materials.
Silinylon 
As mentioned previously, this is a compound formed by coating nylon with silicon. Silinylon is one of the most common materials used to make tarps. Rain flies made out of this material tend to stretch, but not like a plain nylon tarp would. Although it won't last long, the tarp will serve you well for 3-season camping.
Silipoly
This is silicon-coated polyester. It costs more than plain polyester or silinylon tarps, but it is waterproof and lighter. Silipoly tarps take up less space when folded nicely, making them an attractive option for backpack campers. 
Ripstop
Ripstop fabric can be either nylon or polyester. The material is made by reinforcing nylon or polyester with thick reinforcing fibers woven in a pattern. This concept strengthens the fabric while keeping the rain fly small and light. 
The reinforcement fibers can be fashioned from nylon, polyester, or any other material.
Spinnaker
This material is a hybrid fabric that is very light but very loud. In addition, the fabric is easily damaged, which lowers its durability score. Although the fiber can be used to make a rain fly, it is highly unsuitable for the purpose.
Dyneema composite
This material was previously referred to as cuben fiber. A rainfly made of this material is composed of the Dyneema fiber between two layers of plastic Mylar. These materials are then welded to form one waterproof layer. It is one of the lightest fabrics, and it packs into a small space. 
Polyurethane Treated
Some nylon and polyester tarps are coated with this compound to make them waterproof. The rain fly's waterproof nature is compromised when the PU layer gets damaged (which will be after a while)or starts to peel off. When this happens, you can always patch the spoilt part of the tarp.
Hammock rain fly shapes
As mentioned earlier, hammocks come in four different shapes. However, all hammocks can be grouped into one of two categories: symmetrical and asymmetrical tarps.
The symmetrical hammock rain fly 
These are used with symmetrical hammocks. With one of these, you can sleep in any position you want. 
The asymmetrical hammock rain fly
These tarps are used with asymmetrical hammocks. This tarp will require you to sleep perpendicularly to the centerline of the hammock.
Choosing the wrong tarp with respect to your hammock might have you getting rained on in the middle of your trip, so you should check your hammock first. This type of rain fly is easy to set up since it only uses two anchor points.
Diamond tarps
These are lightweight and easy to set up. They provide more cover than asymmetrical tarps, but not on the ends. Their light coverage can help keep the bugs away, and they are ideal for use in the summer.
Hexagonal and catenary tarps
These two rain flies are quite similar. They can provide ample coverage for camping compared to diamond ones. Since they are not as light, they can be used for camping in spring, summer, and fall. 
Rectangular tarps
Rectangular rain flies offer more coverage but they are heavier and require more effort to set up. 
Winter tarps
Winter rain flies are designed to give you maximum coverage if you decide to go hammock camping in the cold season. However they are the largest, heaviest, and most complex to set up, due to the extra material on the sides which can be shut down in the event of a storm. Shutting these doors also forms a hanging tent, that is sure to keep you warm and toasty.
Hammock tarp ridgelines
Some tarps come with a ridgeline. This is the central line which you hang the tarp on. The ridgeline is usually tied on the same trees/ posts as your hammock. There are two types of ridgelines, continuous and two-piece ridgelines.
Continuous ridgelines
These lines start at one tree, attach to one end of the rainfly, run continuously under the tarp, attach to the second end, and then to the second tree, or any other anchor used.
These ridgelines offer extra support, especially in harsh weather, and can also serve as hanging lines for your clothes. 
Two-piece ridgelines
One part of the ridgeline starts at one tree/ anchor point and ends at the tarp. Another part of the ridgeline starts from the other end of the tarp and ends at the anchor point.
With this design, no part of the ridgeline runs under the rain fly itself. Since they are not as long as the continuous ridgelines, they weigh less and are easier to set up.  
Length
The length of your ridgeline is entirely up to you, but it is advisable to use the ridgeline included with the rain fly if there is one.
Most products on the market are 12-feet long. This length is enough to provide coverage to most people, but it also depends on the shape of the tarp and the angle you set the anchor points at.
Choosing a longer ridgeline will give you more coverage, but going over the top with the length will make the tarp heavy and difficult to use,
A shorter ridgeline will leave part of your body exposed to the cold and possibly the rain.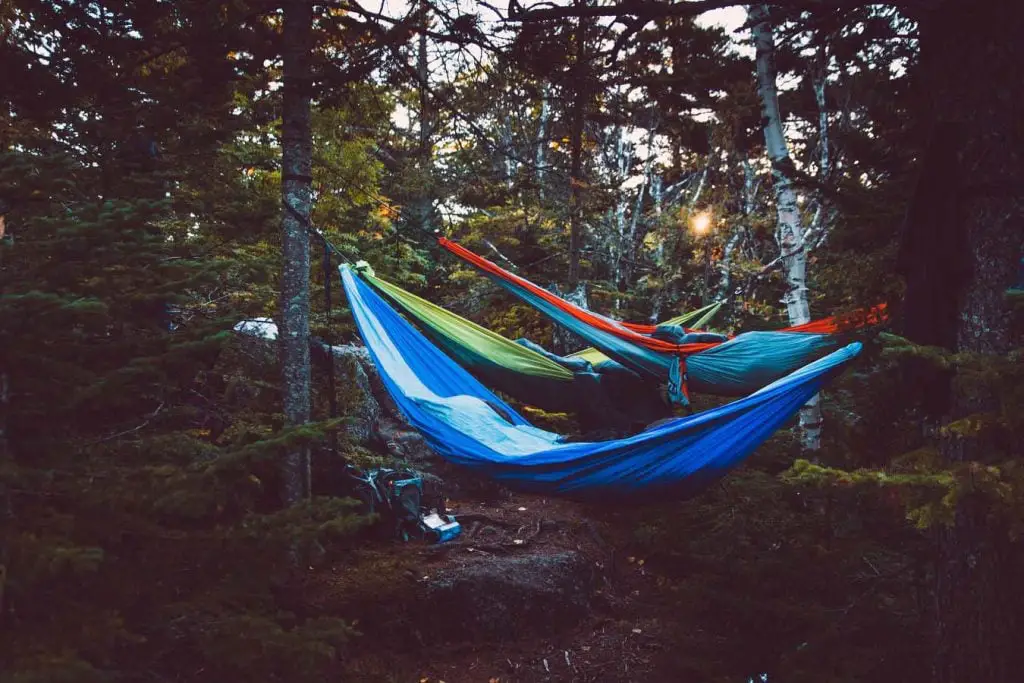 Rain fly accessories
Finding a hammock rain fly that comes with more than just the tarp is a great save. Here are some of the things that might be included with your hammock rain fly. 
Storage compartments
Most hammock rain flies come inside a bag or pouch, which the tarp fits perfectly into, making it easier to transport. These come in handy during storage as they protect your rain fly from dust and moisture.
Stakes
These are used to anchor the rain fly. Most brands include them in their packaging but some will require you to make a separate purchase. Most stakes are made out of aluminum since it is both strong and light.
Guylines and ridgelines
Guylines are the cords used to secure the tarp to the ground using the stakes. The ridgeline supports and maintains the shape of the rain fly.
Tensioners
This is a component used to maintain the tautness of the rain fly. Some tensioners come with fasteners to let you adjust the tarp's tautness faster.
Survival kit
This is a collection of items that would come in handy for any camper and make their camping trip a little less stressful. Some of the items that can be included in a survival kit are an army knife, a compass, a torch, a whistle, a firestarter, and some rope.
Extra features
In addition to the basic features of a hammock rain fly, it might be in your best interest to choose one with additional features that ensure that it lasts longer.
Stitching
Check that all the seams are double-stitched and sealed. This prevents the tarp from tearing and leakages.
Reinforcement
The corners of your rainfly are on the receiving end of all the anchoring pressure. Ensure that they are strengthened with multiple layers of material and triple-stitching. This will offer some protection from punctures and tears.
Reflectors
Reflectors can be very useful at night or under dim light. You are less likely to trip over the guylines if your rain fly has reflectors.
Number of guy points.
These are the parts of the rain fly where the guylines are attached. More guy points give you the option of choosing how to set up the rain fly to suit your needs and the environment. 
Grommets
These are pre-attached rings created to minimize the effort used in hanging guylines and using tricky knots. Make sure that the sections with grommets are fortified with multiple stitches to improve the tarp's durability.
Color
If you are camping in the woods, you should consider getting a neutral-colored tarp to provide camouflage in case of any wild animals.
If you are camping on the beach or in the snow, brightly-colored tarps are more appropriate since they can be seen from afar, which can come in handy in the event that you have an emergency.
Tips on how to set up a hammock rain fly
Before you pitch your hammock rain fly, there are some safety measures you should keep in mind.
Before you leave, check and cross-check that you have all your gear and that everything is in good shape. You certainly do not want to face-palm yourself for forgetting a small yet valuable component.
Make sure that you buy correctly sized gear. If you are in charge of camping with someone else or a group, ensure that your gear will be enough for everybody.
Before you pitch the rain fly and the hammock ensure that the location is safe from wild animals and harsh weather such as lighting storms.
Once you have checked off these boxes, here are a few tips you could use while you get your rain fly up.
You can make your tarp more stable by increasing the tension. To do this, you can add more guylines or use stones to create a stronger anchoring.
If your tarp is sagging, you can solve this problem, use an elastic chock cord or a non-attached cord as your ridgeline.
---
Product reviews
With all the information in the previous sections taken into account, this section reviews five of what we consider to be some of the best hammock rain flies currently available.
01 – ENO – Eagles Nest Outfitters ProFly Rain Fly
Packed Dimensions – 4.5×9 inches | Dimensions – 10'6"x6'4" | Weight – 22 ounces | Stitched & taped seam – Yes | Material – ripstop nylon with PU coating | Easy set up – yes| Quick dry – Yes
ENO, Eagles Nest Outfitters ProFly Rain Tarp, Ultralight...
Rain, rain, go away: Made of polyurethane-treated 210D ripstop nylon, the ProFly offers long-lasting wear and features the best water-shedding capabilities. Stay dry and cozy all night long.
Safe from any storm: Features six points to connect, so you can feel secure lounging underneath. Ideal for weathering sudden downpours or building a waterfront basecamp.
Adventure ready: Weighing only 22 ounce, the ProFly includes a stuff sack, making it convenient to take on trips or store when not in use.
Keep your gear dry: The ProFly Rain Tarp is versatile and durable, making it the perfect shelter for your tarp, to protect your gear, clothes, backcountry kitchen, or your furry friend.
This hammock rain fly is among the best for camping, picnics, hiking, and any other outdoor activities. Its ultralight weight and compact packing size make storage and transport convenient.
The tarp has a 6-point guy system that secures it to the ground, and it creates a streamlined shape to allow water to easily flow down. The center seam is reinforced to withstand the high tension. This rain fly also has LineLoc tensioners and you can adjust your rain fly's tautness.
Pros
Tensioners are included with this product.
The tarp is made of ripstop nylon and a coating of polyurethane, which makes it waterproof, strong, and durable.
Many users reported that the rain fly does not lose its color with time.
Cons
The stakes are sold separately.
Some buyers complained that the PU coating produced an irritating plastic smell when the rain fly was new.
---
02 – Hennessy Hammock- Explorer Deluxe XL Series Rain Fly
Packed Dimensions – 4.5×9 inches | Dimensions – 70x110x128x140 inches | Weight – 14.4 ounces | Stitched & taped seam – Yes | Material – ripstop polyester with PU coating | Easy set up – yes| Quick dry – Yes
Hennessy Hammock - Explorer Deluxe Classic XL - Built Tough...
EXPLORER DELUXE CLASSIC a rugged, larger hammock using stronger bottom fabric and ropes designed for anyone up to 7 ft and 300 lbs / 213 cm and 135 kg; Ingenious bottom entry snaps closed automatically; Seals with velcro
COMPLETE system includes: 70d high density nylon bottom fabric; 70d polyester ripstop rainfly; 30d No-See-Um mosquito mesh; Gear loft slides on ridgeline; 1800 lb / 818 kg polyester ropes; Complimentary webbing straps to protect bark of trees
LEGENDARY camping shelter; Uncompromising in design, materials and workmanship; Countless tiny improvements that only 40 years of effort could achieve but you can feel as soon as you stretch out in this hammock and close your eyes
ASYMMETRIC shape conforms to your anatomy providing exceptional comfort when lying on the diagonal; Structural ridgeline assures the exact same bed every night and a perfect setup every time; US Patent US6865757B2; US patent US20090165205A1
This rainfly comes as an included item with the Hennessy Explorer deluxe hammock. Both the hammock and the rain fly maintain an asymmetrical shape.
The rain fly seals with the tent using Velcro, keeping you safe inside the hammock. In addition, the product comes with complementary webbing straps that protect the tree trunks.
Another amazing feature of this rain fly is that it comes with a 'No-See-Um' mosquito net. 
Some of the accessories that come with this product are support ropes, a carrying sack.
Pros
The rain fly comes with the hammock it was designed for, making them a perfect fit.
The product comes with complementary webbing straps.
Insulation pads are built into the rain fly and the hammock, giving you the extra warmth.
Cons
The guylines are not reflective.
Stakes are not included with the rain fly.
---
03 – Chill Gorilla Super-Fly Rain Fly
Packed Dimensions – 12x4x3 inches | Dimensions – 10×10 feet| Weight – 22.4 ounces | Stitched & taped seam – Yes | Material – Ripstop nylon with PU coating | Easy set up – yes| Quick dry – Yes
Chill Gorilla 10x10 Hammock Rain Fly Camping Tarp. Ripstop...
WATERPROOF CAMPING HAMMOCK TARP & TENT COVER with 2 centerlines, 9 tie downs & square design gives you more coverage & setup options. Military soldiers love our Rain Fly / Tent Tarp. SURVIVAL GEAR
TRUST OVER 500 REVIEWS! Whether you are hiking, camping, backpacking, or on a motorcycle our lightweight rainfly will protect you from rain, wind, bad weather & provide shade from the hot sun!
EASY TO SETUP. Use as ultralight rain tarp, emergency shelter, tent footprint or camping canopy. Easily covers double hammocks w bug net & underquilt, tents, & shelters. REVIEWS SHOW EVEN MORE USES!
CHILL GORILLA CRUSHES THE COMPETITION. Compare to Hennessy, dd tarp, Gold Armour, Tera Hiker, Redcamp, ENO, Kelty, Bushcraft, Outad, Aqua Quest, Wise Owl, Free Soldier etc. BEST VALUE FOR YOUR MONEY!
This rainfly has a square design which lets you choose how you want to pitch it.
With 9 tie-downs to guarantee sturdiness, Chill Gorilla took the extra step and included all the things you might need to set this up.
The tarp comes with 6 3-meter long guylines, 6 rope tensioners, 4 aluminum tent stakes, and 2 stuff sacks for carrying the rain fly and its accessories.
The rain fly has a 170-inch long centerline, giving you 100 square feet of protection.
Pros
The rain fly has 9 anchor points. This is a large number and it promises support.
The corners are reinforced, making them more durable.
All the things you will need to set up are included.
Cons
When it gets saturated, it may seep in some water.
---
04 – Bear Butt Double Hammock Rain Fly
Packed Dimensions – 4.5×9 inches | Dimensions – 12'10" x 9'4"| Weight – 18.4 ounces | Stitched & taped seam – Yes | Material – polyester | Easy set up – Yes| Quick dry – Yes
Sale
Bear Butt Hammock Rain Fly & Camping Tarp - 11 x 9 ft...
EASY TO SET UP AND TAKE DOWN - When you're ready to set up the waterproof camping tarp, just swing the fly over the hammock and secure to the same trees or posts as the hammock. This convenient rain fly is easy to set up and always has you covered.
LIGHTWEIGHT AND COMPACT HAMMOCK RAIN FLY - This hammock rain fly is ultralight, just over one pound, and can easily be packed for camping or backpacking to have peace of mind no matter where you are. Add to cart now.
WATER RESISTANT RAIN FLY THAT KEEPS YOU DRY ALL NIGHT - Bear Butt's hammock rain tarp is made of waterproof top-stock polyester and is stronger than similar nylon tarps in order to keep you shielded from the elements.
VERY DURABLE AND VERSATILE - The rainfly for hammock camping has strong tension guy lines, reflective tracers, and won't rip or tear. Use the portable hammock tarp as shelter camping or backpacking, as a winter rainfly, or as a shady hammock cover!
Bear Butt is a well-known name in the hammock business. The company created this 100% waterproof polyester rainfly to suit your camping needs.
The tarp is diamond-shaped, which makes it easy to install. To give you extra safety, the attachment points are reinforced. Another feature of this rain-fly that I liked was the reflective guylines that are included with the rain fly.
The product also comes with a stuffing sack for its storage, 4 guylines, and 2 aluminum stakes. This product is available in blue, green, and orange.
Pros
The rain-fly is lightweight.
The rain fly has an easy-to-install setup.
It is available in multiple colors so you have the freedom to pick.
The guylines have reflective material on them, meaning they can be seen at all times. 
Cons
The rain fly does not insulate heat.
It is noisy when exposed to strong wind.
---
05 – ENO – Eagles Nest Outfitter- DryFly Rain Fly
Packed Dimensions – 10×4 inches | Dimensions – 10'6" x5'2"| Weight – 22 ounces | Stitched & taped seam – Yes | Material – ripstop nylon with PU coating | Easy set up – Yes| Quick dry – Yes
ENO, Eagles Nest Outfitters DryFly Rain Tarp, Ultralight...
Rain, rain, go away: The DryFly Rain Tarp is made of polyurethane-treated ripstop nylon and features the best water-shedding capabilities. Stay dry and cozy all night long.
Safe from any storm: Features a unique shape and a spacious interior with all the headroom you could ask for, providing an allover coverage area to keep you and your gear dry.
Adventure ready: Weighing only 22 ounces, the DryFly has a built-in stuff sack, making it super easy to take on trips or store when not in use.
Keep your gear dry: The DryFly Rain Tarp is versatile and durable, making it the perfect shelter for your tarp, to protect your gear, clothes, backcountry kitchen, or your furry friend.
This rainfly uses a hexagonal shape and an 8-point guy system, and you can peacefully stay under it during tough weather.
The rain fly's design also gives you ample headroom and enough space for both you and your equipment.
Its lightness and compact design make it easy to carry on the move. With this rain fly, you would have to separately buy the stakes. 
Pros
The long ropes included can go round wide sized trees.
The rain fly gives you a spacious interior.
Cons
Stakes are not included in the packaging of this rain fly.
Some users complained of an initial chemical smell.
The guylines are not reflective.
---
Conclusion
While all the products on this list are fantastic in their own right, the Chill gorilla Super-Fly is for us the overall winner here.
It's 9-point guy system provides a highly sturdy construction and combined with the fact that the tarp also comes with all the equipment you will ever need to hang and store it, this is an excellent product.
Related guides
How To Find The Best Hammock Underquilt
Is Hammock Camping Comfortable?