Offering protection from all types of insects, these hammocks come with built-in and/or detachable net that keep bugs and pesky mosquitoes at bay. However when searching for the best hammock with a bug and mosquito net, there is of course a certain level of research that should firstly be carried out in order to fully understand which is the right product for you and your trip/location.
Made for one or two sleepers, this type of hammock can be purchased in an array of sizes, colors, and with various accessories. Strongly influenced by your on sleeping location, the following guide disuses which hammocks are best for safe and comfortable sleeping without the risk of mosquito bites and bugs crawling around.
Why do you need a hammock with a built in bug and mosquito net?
A hammock with a bug and mosquito net provides an excellent substitution and alternative to a standard camping tent. As it reduces the weight hikers and campers have to carry, and considerably reduces the size of their backpack.
Installed above the ground, a hammock removes the risk of bugs and insects crawling in from the campsite floor, and with the addition of an added net, ensures that you are also protected from the air. All helping to provide a good night's sleep, even when set up close to a water source such as a lake or river.
Apart from offering a safe place to sleep nearly anywhere in nature, a hammock can also provide a comfortable area to read a book and relax after a few hours of hiking.
Types of a hammocks with a bug and mosquito net
Made for one or two users, hammocks with nets can be categorized by their size and overall purpose.
Individual nylon parachute – Made for one sleeper, these hammocks are recommended for one or multiple nights out in the wilderness. They stand out with their versatile profile for all types of sleeping locations.
Double nylon parachute – Double nylon parachute hammocks can accommodate one or two sleepers, depending on the design. However, even if called a double nylon parachute, these hammocks may still only accommodate one user.
Ultra-light – Ultra-light hammocks are made with minimalism principles. Normally only made for 1-day hikes, these hammocks are the lightest and the most compact. They only support a few hours of resting for those who need to return at the starting point at the end of the day.
Expedition – The opposite of an ultra-light hammock is the expedition hammock. Made for multiple days of trekking and/or camping, they have characteristics that make them more durable and able to provide extra protection such as thicker materials when compared to the ultra-light alternative.
Mosquito and bug net overview
Not all mosquito nets are created equal. The most considerable difference is within the holes of the net and their physical diameter. The smaller these holes are, the more protection the net offers against a greater amount of smaller insects. However the larger the holes are, the better the visibility will be from inside the hammock.
Net material
Mesh is used to create the net that keeps insects and bugs out of the hammock. Normally made from washable materials such as polyester, the net covers the entire hammock from both the top and around the bottom. Usually offering a zipped access, this offers full protection unless ripped or torn.
While some users simply wrap the net around a hammock, this is an incorrect installation method. Hammock carabiners should be installed to keep the net in place, and to avoid unnecessary adjustments whilst sleeping. The best part about these accessories is that they support the net through tension, and can easily be adjusted to suit individual requirements.
Under this tension, the net sits higher above the hammock and also provides the added benefit of more space, and less of a claustrophobic feeling.
There are 2 primary types of mosquito and bug nets manufactured for hammocks; one is integrated (built-in) into the hammock, while the other is sold separately and standalone to be fitted when required.
Built-in mosquito net hammocks
Permanently attached to the hammock, a built-in mosquito net is an all-in-one solution that protects from mosquitoes, bugs, and all types of other insects. While practical, this type of net has its limitations.
The biggest drawback of this design is that it doesn't eliminate mosquito bites through the thin fabrics of the hammock. Many mosquitos can land on the hammock and bite through the fabrics which are a common problem for outdoor enthusiasts.
Another drawback of built-in mosquito nets is they often can't be removed. If camping in an area with no risk of bugs and/or mosquitoes, those in a hammock can feel their view is obstructed by the net which may no longer be necessary.
However, the main benefit of built-in mosquito hammocks is that they don't require too much effort or accessories to install, and provide a lighter and less cumbersome method of sleeping and shelter for travelling.
Standalone hammock nets
Standalone hammock nets offer full protection, through enclosing the hammock, and accessed via closed a zipper. These nets offer upper and lower hammock protection while also preventing mosquitoes from landing and biting through the hammock itself.
While they require hammock carabiners, these nets act as a shield in all directions. While built-in nets aren't as efficient when it comes to full protection, standalone hammock nets are the ultimate option.
Some outdoor enthusiasts note the popular drawbacks of these nets. To begin with, they're larger than built-in nets, and take up more space, whilst also often slightly heavier.
…we have a full guide on these here.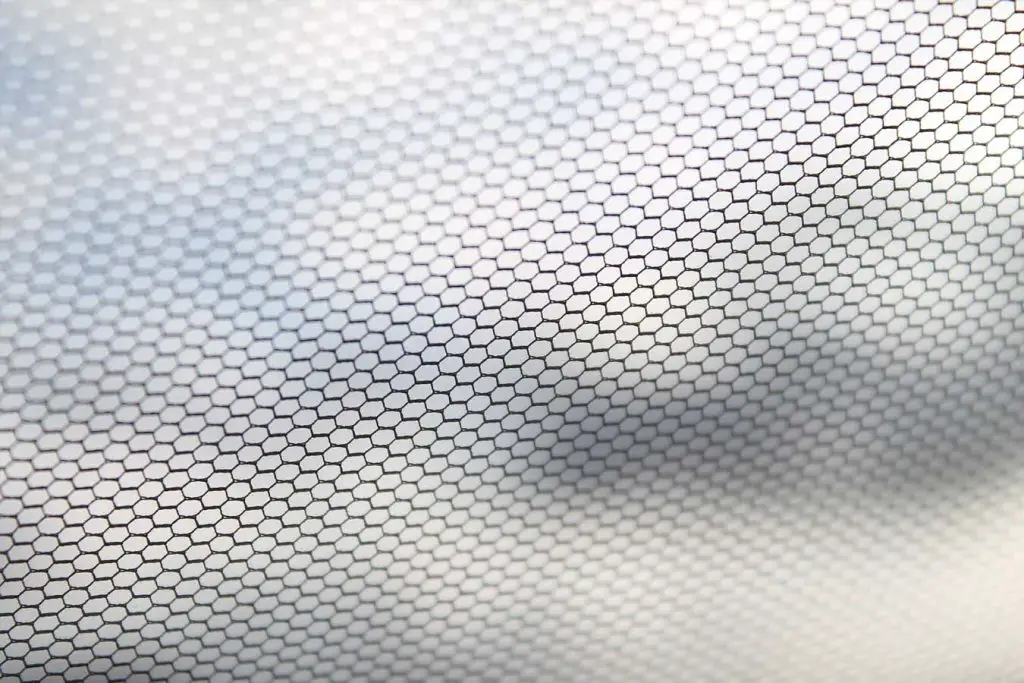 How to choose a camping hammock with a bug and mosquito net
When searching for a new or replacement hammock with a bug net, there are several key and differentiated judging characteristics such as size, materials, or portability. Before purchasing any product, all users should study these carefully:
Size
There are both single-width and double-width hammocks available. Although campers prefer to use single-width designs to provide and maintain space-saving measures, and as most users sleep singly, there is often no need for larger models.
However tall users might be the exception to this, as anyone taller than approximately 6 feet may be inclined to choose a larger hammock. A typical hammock with double-size construction measures 320cm in length and 140cm in width.
Weight
There are 2 weight characteristics to look for when purchasing a hammock. The first one is the weight of the hammock itself, and the second refers to its physical weight capacity.
The factual weight of the hammock varies from 22 to 47oz. Multiple factors come into account when judging the weight of a hammock such as its size and materials.
But the weight capacity is important as well. Heavy users should carefully consider new hammocks. Those with weights up to 200lbs should choose a hammock with a higher weight capacity, closer to the 300lbs mark. The same applies when scaling up further, and users with weights of up to 300lbs should then choose a hammock with a higher weight capacity closer to the 400lbs mark.
Materials
Nylon and its variations represent the most popular materials for hammocks with nets for bugs. The qualities of the material such as its lightweight, easy to clean, durable, and quick-drying properties, are widely recognized by campers
Cotton-made hammocks may still be found in stores and online. Whilst the material is softer, it has considerable drawbacks such as added weight and slower drying times. Depending on the type of camping users consider, it may still work on several occasions where the extra weight is not as important.
Capacity
The weight capacity of the hammock is calculated according to its average single user or double user profile. Mainly made from a single piece of fabric with reinforced stitching, it has to deal with the weight of the user and the constant movements inside the hammock.
From small capacity up to 400lbs in weight, there are plenty of options to choose from.
Mosquito net applications
There are a few popular types of mosquito nets to choose from, for most users, there's no right or wrong choice here, rather than personal preference.
Over-the-hammock mosquito nets – Hung over the hammock, these nets are normally easy to use as long as they're installed correctly. Users who may feel a bit claustrophobic might prefer these nets and choose to install them a bit higher over the hammock.
Built-in mosquito nets – Connected to the hammock itself, these nets close the hammock on top and they offer the ultimate protection from above. The drawback of the design is that those who are a bit claustrophobic can feel enclosed by the net.
Mosquito nets with a rain fly – For the ultimate protection, users can also opt for mosquito nets with an added rain fly.
For those looking for a separate rain fly, we have a full guide on this here.
Portability
Portability remains an essential characteristic of camping gear and hammocks are no exception. High portability ratings are attributed to hammocks which are lightweight and not bulky. Low portability ratings are attributed to large hammocks with heavy materials.
The main criteria for portability is to be able to easily carry the hammock with its net without taking up to much space in a backpack. This is the main reason most manufacturers abide by nylon materials as they're compatible with such portability targets.
Suspension system
Suspension systems for a hammock and net might be included with each hammock. But they may also need to be purchased separately. Hammock ropes are now included with leading products. Nets that aren't built-in might also require hammock carabiners to hang.
Full enclosure nets – Depending on the type of hammock, a suspension system for the net may or may not be required. Full enclosure nets use zippers or velcro straps to attach to the hammock. As expected, they offer a tight enclosure that doesn't allow mosquitoes and small insects to make their way into the hammock.
Loose nets – Loose nets are normally made with an opening and they are hung over the net with proper suspension and even tension systems.
Loose net is a term also used to refer to the nets which hang above the hammock which are primarily used by those with claustrophobia but which offer minimal to no real protection against mosquitoes.
Extra features
Hammocks today are made for the modern user who might be carrying smartphones and cameras. Here are the practical accessories to consider for a complete setup.
Zippers – YKK zippers are particularly popular and recognized in the camping world for their durability. Good zippers ensure the net can protect sleepers for years to come.
Pockets – Hammock pockets are normally used to store smartphones, keys, or wallets. Most should come with a small zipper or with Velcro closure.
Accessories – Hanging ropes, carabiners, and other tensioning ropes are needed to properly hang a hammock. These accessories might not be included with all hammocks. As a result, users should check if their preferred hammock already includes such practical accessories.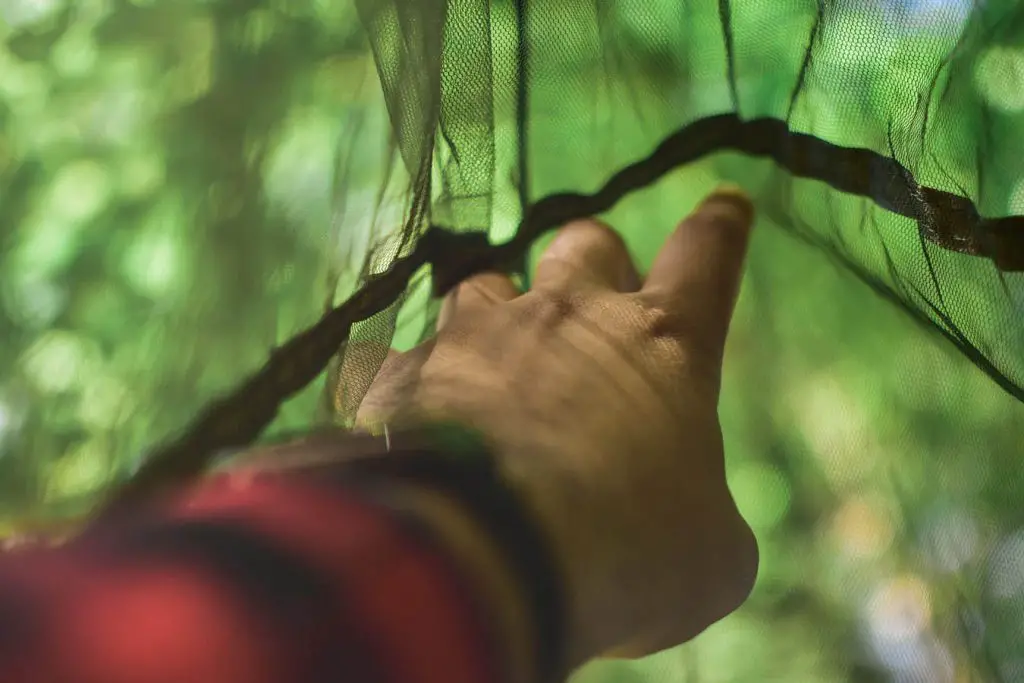 Tents vs hammocks with bug netting
Choosing between a hammock and a tent is not easy. A tent offers a more relaxed feel with plenty of storage options. But a hammock is lightweight and positioned off the ground. Here's what to consider when choosing between them.
Packing – In terms of packing simplicity, hammocks win every time. While tents are also small, the right hammock can be different when it comes to lightweight packing and traveling. Even the largest hammocks are still lighter than tents.
Weight – The weight of a tent is important when traveling. But lightweight tents are very expensive. For its price, the user could purchase multiple hammocks which means they're better for pure return on investment.
Pitch requirements – Pitching is where tents are better as they only require a surface of level ground to set up. But a hammock normally is hung between 2 trees, which limits the location of where users can camp and sleep.
Stealth – Those who prefer to stay low profile in the wilderness also need to consider how these 2 look. A tent might be more visible than a hammock in the woods.
Campsites – Tents may be better for general campsites. But camping in the woods is going to be where hammocks are better with their lightweight profile.
Space – The space of a tent is higher, and it also allows users to store boots and backpacks. Hammocks are primarily made for the sleeper.
Condensation – Condensation happens nearly every night. Users wake up to a wet tent or a wet hammock. Both offer protection for the sleeper but the smaller size of a hammock with its wet mosquito net might make it easier to dry before packing and heading off.
Awareness – Spatial awareness can suffer when sleeping away from home. In a tent, users have no visibility and they can't see the world around them from a hammock
Comfort – Comfort is subjective. Both a tent and a hammock can be comfortable. But users suffering from back problems should discuss the hammock purchasing idea with a doctor due to the rounded sleeping position.
Off the ground – The main issue with tents is they often need to be erected on soggy ground. A hammock is always up in the air, away from the cold and wet.
---
Recommended products
01 – Everest Active Gear Double Camping Hammock
Compressed Pack Size – 5.0 X 6.3 x 9.5 inches | Weight – 48oz | Material – 70Dnylon | Reversible – Yes | Internal Pocket Storage – Yes | Netting Type – Built-in | Weight Capacity – 400lbs | Maximum Camper Height – 10ft
This nylon hammock comes equipped with multiple accessories to offer comfortable sleeping and easy setup. It includes aluminum carabiners and an integrated 31mg mosquito net with 2,100 holes per inch.
Made from ripstop Tafetta parachute materials, the hammock is also quick drying. In the case of spills, it can also be turned over to dry faster.
Those who haven't seen a built-in mosquito and bugs net need to know Everest Active Gear integrates a durable YKK 8mm zipper. It ensures the mosquito net is durable while providing easy access. Featuring a full-length zipper, it protects sleepers from potential mosquito bites.
Tested with weights of up to 400lbs, the hammock is very durable and users can even store personal accessories such as smartphones and flashlights in its built-in pockets.
---
02 – Hennessy Hammock – Ultralite Backpacker Series
Compressed Pack Size – 4 x 6 x 9 inches | Weight – 32oz | Material – 70D nylon | Reversible – Yes | Internal Pocket Storage – Yes | Netting Type – Built-in | Weight Capacity – 200lbs | Maximum Camper Height – 10ft
Made with a unique design, Hennessy's hammock is popular among campers due to its rare bottom entry. Users enter the sheltered hammock from underneath, closing the hammock using Velcro strap. A built-in mosquito net also keeps all insects out. Made from 20D nylon, the mosquito net is durable.
Above the hammock, users can also hang the included rain fly with an impressive 1,200lbs capacity. As its name suggests, it aims to keep the raindrops out of the hammock for better comfort.
Another interesting aspect is the asymmetrical construction which follows the body for the same comfort-enhancing reasons. This is made possible with extra knee and back support.
There are a few options the hammock comes in. Outdoor fans who simplify can't stay inside when the temperature drops can also rely on the hammock's optional double-layer bottom insulation. Most users will be glad to know the bottom materials are made from high-density materials to prevent mosquito bites through the nylon.
---
03 – Grand Trunk Skeeter Beeter XT Mosquito Hammock
Compressed Pack Size – 4 x 6 x 9 inches | Weight – 34oz | Material – parachute nylon | Reversible – Yes | Internal Pocket Storage – Yes | Netting Type – Built-in | Weight Capacity – 400lbs | Maximum Camper Height – 10ft
Made with an included mosquito net, this practical hammock is among the best choice for users looking a quick setup. Those who don't need a mosquito net can simply flip the hammock to quickly turn it to its no-net side.
Designed with durable materials, it features triple-lock stitched seams. They help support weights of up to 400lbs. Its high weight capacity, even for a single person hammock, makes it a bit more durable than others.
With included nautical-grade carabiners and no-see-um nylon mosquito netting, the hammock is very easy to use. It features long zippers on both sides for quick access. With included mosquito net tensioners, it can also be used for relaxed reading sessions while enjoying nature.
---
04 – Snugpak Jungle Hammock with Mosquito Net Nylon
Compressed Pack Size – 8 inches x 7 inches x 2.5 inches | Weight – 28oz | Material – parachute nylon | Reversible – Yes | Internal Pocket Storage – Yes | Netting Type – Built-in | Weight Capacity – 400lbs | Maximum Camper Height – 9ft
No products found.
With a weight of just 2lbs, the hammock can be useful for backpackers who also need to keep mosquitoes and bugs away. Its lightweight profile can be practical for outdoor fans out trekking for days. These users don't have the luxury of carrying heavy camping gear.
With an included suspension system based on ropes and carabiners, users have everything they need for a quick setup. A mosquito net tensioner is also included. It raises the net high above the hammock allowing those who might feel claustrophobic to be a bit more relaxed and even enjoy a hot cup of the tee without leaving the hammock.
---
05 – Exped Scout Hammock Combi
Compressed Pack Size – 17.7 X 7.1 X 11.5in | Weight – 58.4oz | Material – nylon | Reversible – Yes | Internal Pocket Storage – Yes | Netting Type – Built-in | Weight Capacity – 330.7lbs | Maximum Camper Height – 9.6ft
Compact and practical, this Hammock Combi features a mosquito net and a rain fly. It also represents one of the original designs with its unique mosquito net sliders. The net can also be raised by inserting poles into the supporting black bands.
The hammock is also practical as it includes a sleeping pad pocket. It keeps the sleeping pad from turning while resting. This feature may also be used for ground-level sleeping in areas with no trees. Trekking poles can be used to set the rain fly and sleep at ground level.
We have a complete guide on hammock sleeping pads here.
---
06 – Lawson Hammock Blue Ridge Camping Hammock and Tent
Compressed Pack Size – 22 X 6in | Weight – 64oz | Material – nylon | Reversible – No | Internal Pocket Storage – Yes | Netting Type – Built-in | Weight Capacity – 275lbs | Maximum Camper Height – 11ft
Using 2 arch support poles with built-in mosquito netting, this hammock can also be used as a tent. Regardless of the camping location, it offers a comfortable and sheltered sleeping place. A rain fly is also included for those who might need to face adverse weather.
Apart from allowing easy zipped access to the hammock, it also comes with a straight patented profile. Its spreader bars are known for considerably reducing the cocoon effect of traditional hammocks. Those new to camping can rely on all of these features as it includes a rain fly, a stuff sack, poles, and ceiling O-rings.
---
Conclusion
Anyone who's taking hammock camping seriously is not going to go wrong with the Everest Active Gear Double Camping Hammock. Shipped with a premium mosquito mesh and suspension net cords, it's easy to install and easy to roll up. Most importantly, it has a high weight capacity which even allows users to sleep with their backpacks inside the hammock to avoid leaving them on wet ground.
Made from breathable fabrics, the hammock also looks better than many of its competitors. Today, the manufacturer sells it in black, khaki, dark blue, and navy. While most hammocks come in a single color, Everest Active Gear offers matching camping gear for outdoor adventure enthusiasts.
Related guides
How To Find The Best Hammock Underquilt
Winter Hammock – How To Stay Warm
How To Find The Best Hammock Top Quilt
How To Take Your Dog Hammock Camping