Whether you are hammock camping in the wild or out in your backyard, you can only experience maximum enjoyment from your hammock when you are at your most comfortable, and this is partly be due to the method used to suspend and support it. 
When it comes to suspension methods, some campers will choose to use ropes while others (like us) will opt for straps. If you intend to use straps, then there are several factors that need to be considered as and when you buy a new and/or replacement set, that will give you the best and most secure suspension. 
This article covers everything you need to know about hammock straps, from how they work to how to choose the best one for both you and your hammock. Followed by a shortlist and product review of our favourite products.
Overview
A lot of times, ropes can be downright dangerous to use on trees. As the rope supports all of your weight, it often starts to tear through the bark of the trees it is is attached to. It may also slip on one side and make the hammock fall apart with you on it, which can lead to some unfortunate accidents and injuries. 
Hammock straps can help you solve this problem however. Good quality straps will secure your hammock firmly for the entire time you are on it. And to prevent damage to the tree, consider getting a set of hammock straps that have some form of webbing or ones that come with tree straps. This will spread the weight exerted on the tree across a larger surface area. 
Why do you need straps?
People opt for straps as their method of suspension for several reasons:
Straps use a simple carabiner system, hence do not need you to memorize complicated knots when setting up, and are easier to take them down.
By using straps, you can easily move your hammock from one tree to another.
Hammock straps are wider than ropes, and cause significantly less damage to the bark of trees.
Hammock straps vs rope vs paracord
As mentioned straps are not the only method than can be used to hang a hammock, as there are the above mentioned ropes and then also paracords. Some experienced hammock campers prefer to use ropes and consider the knots required to successfully hang a hammock a show of their camping skills, but if you are new to the game, straps are a whole lot easier. 
Hammock straps
There are four types of hammock straps that may be included with your hammock. 
Short straps with loops – If the straps are too short, then chances are that it was designed to be used as an anchor point. You will have to use them with extension straps.
Long straps with loops – These are at least 2 feet long. If the straps come with two loops, they are all you will need to hang up your hammock.
Easily adjustable straps – These have many loops on one end. This property makes them easy to set up and most suitable for novice campers.
Eco-friendly straps – These are straps that are harmless to the environment. There are some telltale signs to help you see if your straps are eco-friendly. They are 2 inches thick and they come with 2 "S" hooks and metal rings. Although they are good for the trees, they are heavier than other straps.
Ropes
Ropes might be more difficult to use but they offer more functionality. For your rope to hold, you might have to climb the tree to hang it up. You also need some knowledge in heavy-duty knots to tie it to the tree. The good thing about using ropes is that you can suspend them on any part of the tree as long as it can support the weight.
Also, ropes are usually longer so if the trees are distantly placed trees, you won't have much trouble setting up your hammock. 
A rope is not a suitable choice for a suspension line since it is too thin and it can damage the bark of the tree.
Paracords
Parachute cord (paracord) is a nylon rope that is commonly used by camping enthusiasts for fishing, as a clothesline, and sometimes for hammock suspension.
Similar to rope, its limited thickness can make it harder to stop the hammock from overturning.
Another reason why paracord isn't a suitable suspension line is that it can only efficiently hold static weight (stationary loads). This together with its tendency to stretch might be a reason why a hammock sinks to the ground overnight.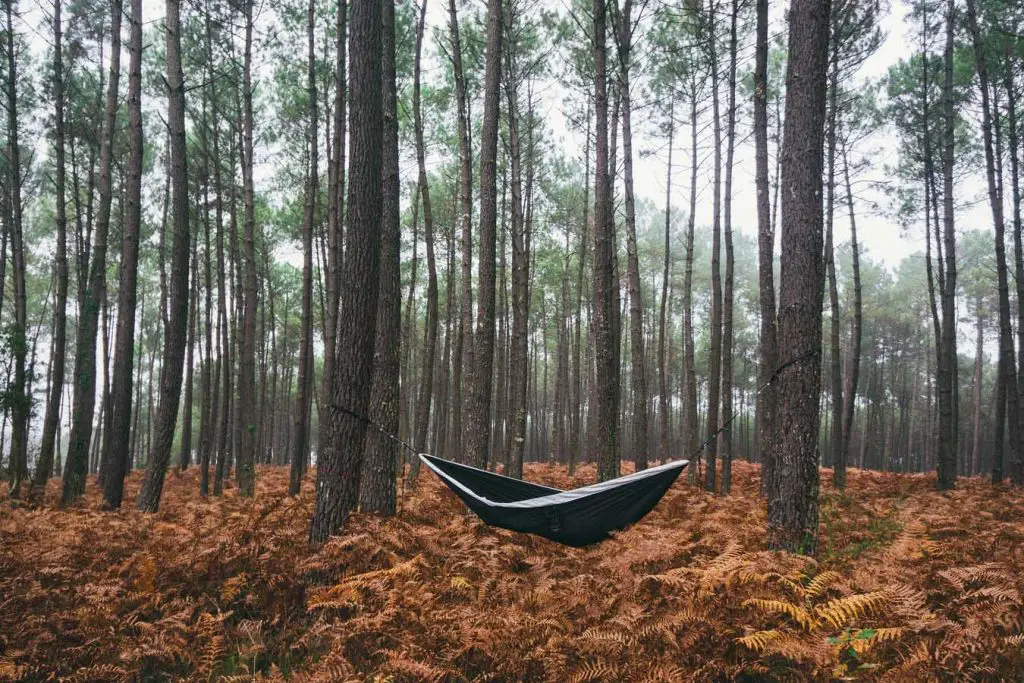 What to consider when choosing the best hammock straps 
There are a lot of hammock straps on the market, which can of course become very confusing especially for novices. However using the below guidelines, you should be able to quickly and effectively pick out a shortlist.
Length
Longer hammock straps (at least 14 feet long) might come in handier if you are unsure of the population of the trees in the area you'll be camping in. If there are a lot of trees, then shorter straps will do.
Shorter straps take up less packing space and weigh less but are less flexible. If you can spare the space, it would be best to opt for long straps.
Weight capacity
You should also opt for hammock straps that can easily support enough weight. Although manufacturers frequently suggest high weight limits of 2,000 pounds, you should keep the weight well under this number.
If even when getting close to this limit the straps don't snap, it will significantly reduce there lifespan. If you are planning on using the straps with a double hammock and/or if you are a larger camper, you should consider getting the XL version of your favorite brand since they are thicker and more heavy-duty.
Number of adjustment points
Straps with more adjustment points provide more versatility, and we advise that you aim for a set that can also function as a suspension cord for a rain fly or bug net. They can also come in handy if your anchor points aren't tree trunks and you need to think outside the box. 
Tandem hammock systems
This is a type of system that can suspend two hammocks while keeping a distance in between so that you don't bump into each other, whilst also reducing the packing weight for you and your partner.
Strap extensions
If you find yourself in a situation where you need your hammock straps to be longer, you will appreciate strap extensions. The good thing about strap extensions is that they won't take up much space in your backpack. A set of hammock straps that come with this accessory has an added advantage.
Durability
Durability is one of the most attractive features about using hammock straps, as when compared to other suspension systems such as ropes, they able to withstand far more of the general wear and tear that comes with camping.
For maximum durability we like to use polyester straps, as they provide a strong webbing and are far less prone to stretching.
Lastly, the stitching of the straps is also very important, and where possible you should aim for double or triple stitched seams to guarantee durability. 
Width
Thin straps tend to be the most harmful to trees, as there small surface area fails to efficiently spread the load of the hammock and therefore exerts too much pressure in a singular area. Straps with wider widths are better as they spread the force over a larger surface area. 
Ease of set up
Hammock straps make setting up significantly easier than ropes. However, some straps come with complex instructions to put them together. Choose a set of straps that are easy to assemble, and be sure to follow the manufacturer's instructions so that the hammock stays secure.  
Do you need hammock straps?
Hammock straps are not the only method you can use for suspension, but they are more efficient. They have a larger surface area and this means more friction between the strap and the bark, hence lower chances of the strap slipping.
Since you don't use knots in this setup, your straps are more likely to stay secure throughout the night.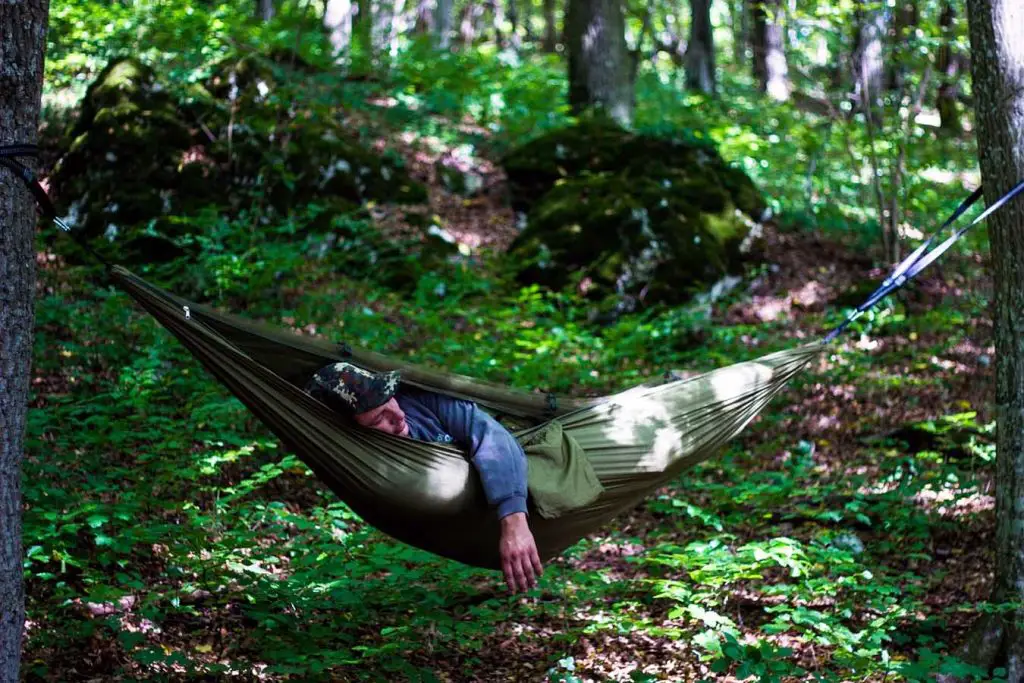 How do you hang a hammock with straps?
A properly fastened set of hammock straps will ensure that you remain fully suspended, and don't wake up on the ground.
You should make sure that you follow the instructions that come with the package. If you are new to this, you should start early. It might get pretty frustrating when the darkness sets in and you don't have your hammock ready yet.
You should also practice hanging the hammock straps prior to your camping trip in your backyard or at a local park. This will save you more time and 
Here are some of the basic steps of hanging a hammock with straps.
Take your time to locate two anchor points, for example, two trees. They should be around 15 to 20 feet apart and strong enough to support the weight that your hammock will need to carry.
Put the strap around the anchor point you choose. Place it high enough that the strap can create a 30-degree angle with the tree. Don't set the straps too high so that in case you fall, you won't get injured.
Make sure the strap is tightly secured and unlikely to slip. After this, clip the hammock to the strap using carabiners.
Adjust the carabiners from one loop to another until you get enough sag on your hammock while maintaining enough distance off the ground, at least 18 inches.
In place of carabiners, you can tie knots or use a whoopie sling. If you feel like these methods are too complicated, then carabiners are for you.
Here are some common mistakes you should avoid while hanging their straps.
Do not drill into the tree as this might cause long term damage. Modern hammock straps don't require you to do this.
If you decide to secure the straps with knots, check that they are not loose.
Do not strap the hammock in a tight space. 
Safety precautions when using hammock straps
Safety should always be a priority, and this is no different when it comes to hammock camping.
Once you are done setting up the straps, inspect the setup, and ensure you have followed the manufacturer's instructions before you get in the hammock. 
While getting in, gradually ease your weight on to the hammock. You should sit before you lay down.
Ensure you check on the state of your hammock straps before and after you use them.
Most straps are reinforced with double or triple stitching that keeps the loops shut. This is one of the most important parts of the straps. If you notice the stitching getting undone, you should replace the straps.
---
Recommended products
The below carefully selected 6 hammock straps form a list of what we consider to be some of the best products currently available:
ENO – Eagles Nest Outfitters Atlas Chroma Hammock Straps, Suspension System
Length – 9 feet | Weight Capacity – 400 pounds | Number of Loops – 15 | Combined weight – 11 ounces | Thickness – 1 inch | Material – poly filament webbing | Quick setup – yes
ENO, Eagles Nest Outfitters Atlas Chroma Hammock Straps,...
ADVENTURE IN STYLE: Atlas Chroma Straps are lightweight (only 11 ounces!) and compact, with the added plus of a handy storage bag to take them on the go.
HAMMOCKING DONE RIGHT: Just like the Atlas Straps you have come to know and love, the Atlas Chroma pairs perfectly with any ENO hammock (not included). Plus the colorful two-tone weaving is how you hammock in style.
MASTER THE ART OF LOUNGING: Includes two straps that are each 9 feet long and 30 adjustment points, allowing you to wrap them around big trees or wherever your adventure (nap) takes you.
TRUSTWORTHY MATERIAL: Falling is not an option, unless it's to sleep. The Atlas Chroma straps are made from durable polyfilament webbing and support up to 400 pounds.
The two straps in this suspension system are long enough to be effortlessly wrapped around trees, poles, or boulders. Each strap features 15 loops, making it easy to get the sag that you require from your hammock.
Another feature of these straps that we liked is that they are light to carry and come with a storage bag, so transporting them is a breeze. 
These straps are made from poly filament and woven in a daisy chain pattern, which is great since it allows the straps to sustain heavy loads. 
The hammock straps have 30 adjustment points, and you can also set up your bug net or rain fly from them. 
These straps were made to pair perfectly with any ENO brand hammock.
Pros
The straps have 30 adjustment points in total and you can use these for purposes other than suspending your hammock.
With 15 loops, you can tie these straps on anchor points of any diameter.
The straps are compatible with most hammock brands.
Cons 
Carabiners are not included.
The straps are not reflective, so you can easily run into them at night
---
WEHE Hammock Suspension System
Length – 10 feet | Weight Capacity – 2000 pounds | Number of Loops – 18 | Combined weight – 14.4 ounces | Thickness – 1 inch | Material – polyester | Quick setup – yes
Sale
Hammock Straps Extra Strong & Lightweight,36 Loops, 2000LBS...
HAMMOCK STRAPS SET: 10 Feet Long (20 Ft Total) x 1 Inch Wide (Tree Friendly), 18 Attachment Loops (36 Total), 1000+ Lbs Per Strap (2000+ Lbs Total). No-Stretch Heavy Duty Triple Stitched Seams, Hang Your Portable Hammocks by Eagles Nest Outfitters like the Eno Doublenest Hammock, Eno Singlenest Hammock, and parachute hammocks.
SUPER EASY & FAST SET UP FOR YOUR HAMMOCK! Hammock Straps are so easy to use, even the kids can do it. Setting up your hammock takes only a minute and there are no difficult knots to tie. You just wrap them around anything that is strong enough to hold up your hammock, like trees, posts, big rocks, beams, cars or any sturdy object.
TREE FRIENDLY & PERFECT FOR ANY HAMMOCK – These hammock straps won't damage trees like other straps, and when hanging your hammock, these straps allow you to choose trees that are up to 20FT apart!
EASILY ADJUSTABLE AND WON'T STRETCH - These straps are very strong and they will not stretch out
These WEKE suspension straps are made for heavy-duty support, thanks to them being made from polyester and the seams are reinforced with triple stitches.
Each strap is 10 feet long, which might come in handy if your campsite doesn't have enough trees. They are also safe for the trees thanks to the 1 inch width.
Pros
The straps are guaranteed to support heavy loads.
The straps are triple-stitched.
Carrying bag supplied. 
Cons 
Some customers complained that the straps snapped after a short while of using them.
Carabiners are not included with the purchase.
---
Grand Trunk Tree Trunk Straps
Length – 10 feet | Weight Capacity – 400 pounds | Number of Loops – 18 | Combined weight – 12 ounces | Thickness – 1 inch | Material – polyfilament webbing | Quick setup – yes
Grand Trunk Hammock Tree Trunk Straps | Hammock Suspension...
DURABLE HAMMOCK TREE TRUNK STRAPS - Compatible with single, double or lightweight hammocks | Strong, lightweight, colorful hammock straps designed for the outdoors | Hang your hammock almost anywhere
CUSTOM ADJUSTABILITY - Hammock straps offer more custom loop options than most straps allowing for comfortable and secure hang |36 combined adjustment points and a daisy chain design | Slap the straps on a big tree trunk, roof rack, porch post, big rocks, boat mast, or almost any anchor point
QUICK AND EASY USE - Hanging up or tearing down your hammock has never been so quick and simple | No complicated knots | Straps are portable, convenient, offering a wide range of uses | Stuff neatly into the colorful stuff sack
CAPACITY & DIMENSIONS - Capacity: 200 lbs/strap (400 lbs total | Each strap: 1" x 10' daisy chain hammock strap | Straps Weight 12 oz. | 70 Nylon triple stitching
Despite their lightness, these straps can effortlessly support a large load, thanks to them being triple stitched using 70 nylon and woven using the daisy chain design, assuring you of security in your hammock.
The straps have multiple adjustment points, which gives them a wide range of uses. You would appreciate this feature if you are ever in a campsite with few anchor points. They come packed in a colorful compression bag.
If your straps get damaged, there's no need to worry. The manufacturer provides a lifetime warranty for this product and all you'll have to do is contact them.
Pros
The brightly colored straps and storage bag are easily noticeable.
The straps have lots of connection loops so finding the right amount of sag for your hammock will be pretty easy.
Daisy chain design makes the straps more durable.
Cons
They are not as long as some of the other straps.
---
ENO – Eagles Nest Outfitters Helios Hammock Suspension System
Length – 8 feet | Weight Capacity – 300 pounds | Number of Loops – 1 | Combined weight – 4.1 ounces | Thickness – inches | Material – polyfilament webbing| Quick setup – yes
ENO, Eagles Nest Outfitters Helios Hammock Suspension...
HAMMOCKING DONE RIGHT: Pairs perfectly with any ENO Hammock (not included). Features an easy-to-adjust bury splice tension system that helps prevent slippage. Let the napping begin
ADVENTURE IN STYLE: The Helios Hammock Suspension System weighs only 4.1 ounces and is made from super-strong Dyneema line with a polyester blend tree sling. Designed to support up to 300 lbs.
MASTER THE ART OF LOUNGING: Measuring over 8 feet, allowing you to wrap them around big trees or wherever your adventure (nap) takes you.
TAKE ON THE GO: Includes a Sil Nylon Compression Stuff Sack that compacts the straps down to the backpack friendly size of 3" x 4."
These straps are unlike any of the ones reviewed in this article. This is because they employ a different technique when it comes to setting up. It utilizes a bury splice tension system which is easier to set up and make adjustments. 
The suspension system has 2 parts, a Dyneema line, and a polyester blend tree sling. This combination is light but this does not compromise its functionality since it can support up to 300 pounds. 
The system is inclusive of a silinylon compression sack which packs the straps down to 3×4 inches.
Pros
The straps are lightweight and easy to pack.
They are easy to set up and take down.
Cons
The straps are short compared to the other ones reviewed.
Carabiners are not included in the packaging.
---
KAMMOK Python Hammock Suspension Straps
Length – 15 feet | Weight Capacity – 300 pounds | Number of Loops – 20 | Combined weight – 3 ounces | Thickness – 2 inches | Material – polyester webbing| Quick setup – yes
No products found.
These straps are the perfect set to take with you for backpack camping or if weight is one of your main priorities. They weigh only 3 ounces. This is made possible by the NanoWeave technology which minimizes the bulk and stitching required while maintaining the integrity of the straps. 
The straps are woven from a technical fiber, Spiraline, which the manufacturer claims is 15 times stronger than steel. This feature lets you suspend up to 300 pounds on any anchor points since the straps have 20 daisy-chain adjustment points on each strap. 
Additionally, the straps utilize a variable width design where the strap gets wider towards the ends. Thanks to this, the straps stay in place while keeping the tree healthy. 
The Kammok straps are compatible with any hammocks and they come in a waterproof ripstop nylon stuff sack.
Pros
The straps are super lightweight.
The included sack is waterproof. 
The straps have reflective tracers so they are safe to use in the dark.
Cons
You have to buy carabiners separately.
---
Bear Butt Kodiak Hammock Straps
Length – 10 feet | Weight Capacity – 500 pounds | Number of Loops – 20 | Combined weight – 13 ounces | Thickness – 1 inch | Material – polyester | Quick setup – yes
Bear Butt Kodiak Hammock Straps For Trees - 20 Feet Long...
EASY SET UP AND TAKE DOWN - The Bear Butt hammock straps for trees are so easy to set up and take down a 5 year old could do it in only a matter of minutes, making these the perfect tree straps for any outdoor hammock adventure. Add to cart now.
VERY STRONG, SAFE AND DURABLE - With a whopping 1000 pounds weight capacity, these hammock tree straps are extremely strong and made from specially formulated polyester that is more durable and safer than the cheap nylon hammock hanging kits.
EASY TO USE ADJUSTABLE LOOPS - Our hammock tree straps with carabiner require no knot tying. Simply loop each dasiy chain hammock strap around the tree, pull through the other end, and clip on your carabiner for the perfect hang.
LIGHTWEIGHT AND PORTABLE - These lightweight hammock straps for porch, beach, camping, backpacking, and hiking come with everything you need. Plus, it all fits in a convenient portable carrying case that makes traveling a breeze. Get yours now.
These straps by Bear Butt are designed for strength, security, and convenience. The thick straps are reinforced with triple stitching using double the thread to give you extra safety. 
Setting up is also very easy and convenient since the straps come with 2 metal carabiners and a carrying case. 
Another great feature of these straps if the number of loops on each strap, plus an extra loop at the top of the strap for tying around the tree. This also makes it easy to adjust the hammock. 
These straps come with efficient customer service policies. If you are unsatisfied with your straps, you can always contact them and they are sure to take care of your needs.
Pros
Carabiners are included with the purchase.
The loops are heavily reinforced, guaranteeing security. 
Cons
The straps do not have any reflective properties.
---
Conclusion
All of the hammock straps reviewed here are of exceptional quality and are guaranteed to provide full and stable support, whilst limiting any environmental impact. However, the KAMMOK Python Hammock Suspension Straps stands out here for a number of reasons. 
They come with long 15 feet straps that each have 20 adjustment loops, meaning you will not have any trouble setting up in an area with only a few trees. The straps are also light and easy to carry in the supplied waterproof compression bag.
The lack of carabiners might be disappointing to some campers, but it is made up for in length and strength.
Related guides
How To Take Your Dog Hammock Camping
Do you need a sleeping bag with a hammock?
How To Hammock Camp As A Couple
Hammock Camping Under Quilts vs Sleeping Pads
Can You Sleep In A Hammock While Camping?