Generally it is considered that if you decide to take your hammock on a camping trip, you will be sacrificing some of additional comfort and warmth that comes with sleeping in a tent. However, that doesn't have to be the case, thanks to underquilts.
For those that don't know… What is a hammock underquilt?
A hammock underquilt is very similar a sleeping bag, but one that is designed to be used with a hammock. The underquilt provides insulation to the outside and bottom part of the hammock where you lose the most heat.
Underquilts work by creating a layer of air on the underside of the hammock which traps the warm air and keeps the cold air out. 
They are lightweight and the air spaces inside make them very compressible, packing down to the size of a water bottle.  
If you are planning on buying an underquilt for hammock, there are several factors that you will have to consider first. This article outlines the important aspects you need to know before making such a purchase, and provides a reviewed shortlist of the best 5 underquilts that we feel are worth your consideration.
Why use a hammock underquilt?
The bottom of your hammock will not provide enough insulation, especially if you're camping in the cold season or on a windy night. 
Some campers may decide to spread a blanket or a sleeping bag on the inside of the hammock. However this won't be anywhere near as efficient, since your body weight will compress the blanket, stopping it from holding any warm air. Underquilts are installed below the hammock so your weight does not affect its efficiency. 
If you still insist on keeping a sleeping bag at the bottom of your hammock, you may feel it shifting around as you sleep. This can be very uncomfortable. An underquilt remains in one position, providing an uninterrupted nights sleep.
Benefits of hammock underquilts
There are a few reasons why hammock campers choose underquilts to keep them warm:
Underquilts are installed outside your hammock and do their job without obstruction. You won't get tangled up in one as you sleep and they don't make it harder to get in and out of the hammock.
As mentioned earlier, underquilts are installed outside the hammock and your weight does not compress them. This means they can effectively keep you warm in any weather.
Most underquilts have a coating that makes them water repellent.
An underquilt can be used together with a hammock rain fly to give extra protection from the elements.
Disadvantages of hammock underquilts
In as much as there are perks to having a hammock underquilt, there are also some lows.
Underquilts can put quite a dent in your wallet thanks to their prices. Most of them cost between $50 and $300.
A sleeping bag will still be required as they don't cover your whole body.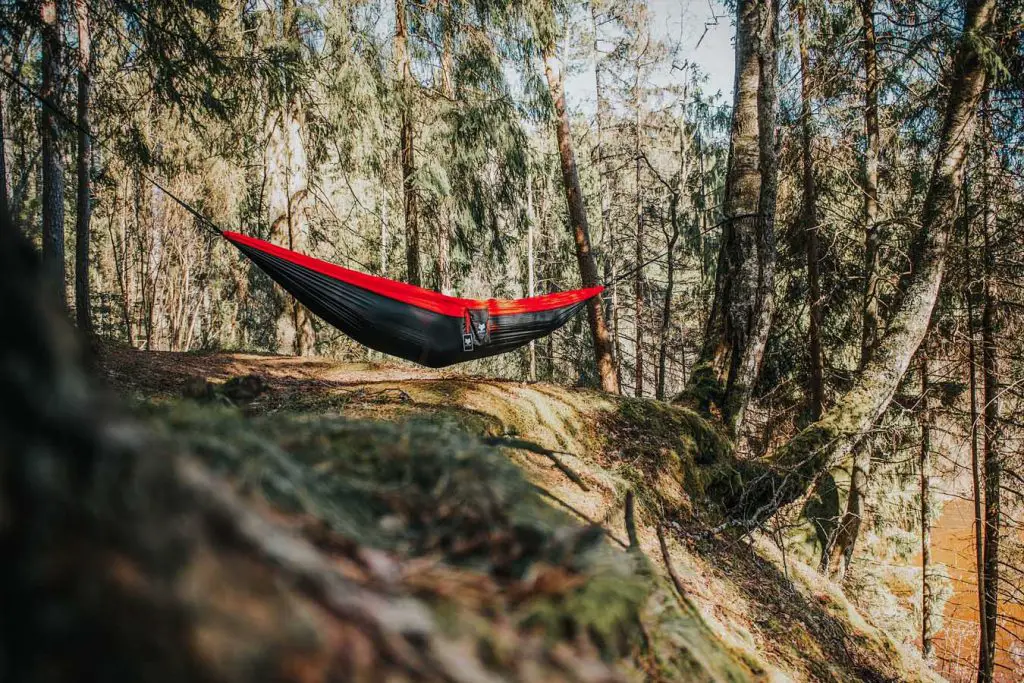 How to set up a hammock underquilt
If you don't set up the underquilt properly, it won't protect you from the cold as effectively as it should. It takes about 10 minutes to hang one. Here are the steps you should follow to get your underquilt up.
Spread out the underquilt and allow it to fluff.
Secure the ends of the underquilt to your hammock's suspension system using the included suspension parts (carabiners or cords). 
Adjust the underquilt until the fluffiest part is directly below where you sleep.
Get into the hammock and adjust it until your whole body is covered, depending on the quilt type you have.
Cinch the quilt around the ends to prevent wind from getting in. 
Once all this is done, your underquilt should be ready to use. 
Underquilts vs sleeping bags & sleeping pads
Many campers might argue that it does not make sense to get an underquilt when you already have a sleeping bag. 
Underquilts make it easier to move around in the hammock. You also don't have to worry about the underquilt shifting in the middle of the night. 
Sleeping pads and bags are placed between you and the hammock. As you sleep, your weight acts on the layer, making it nearly impossible for it to retain warm air. 
Considerations when buying a hammock underquilt
When in the market for an underquilt, there are some important features that you should keep in mind to ensure you are buying the right product…
Weight
For a camper, especially a backpacker, minimizing the weight of your load is essential. Most underquilts weigh between 20 and 50 ounces depending on their size, materials used to manufacture them, and the insulation type. 
It would be in your best interest to get the lightest hammock underquilt you can find. However, you shouldn't prioritize weight over quality. If you are going to be camping in a relatively cold area, get an underquilt that is sure to meet all your needs, regardless of the weight. 
Outer materials
When it comes to choosing outdoor equipment, the materials used are vital in determining the durability of the product. It is no different when it comes to hammock underquilts. 
The material used depends on the temperature rating of the underquilt. Ripstop nylon is a popular option when choosing materials. Nylon dries faster when it absorbs water. However, it has the tendency to stretch with continued use.
An alternative to ripstop nylon is ripstop polyester. This material feels softer and is less susceptible to stretching.
You can also opt for an underquilt with durable water repellent material. This is a coating over the topmost layer of the underquilt. You would appreciate this feature if you find yourself in a rainy or drizzly situation. 
Fill material & loft
Your underquilt is only as efficient as the material used to create the insulation. Usually, an underquilt is filled with either down or synthetic material. If you are new to camping, start with a synthetic fiberfill as it is more pocket friendly. 
Polyester can keep you warm whether it is dry or not. It can also be used to manufacture a material called Primaloft, which is lightweight and water-resistant. It is preferred as an insulator due to its soft, light, hypoallergenic, and compressible properties.
Down is a natural material that also functions as an insulator. Down (a combination of bird plumage and feathers) from ducks and geese can be used, but duck down is a cheaper alternative. The down can be made to be water-resistant through a treatment process, giving rise to DownTek. This material dries quickly and takes in less water without compromising the lightness.
Loft refers to the fluffiness of the underquilt and it is measured in fill-power. The warmer an underquilt is, the higher the fill-power. 
Down vs synthetic
There are a few reasons why one would prefer one type of fill material to another. 
Down underquilts are lighter. This is because less down is required to trap the same amount of heat as a synthetic underquilt. They are also very compressible and would easily fit in a small space. 
A downside of these underquilts is their poor interaction with moisture. Down takes longer to dry out. Although variations like DownTek exist, they are still no match for the rain. 
Synthetic underquilts however, are more water-resistant and would offer more insulation in the rain. Their synthetic nature also makes it easier to wash.
Although they try, synthetic underquilts cannot offer as much insulation as down quilts without making them heavier. They are also bulkier and less comfortable. 
Size and length
Hammocks come in different sizes and you will need to choose an underquilt that fits yours. If the underquilt is too narrow, you will feel uncomfortable and constrained. If it is too wide, it will let out all the warm air. Most manufacturers do not make underquilts for double hammocks, and you might have to buy two and join them. 
When it comes to length, hammock underquilts are available in two varieties; torso and full-length. 
Full-length underquilts cover you from head to toe. These are ideal for camping in the winter. A downside, however, is that they are heavier and bulkier. 
A torso underquilt is less bulky but it only covers the torso and excludes the arms and legs, you might have to use extra padding at the feet or wear thick socks. 
Temperature rating
This is also called the season rating. It determines whether your underquilt will effectively serve you when you decide to go camping.
A four-season underquilt is perfect if you plan on going camping in the winter. A three-season underquilt is the one for campers whose destinations are relatively warm. 
Water resistance
This feature keeps you and your underquilt dry in case it rains overnight. Some outer coverings are naturally resistant, like ripstop polyester. Some will need a water-resistant coating of DWR (Durable Water Resistant) or Nikwax.
---
…so what are the best hammock underquilts?
OneTigris Night Protector Hammock Underquilt
Dimensions – 94.8×48 inches | Packed Size – 13×8 inches | Weight – 28 ounces | Temperature Rating – 40 °F | Outer Shell Material – 20D ripstop polyester | Insulation type – polyester filling | Seasons – 3
Sale
OneTigris Night Protector Ultralight Hammock Underquilt,...
Premium Materials: SEE Polyester Filling, 20D Ripstop Nylon Shell with a DWR coating and 300T Polyester Pongee Lining that's quick warm, comfy, wind-proof and water resistant
4 Seasons Quilt: Comfortable temperature range 40°F ~ 68°F (5°C ~ 20°C), great option to extend the hammock camping season to whole year; combine the underquilt and insulation of a sleeping bag and you get a winter hammock sleeping system
Keeping You Warm: Full length and wide (9.2ft *4ft), designed to fit snugly to all standard sized hammocks, keeping you warm and toasty in chilly temperatures, no (Cold Butt Syndrome) CBS anymore
Quick Setup: Assembled bungee cord loops on both ends and strong carabiners for an easy and cozy fix to your hammock, very fast and easy to set up and take down
This underquilt is designed by a company that is reputable for making quality and pocket-friendly outdoor gear. It is lightweight and it packs down to a small size, which is ideal for a light camper. 
The underquilt uses SEE polyester filling, which is similar to Primaloft. This allows it to provide high insulation and comfort at the same time. It is perfect for 3 season camping, with the official temperature rating being between 40 and 68 °F. 
The product comes with a nylon compression sack for portability and easy storage.
Pros
It is relatively lightweight and portable.
The underquilt comes with all the setup accessories you might need.
Each hammock bought comes with a lifelong warranty.
Cons 
Unlike other underquilts, this one is not contoured and it can be a bit stiff and uncomfortable.
Some customers complained that the underquilt let out heat from the sides.
---
ENO Eagles Nest Outfitters Vulcan Hammock Underquilt
Dimensions – 80×48 inches | Packed Size – 8×13 inches | Weight – 30 ounces | Temperature Rating – 35 °F | Outer Shell Material – Nylon | Insulation type – Primaloft  | Seasons – 4
ENO - Eagles Nest Outfitters Vulcan UnderQuilt, Ultralight...
WARM UP IN THE WINTER: Made from the mega cozy Primaloft Synergy insulation and makes your hammock (not included) ready for all four seasons. Also has a temperature rating of 35-45 degrees Fahrenheit when paired with a comparable top quilt.
MASTER THE ART OF LOUNGING: The Vulcan UnderQuilt has a differentially cut construction adapts to the natural contours of your body, keeping you cozy and snug.
RAIN, RAIN, GO AWAY: This full-length quilt features a worry-free adjustable shock cord suspension, with a water repellent finish, keeping you dry all nap long.
ADVENTURE READY: Weighing only 30 ounces, the Vulcan UnderQuilt includes a handy stuff sack, so you can take it on your backpacking adventure.
This underquilt uses Primaloft Synergy insulation. The filling forms small air pockets that trap the warm air.
Another feature that we liked was that the underquilt is contoured. This is done by cutting the inner fabric a little narrower than the outer covering. This feature is amazing because it gives you maximum comfort and insulation. 
This is a full-length underquilt that comes with an adjustable shock cord suspension system. If properly fitted, the underquilt will provide all the warmth you need.
This underquilt is DWR coated. This is an excellent feature as it causes the water to form beads and roll off of it.
It is easy to set up this underquilt since all you have to do is clamp the carabiners and adjust the shock cords to your liking.
It is compatible with most of the hammocks in the market and it comes with a nylon stuff sack for storage. 
Pros
The underquilt uses Primaloft insulation which retains its fluffiness and is light to carry.
The water repellent coating keeps you safe in case it rains.
The adjustable shock cords make it easier for you to fit the underquilt.
Cons 
The underquilt is not long enough for people over 6 feet tall. 
For campers that are keen on cutting ounces, the underquilt is rather heavy.
This underquilt works most efficiently when paired with an ENO overquilt that is sold separately.
---
KING SHOWDEN Hammock Underquilt
Dimensions – 92.4×48 inches | Packed Size – 13.8×8.3 inches | Weight – 27.2 ounces | Temperature Rating – 23 °F | Outer Shell Material – Ripstop Nylon | Insulation type – hollow cotton | Seasons – 4
KING SHOWDEN Hammock Underquilt Lightweight Under Quilt...
【Keep Your Warm】: Thickened hammock underquilt filled with 300g hollow cotton, wrap the sides and bottom of your hammock,warm and cosy,protect you from the cold of winter,designed to fit snugly to all standard sized hammocks,banana shape perfect for single campers.
【Premium Materials】: Camping hammock underquilt made of 20D Ripstop Nylon Shell, 300T Polyester Pongee Lining, 300g Hollow Cotton Filling, extremely high-quality and compact Hammock underquilt,make you feel No cold butt syndrome.
【3 Seasons Underquilt】: Extremely loose design, can easily adapt to any position, lying down, curling is not a problem. Comfortable temperature range 40°F ~ 68°F (5°C ~ 20°C), great way to extend the hammock camping season.
【Easy to Set Up】: This camping hammock underquilt comes with elastic straps on both ends, and short bungee cord loops on both ends for an easy and cozy fix to your hammock, can be quickly installed and removed.
This underquilt promises to keep you warm, thanks to the 200g of hollow cotton used to make the insulation.
It adopts a loose design and you can lie in your hammock comfortably regardless of your sleeping position. 
This underquilt has a waterproof coating. Together with the low temperature rating, you can take this underquilt camping regardless of the season. 
In addition, the underquilt uses an elastic loop and buckle system, which makes it easier to set up and take down. This product also comes with a nylon stuff sack for storage.
Pros
The elastic buckle makes it easier to hang up the underquilt.
The underquilt can be used in all four seasons thanks to its low temperature rating and hollow cotton filling.
The loose design makes it comfortable to lay in any position.
Cons
The cotton filling makes it difficult to clean.
---
ENO Eagles Nest Outfitters Ember Hammock Underquilt
Dimensions – 96×48 inches | Packed Size – 6.5×4 inches | Weight – 25 ounces | Temperature Rating – 40°F | Outer Shell Material – Ripstop nylon | Insulation type – polyester | Seasons – 4
ENO - Eagles Nest Outfitters Ember 2 UnderQuilt, Ultralight...
LIGHTWEIGHT AND EASILY PACKABLE: The Echo Bluetooth portable speaker not only weighs next to nothing and fits conveniently in any pocket, purse or festival pack.
OPTIMAL LISTENING EXPERIENCE: The Echo's hammock-specific design and built-in hanging hook angles the speaker for an optimized listening experience.
RECHARGEABLE BATTERY: The Echo includes a rechargeable battery and micro USB cable so the music won't stop after the 3 hour battery life expires.
WATER RESISTANT: The Echo is rated Water Resistant (IPX4) so it is protected against splashing water from any angle.
This is another product by ENO. In addition to the 40D ripstop nylon shell, the underquilt has a 30D taffeta nylon lining. Both of these have a DWR coating, which guarantees both warmth and durability.
Another attractive feature of this hammock underquilt is the hammock-design cut. It ensures the underquilt securely fits around the hammock, keeping the cold away from both the bottom and the sides.
This underquilt is held in place by adjustable shock cords which make it easy to set up. This whole setup comes with a nylon compression sack.
Pros
The underquilt has 2 layers of protection from the cold and moisture. Both layers are coated with water-resistant material.
The hammock specific cut makes the underquilt fit snugly.
The adjustable shock cords are included in the purchase.
The underquilt is lightweight.
Cons
Although the underquilt I advertised as a four-season one, its temperature rating suggests that you will get cold if you use it in the winter.
---
ENO Eagles Nest Outfitters Blaze Hammock Underquilt
Dimensions – 78×48 inches | Packed Size – 7×12 inches | Weight – 24 ounces | Temperature Rating – 30 °F | Outer Shell Material – 20D Ripstop Nylon | Insulation type – 750-fill DownTek | Seasons – 4
The underquilt's outer layer is made out of ripstop nylon and a 33D nylon taffeta lining and both have a DWR coating.
Another feature of this underquilt is that the filling is made out of duck down and rated between 30 and 40 degrees Fahrenheit, which allows it to insulate more while weighing less. 
This one also uses a shock cord suspension system which makes it easy to attach the underquilt to most of the hammocks in the market. 
This underquilt comes accompanied by a nylon stuff sack and a cotton storage bag. The extra space might come in handy for a camper. The manufacturer advises that you use the storage bag for keeping the underquilt to prolong its lifespan.
Pros
The low temperature rating makes it ideal for camping in the winter.
Both the outer layer and the lining are coated with water-resistant material.
The shock cord suspension system is easy to use.
The underquilt is lighter than all the other ones reviewed.
It comes with a nylon stuff sack and a cotton storage bag.
Cons
The underquilt is short. It would not be of much help to a person that's over 6 feet tall.
---
Conclusion
As you can see, all of the hammock underquilts reviewed in this article are of incredibly high quality, checking all the right boxes when it comes to efficiency and functionality. However, the ENO Eagles Nest Outfitters Blaze Underquilt stands out from the rest for several reasons. 
Its low temperature rating and duck down filling make it perfect for year-round camping. This is added to by the multiple layers of water-resistant coating. Besides, the underquilt packs compactly and weighs only 24 ounces, a feature that light packers will appreciate. Although the underquilt is rather short, its ease of installation and its efficiency gives it the upper hand.
At the end of the day, the best hammock underquilt for you will be the one that adequately meets all your personal needs. With the tips outlined in this article, finding it shouldn't be too hard. 
Related guides
Finding The Best Hammock Mosquito & Bug Net
Best Hammock with a Bug and Mosquito Net
How To Find The Best Hammock Straps
How To Hang Your Hammock Between Two Trees
How To Take Your Dog Hammock Camping