Particularly when camping in cold weather, one of the most useful items to combine with a hammock underquilt is a top quilt.
For those that don't know, a hammock top quilt is built like a sleeping bag but without the top hood and back, it does however retain the foot box. As a consequence and unlike a sleeping bag, a top quilt will therefore only cover you from the top and the sides. 
But when fastened securely to a hammock, and combined with an underquilt, it provides a highly effective and efficient method of keeping you warm.
…This article discusses the key areas that need to considered before buying such a product; describing its uses, purpose, how it provides warmth, and ultimately how to choose the best and most suitable one for you.
Firstly…
How do you use a hammock top quilt?
Correctly setting up your top quilt ensures that it won't move around or get blown away in strong winds. It should come with the manufacturer's instructions, however some steps are common with most top quilt products.
Firstly secure the top quilt to the hammock if it comes with a fastening system. This should be done all the way round except where you intend on entering the hammock.
Once in your hammock, fasten the remaining part or parts, to ensure no cold air can freely enter.
Ensure that before doing this, that you wont need to get out of your hammock once in, as this releases the warmth that builds up inside.
Aside from this, remember to follow the instructions that come with the top quilt.
Are top quilts better than sleeping bags?
If you already own a sleeping bag, you might be asking yourself why you should spend more money on a top quilt. Well here are a few reasons why you may want to consider making the switch:
Top quilts are designed for use with hammocks, and have been built with the coldest areas of a hammock in mind. They have more insulation in the areas that are exposed to the most cold.
It is easier to get in and out of a top quilt since there are no zippers.
Top quilts weigh less than sleeping bags. Since they do not cover the whole body (front and back), they do not need a full-length zipper. They also do not have a hood. This reduction in materials makes for a huge weight loss.
Quilts are more portable. This is also thanks to the fact that less material is needed to make a top quilt. This makes it possible to compress it into a much smaller size than a sleeping bag would.
For the same reasons, they are more cost effective
A top quilt will keep you warmer through the night. When the weight to warmth ratio of a top quilt is compared to that of a sleeping bag, you will notice that a top quilt wins yet again. When using a sleeping bag, you lose most of your body heat through the hood, the back, and the zipper since they are not well insulated. A top quilt lacks all three features, and the remaining parts have been optimized to keep you as warm as you need to be. 
Top quilt considerations
Shell: Ripstop nylon vs. polyester
When choosing outdoor gear, it is important to choose the outer material carefully since it is going up against the harsh elements. Top quilt shells are commonly made from one of two materials: ripstop nylon or polyester.
Ripstop nylon is nylon that has been reinforced with thicker thread. This makes them more resistant to tears and rips, whilst also maintaining a lighter overall weight.
A downside however is that ripstop nylon tends to stretch when wet, which polyester does not.
Although polyester is an attractive option, it is not hard wearing, and frequent campers will find its longevity a distinct disadvantage.
Insulation: synthetic vs. natural down
The insulation is only as good as the material that fills the top quilt. The fill can be either synthetic or natural.
Synthetic fill is preferred since it is hypoallergenic and affordable. They are also more water-resistant, which makes them easier to wash. However, a synthetic quilt would weigh more than a down quilt if they both had the same temperature rating. Also, a synthetic quilt loses its efficiency every time you compress it.
Down is made from duck or goose feathers. It is loved by backpackers since you can get enough warmth for little weight. Also, they can be packed down to a smaller size without them losing their insulation property. 
A downside to using down quilts is that they are next to useless when wet and take much longer to dry.
Temperature rating
This is what decides how effectively your top quilt will serve you on your camping trip. Choose your top quilt depending on the time of the year that you'll be going camping. 
A 3-season quilt is usually rated between 20 and 30°F. These are quilts that will keep you warm all year round except in the winter. The lower the rating, the colder the temperatures you can camp with it in.
You should also note that the temperature rating is relative to the manufacturer. Once you get your top quilt, you should test it out in your backyard to see if it will protect you from the cold.
Sizing and packed weight
Campers are always keen on cutting as much weight and size as possible, especially backpackers. When it comes to choosing the size, you should pick one that matches the size of your hammock. If you cannot find a perfect fit for your hammock, get one that's a size larger so that it hangs over the sides. 
Packed weight is one of the top considerations for backpackers. Most top quilts weigh around 20 ounces but some heavy-duty ones might weigh up to 50 pounds. If you have a car or an RV, weight becomes a non-issue.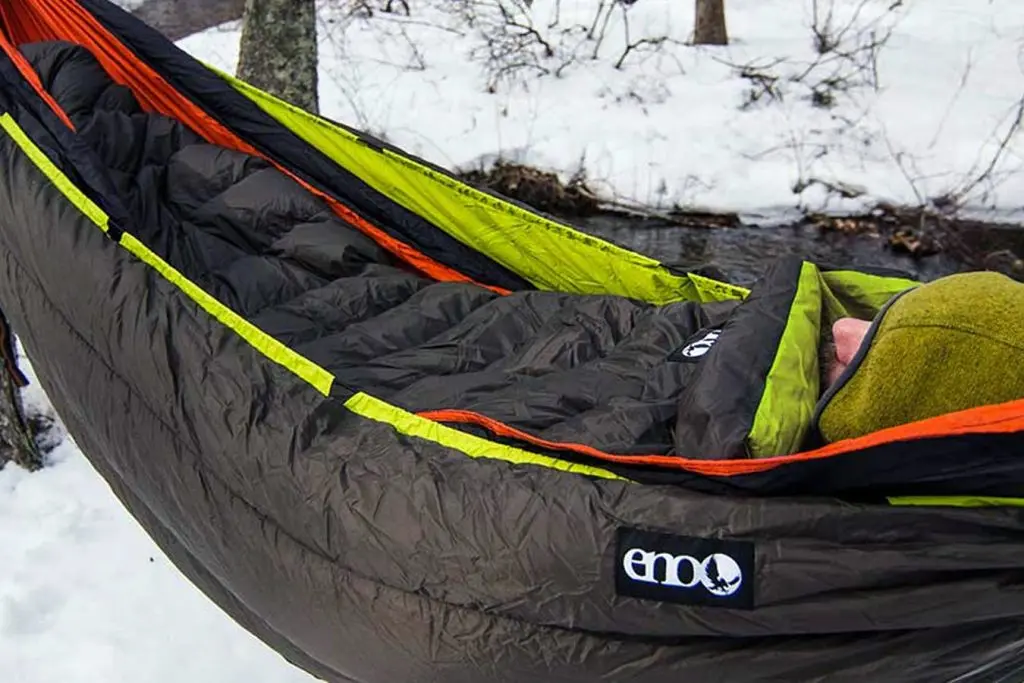 Care and cleaning
After a camping trip, especially a long one, most of your gear and equipment will need to be washed. The ease of maintenance depends on the filling material of the top quilt. 
Quilts with down are harder to clean and maintain, and when washed, they take the longest time to dry. Their insulation is mainly from the natural oils so dry-cleaning is not an option. Additionally, the insulation tends to clump and once dry, you will have to spread it out to adequately and evenly fill the quilt.
Synthetic quilts are much easier to take care of. You can machine wash them on a gentle cycle. Jut like down quilts, you will need a special detergent however.
Gear weight
The total weight is also an area of concern but you should not prioritize it over both safety and efficiency. The weight of a top quilt mostly depends on the material used to make the shell. The insulation is the lightest part of the quilt.
If you plan on camping a lot, select one with a heavy inner shell since it is where most of the friction happens. 
Draft collar
Once you are in the hammock and the top quilt is already set up, you need to close the neck to prevent body heat from escaping. In some top quilts, this part is filled with down to make the top quilt more comfortable and to retain as much warmth as possible.
Some manufacturers choose not to include this part in an attempt to lower the weight of the product. Your top quilt will still do its job without the draft collar.
Securing collar
If the night gets too cold, you might need to secure the collar around your neck. Different manufacturers use different methods to make this possible. Some top quilts have a snap button and a drawstring for this.
Check to make sure that the snap button or other method used does not protrude as laying on this might be very uncomfortable.
Beck tensioning system
This is a system that allows you to pull the sides of the top quilt to the back. This feature is most helpful when the cold kicks in. This system benefits campers using sleeping bags and tents the most.
Sleeping pad attachment systems
If it gets too chilly you might want to add a sleeping pad. These are usually placed under your body or on the side as you sleep but can tend to shift around making them uncomfortable.
Most manufacturers use wide elastic straps or wafer clips to securely fasten them. They are easy to use even if you are lying on top of the pad or if it's dark or when your hands are cold. This system works optimally when used together with the back tensioning system.
Full length or 3/4 length zippers
If your quilt has a temperature rating of anything below 20°F, you should opt for a top quilt with a full-length or a 3/4 length zipper. If the quilt has a full zip, you can cocoon yourself inside it on cold nights and when it gets hot you can open it up and use the quilt as a blanket.
Backpacking quilt sizing
The size of the quilt depends on whether you are camping in a hammock or on the ground. In our case, you can choose a narrower top quilt since you have an underquilt to keep you warm from the sides and the bottom. 
When it comes to length, check the manufacturers sizing chart for whether it is inclusive of a foot box since some length is lost when it is formed.
Versatility
When camping (especially backpacking), you want to carry with you gear that can be used in more than one way to cut down on weight.
When choosing a top quilt, select one that can also serve as a blanket if it gets hot. You should also consider getting a wide quilt that can work whether you decide to sleep in a hammock or on the ground.
Baffling
This refers to how your top quilt is designed to keep the insulation from moving around in there. Many designs and forms can be used so you should make your decision based on your preference but you should choose from a trusted manufacturer.
Footboxes 
This is the part of a top quilt that keeps your feet warm. The footbox is usually made with the zippered or the 'sewn in' design.
A zippered footbox is made by fixing a zip at the bottom of the quilt. When it is opened, the top quilt looks like an ordinary blanket. When it is zipped, the bottom is cinched with a drawstring. This usually leaves a hole at the bottom, but it can be stuffed with a down-filled material called a dog bone.
A 'sewn in' footbox cannot be reopened. Its main advantage is that it is warmer and weighs a little less than a zippered one.
When it comes to choosing between the two, it is a choice between versatility with a zippered one or maximum warmth with a 'sewn in'.
---
Suggested top quilts…
ENO Spark
Dimensions – 80 x 50 inches | Packed Size – 7x 12 inches | Weight – 27 ounces | Temperature Rating – 40 °F | Outer Shell Material – 40D Ripstop nylon | Insulation Type – high loft polyester | Seasons – 3
This top quilt by ENO has a ripstop nylon shell with a water-resistant coating . The inner lining is made of nylon taffeta which feels nice against the skin.
It makes use of a Velcro footbox and a drawstring that can be opened up with ease, and a full-length zipper that makes getting in and out easier.
The 40°F temperature rating allows it to keep you warm through summer and the warm seasons. 
This product comes with a nylon stuff sack that makes packing easier.
Pros
The top quilt has a water-resistant coating.
It is portable thanks to its packed size and lightweight nature.
The soft nylon taffeta lining makes it more comfortable.
Cons
The top quilt works most effectively if it is used together with the same brand underquilt.
The Velcro used to keep the footbox closed can open up in the middle of the night, letting cold air get in.
---
Paria Thermo Down 15°
Dimensions – 78 x 56 inches | Packed Size – 10 x 7 inches | Weight – 35 ounces | Temperature Rating – 15 °F | Outer Shell Material – 20 D Ripstop Nylon | Insulation Type – Down | Seasons – 3
Paria Outdoor Products Thermodown 15 Degree Down Sleeping...
►WARM - Stay toasty warm due to the large baffled construction and 22 oz. of high loft 700-fill power down which provides an excellent temperature rating down to 15F (-10C).
►LIGHTWEIGHT - No need to compromise on size and weight. The quilt comes in at only 2 lb. 3 oz. and the included compression sack cinches down to just 10 x 7 inches. Use the included sleeping pad strap to secure your quilt to an insulated sleeping pad for a lightweight and compact sleeping system.
►DURABLE - The light, but durable, 20D ripstop nylon fabrics will ensure that the quilt performs for countless adventures.
►VERSATILE - Our quilts offer incredible versatility that is unmatched by traditional sleeping bags. Open up the quilt for warm weather or close it up completely on those chilly nights. Since they're so easy to adjust, they're also perfect for hammocks.
The Paria Thermo top quilt is an amazing addition to your camping gear if you plan on going out during the warmer seasons thanks to the 15°F rating. The ripstop nylon shell is guaranteed to give you a long time of service.
Another great feature of this top quilt is that it is available in two sizes. This way, you can choose the one that fits your hammock best. 
Unlike most other top quilts, this one has a set of snap enclosures in place of a zipper except at the footbox. A feature we liked about this top quilt was that it is accompanied by a single strap sleeping pad attachment system.
It also has a securing collar at the neck and drawstrings to cinch the bottom that prevents cold air from getting in and warm air from getting out.
To ensure that your down quilt is stored properly and lasts, it comes with a compression sack for carrying and a mesh storage bag for long term keeping.
Pros
The top quilt has a sleeping pad attachment system.
The company offers a lifetime warranty on the top quilt.
Cons
It weighs more than most of the top quilts reviewed.
---
ENO Ignitor
Dimensions – 75 x 48 inches | Packed Size – 7 x 12 inches | Weight – 23 ounces | Temperature Rating – 30-40 °F | Outer Shell Material – 20D Ripstop Nylon | Insulation Type – 750-fill DownTek | Seasons – 4
ENO Eagles Nest Outfitters - Ignitor TopQuilt, Ultralight...
WARM UP IN THE WINTER: Insulated with the super cozy 750 DownTek down, making your hammock (not included) ready for all four seasons. The Ignitor has a temperature rating of 30-40 degrees Fahrenheit when paired with a comparable under quilt.
MASTER THE ART OF LOUNGING: Features baffled construction that keeps the DownTek down from shifting. Also, the zipper-free entry will keep you warm and comfy all night long.
ADVENTURE READY: Weighing only 23 ounces, the Ignitor TopQuilt includes a cotton storage bag, so you can take it on your backpacking adventure.
RAIN, RAIN, GO AWAY: Features a nylon ripstop shell with DWR finish, which repels moisture and keeps stains at bay.
This top quilt is made from quality DownTek. This is a treated type of down that has water repellent properties. Combined with the ripstop nylon shell, this top quilt can keep you safe through a rainy night while keeping stains at bay. 
The setup does not include any zips so getting in and out is a breeze. It can also serve as a blanket when the footbox is opened up. Another feature that we liked was that the quilt has a 33D nylon taffeta lining which is smooth and comfortable. 
This top quilt comes with a cotton stuff sack for easy transport.
Pros
It is made from treated down which is water-resistant.
The zipper-free design makes getting in and out easy.
It is extremely lightweight.
Cons
It is most likely to match up to the temperature rating if it is used with a compatible underquilt.
---
Outdoor Vitals 0°F
Dimensions -75 x 31 inches | Packed Size – 7.75 x 14.5 inches | Weight – 47 ounces | Temperature Rating – 0-30 °F | Outer Shell Material – 20D Ripstop Nylon | Insulation Type – 800-fill Down| Seasons – 4
No products found.
This top quilt is made from high grade treated down, which makes it water-resistant. Combined with the low-temperature rating and a DWR outer shell, it is highly suitable for all-season camping.
A lovely feature is that the down is baffled so there is no down loss. This makes sure no down is lost and heat is spread evenly.
This quilt has a sewn-in footbox so it cannot function as a blanket as well.
Pros
The whole setup is water-resistant.
Once you buy the quilt, a storage bag is sent to you.
Cons
The sewn-in footbox reduces versatility.
---
ENO Vesta
Dimensions – 72 x 48 inches | Packed Size – 14 x 7 inches | Weight – 28 ounces | Temperature Rating – 35-45°F | Outer Shell Material – 20D Ripstop Nylon | Insulation Type – PrimaLoft Silver hi-loft | Seasons – 3
ENO - Eagles Nest Outfitters Vesta TopQuilt
WELCOME TO FOUR-SEASON HAMMOCKING: PrimaLoft Synergy insulation is constructed of both fine- and ultrafine-denier continuous filament fibers to form tiny air pockets that trap body heat and keep out cold, provides warmth down to about 35 - 45F.
DURABLE WATER REPELLENT COATING: The Vesta Under Quilt features a ripstop nylon shell that has a Durable Water Repellent coating to help shed moisture and keep you dry. If cold weather is cutting into your hammock season, it's time to Blaze it up.
QUICK AND EASY SETUP: With shock-cord suspension rails, setup is a breeze, and any re-positioning or adjustments can be made without getting up.
LIGHTWEIGHT AND EASILY PACKABLE: Weighing only 28 ounces, the Vesta hammock Under Quilt includes a stuff sack which compresses it to the backpack friendly size of 14" x 7".
This Vesta top quilt was designed for camping in the warmer seasons. Its lightness is the price you have to pay for its temperature rating. In case it rains during your trip, there is no need to worry since the nylon shell is DWR coated. 
A unique feature of this top quilt is the insulated draft collar which keeps your neck warm when it gets too cold. The footbox can be opened or closed, depending on your preference. 
Pros
The top quilt has a draft collar for cold nights.
It is extremely lightweight.
It uses PrimaLoft insulation, a biodegradable alternative to down.
Cons
Its high temperature rating means it cannot be used in cold seasons.
---
Conclusion
Overall, the ENO Ignitor really stands out in this list for a number of reasons: it is extremely lightweight and portable, it comes with DownTek filling, and the ripstop nylon exterior makes it completely waterproof. Plus, it also has a nylon lining that makes it comfortable and smooth on your skin.
Related guides
How To Find The Best Hammock Rain Fly
Best Hammock Sleeping Pads For Summer And Winter
Finding The Best Hammock Mosquito & Bug Net
Best Hammock with a Bug and Mosquito Net