One of the perks of hammock camping is not having to sleep on the ground. In addition to staying away from crawlers, you also get to sleep under the stars. However, your dreamy trip may be soured by mosquitoes and bugs buzzing in your ear and leaving painful itchy bites on your skin.
Taking a mosquito and bug net with you will help to keep these irritating pests at bay and keep your skin safe. However you can only enjoy the safety of a hammock bug net if you choose one that is compatible with your hammock.
This article discusses all the necessary aspects that need to considered as you buy a hammock mosquito and bug net, together with a review of some of the best ones in the market.
Advantages of using a hammock bug net
Compared to bug sprays, nets are a more attractive option. Bug sprays often have an irritating smell and they can course your skin to have a greasy feel. In addition, you may have to arm yourself with multiple cans of spray to survive a long camping trip, taking up valuable space in your bag and adding more weight. 
A simple solution to your bug problem would be to stay in a tent instead of a hammock. However, tents can be heavy and cumbersome, and to be honest offer a completely different experience to hammock camping. A bug net weighs significantly less than a tent does, yet provides the same level of protection from insects and pests.
With a bug net, you get to enjoy the night sky, have a supply of fresh air, and stay bug-free.
Apart from keeping the bugs out, your hammock bug net can also prevent leaves and other debris from falling on you.
Using a mosquito and bug net
If you use your bug net incorrectly, then it won't work as effectively. To reduce the number of mosquitoes in your campsite, set up far from water and moist ground. Water is the prime breeding ground for mosquitoes and the farther you are the better for you.
Before you set up your net, treat it with permethrin. This is an insecticide that you can spray on fabrics to make them mosquito-repellent. 
As you set up your net, be sure to follow the manufacturer's instructions. Different nets use different methods such as ropes, poles, and carabiners to stay in place. It is also important to use all the parts that accompany the net for it to be as stable as the creators intended.
When it's time to put the net away, shake it out to get rid of any clingy bugs and debris. You should roll the net gently to prevent it from getting torn.
Hammock mosquito & bug net buyer's guide…
Preferences vary from person to person, and when it comes to getting a hammock bug net, it is no different. Here are some popular features in bug nets that you can use to choose one that fits your needs.
Coverage size
When shopping for a net, one of the most vital features is the scope it covers. If your net is smaller than the hammock, then it is pretty much useless. Always choose a net that can cover your hammock whilst providing spare space around it.
If you need to fit two hammocks under one net, you will have to look for a large one that can cover both hammocks. 
You should also ask yourself if you want a net that will cover all round the hammock or one that will just cover the top. We would advise choosing a net that covers all round the hammock since it is easy for insects to get through the hammock fiber and still bite.
Net density: Mesh or no-see-um netting
Net density refers to the size of the holes on the net.
Nets protect you from the bugs by ensuring the holes are too small for insects to pass through. If the holes are too large, the net loses its efficiency. 
A hole size of 1.2 mm is small enough to keep the mosquitoes at bay. These are the holes you would find in a mesh bug net.
No-see-um netting usually features smaller holes of around 0.6mm width. These are more useful for also keeping out the tinier bugs. These bugs are called no-see-ums and some of them may leave you with bites.
Although the no-see-um netting offers more protection, it doesn't offer as much air circulation as the mesh netting. This can leave you feeling uncomfortable and slightly suffocated in the summer.
Smaller holes also make it harder to see through the net. If you want to enjoy the view clearly, consider going for a net with larger holes. 
Fabric
Some of the most common fabrics used in manufacturing bug nets are cotton, nylon, and polypropylene.
Nylon is more preferred since it is waterproof, allows better air circulation, and it is lightweight, making it easier to carry.
Cotton comes in second. Although it is breathable, it is not waterproof. When the cotton comes into contact with water, it gets heavy and uncomfortable.
Polypropylene is a more lightweight material but it is by far the least durable. Although it's lightness makes it attractive among backpackers, you wouldn't be able to use it if it gets torn.
Another property you should look for when it comes to the net material is its tensile strength. This is the property of a material that makes it resistant to stretching. You want to choose a material with a high tensile strength to prevent the holes from getting larger with time.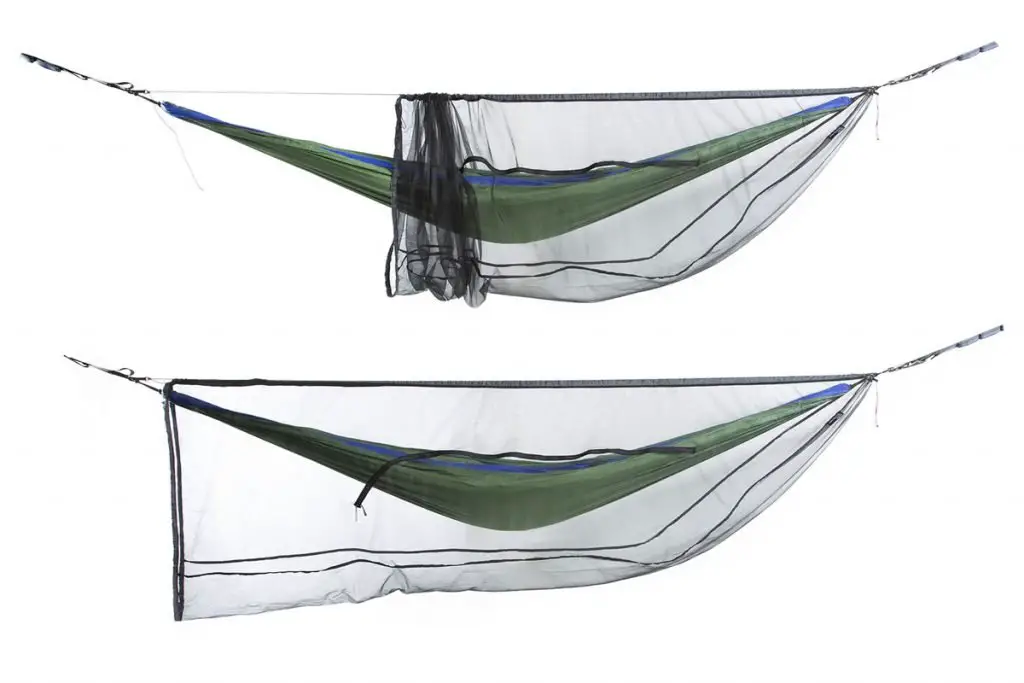 Method of setting up
When choosing a net, you want to choose one that requires the least effort and time to set up. There are 3 methods to set up your net: ropes, carabiners, and poles. Before making a purchase, you may want to look at customer reviews to see what nets are easiest to put together.
Ropes are the most popular method used to set up nets, as they allow more flexibility, however you will also need a ridgeline, guylines, and stakes. This makes the setup process more complicated, and you may need more time to get the hang of it.
You can also use carabiners to set up. Carabiners are easier to set up than ropes. If you opt for these, you should keep in mind the weight, quality, and functionality of the carabiners. Another option is to use spreader poles. Once you set up the poles, you can drape the net over them. This method is easy to set up but carrying the poles may be an uphill task.
Weight
You don't want to choose a net that will add too much weight to your camping equipment especially if you are backpacking or moving with a bike. Nets can weigh as little as 9 ounces or be as heavy as 3 pounds.
A net that covers your hammock and the space around it uses more material and weighs more than one that covers just the top of your hammock. 
Color choice
The color options for hammock nets are very limited. Most nets come in either black, dark gray, or white. Lighter nets reflect more heat than they absorb, whereas darker nets such as no-see-om's tend to absorb more.
Accessorizing
The equipment that comes packaged with the net should also be considered. Most nets usually come with all the things needed to set it up. If you are comfortable with using ropes as your method of setting up, you should get a net that comes with rope, guylines, and a ridgeline. Some nets also come with spreader poles and carabiners.
You should also check to see whether a compression sack is included with the net. The sack makes packing easier as the net won't occupy as much space. The sack is also helpful when it comes to storing your net for a long time.
Price and quality
Generally speaking, the more a net costs, the higher its quality will tend to be. You can find a good quality net for any amount between $30 and $125. 
Is the net treated?
Your net is more useful to you if it can repel insects. This is possible if the net is treated with permethrin. This is an insecticide that is safe on humans but it is fatal to insects. This can come in handy when you leave the hammock and some insects sneak in. 
Some nets are usually pre-treated with the chemical and some aren't. If you get a net that checks all your boxes but isn't treated, there's no need to worry, as you can separately buy permethrin to treat it yourself. Some nets even come with and included can of permethrin.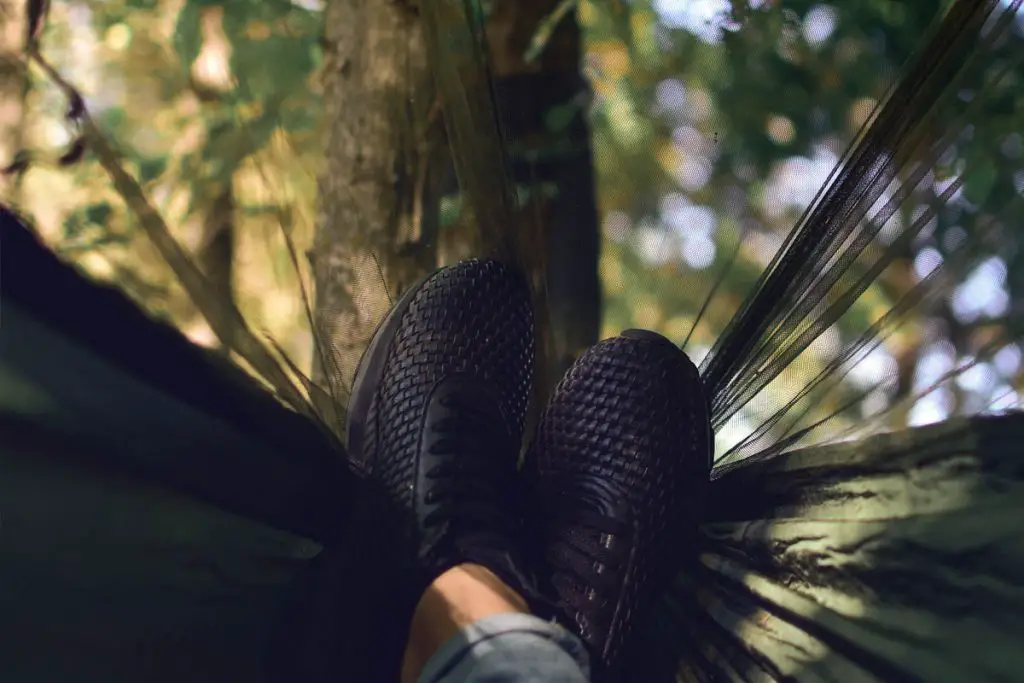 Length and width
When it comes to choosing the length and width, you should go for one that covers the whole hammock and leaves a comfortable distance between you and the net. If your net touches your skin, there is no use to it since the mosquitoes will be able to bite through the holes and into your skin.
Entrance and exit
You never know when an emergency may strike, or when you might need to answer a call of nature. In this event, you would appreciate a hammock net that is easy to get out of. A bug with a zipper running across it makes it easier to get in and out of.
A net that is difficult to get out of can also cause injuries.
Durability
Your net will be rendered useless if there is a hole in it, no matter how small the hole is, and the chances of that hole ripping further into a bigger one are often quite high.
The fabric of the net should also have a high tensile strength to prevent the holes on the net from getting larger.
You should also check that the net has well-stitched seams that won't tear easily.
Portability
The portability of a net goes hand in hand with its weight, and if you are hiking or backpacking, you will obviously want to keep weight down
If your net comes with a compression sack, it will also be easier to pack it and move it from place to place. 
Is the net built-in or standalone?
When buying your net, it is usually either one of these two. A built-in net is one that comes with the hammock, so it fits perfectly, however this type of net protects from bugs only from the top. This doesn't keep you safe from the bugs underneath that can bite through your hammock. Another downside of a built-in net is that you can't detach it. If you ever want to use the hammock without the net, you won't be able to get an unobstructed view. 
A standalone net is one that you buy separately from your hammock. The advantage of this is that you have complete control over its size and level of protection.
Standalone nets offer a degree of flexibility that isn't offered by built-in options. You can always detach the net when you don't need it and put it back when bugs appear.
---
Product recommendations
For speed and efficiency we only review and shortlist our top 6 results (there's no need for 10!), and the below products form a list of what we consider to be some of the best mosquito and bug nets currently available:
01 – ENO Guardian Bug & Mosquito Net
Dimensions – 9'4"x4'3" | Weight – 15 ounces | Material – Ripstop Nylon| Insect Shield Treatment – No | Quick Setup – Yes
No products found.
This ENO bug net is the ultimate solution for any camper looking to pack light. The net is easy to put together and doesn't require users to tie complicated knots.
You wont have a hard time getting in and out of the net thanks to the double-sided zippers installed.
This net is made using highly durable no-see-um netting to ensure maximum protection.
Pros
The double-sided zippers make it easy to move in and out of the hammock.
The net comes with a ridgeline cord you can use to set up.
Cons
The net isn't pre-treated.
Due to its small size, the net cannot protect a double hammock effectively.
---
02 – Unigear Bug & Mosquito Net
Dimensions – 132×55 inches | Weight – 21 ounces | Material – 50D Polyester| Insect Shield Treatment – No | Quick Setup – Yes
This bug net is made out of a durable polyester. The no-see-um netting keeps you safe from large and tiny insects, whilst providing plenty of headroom. 
The net can be set up in three simple steps, using the ridgeline rope that's included in the packaging. Another thing that is included is a compression sack for storage. When the net is stuffed into the sack, it measures 5.1×5.5×6.6 inches. This compact size makes it easy to transport.
There is a horizontal zipper in place to help open and close the net, allowing easy access.
Pros
Easy to set up.
The net has a horizontal zipper for easy access.
Cons
Some customers mentioned that the zipper can get stuck.
Compared to other hammock bug nets, this one lies on the heavier side.
---
03 – Chill Gorilla Defender Bug & Mosquito Net
Dimensions – 132×51 inches | Weight – 19 ounces | Material – Nylon mesh| Insect Shield Treatment – No | Quick Setup – Yes
Chill Gorilla Hammock Mosquito Net Stops All Bugs & Insects....
NO BUGS GUARANTEE! 360° protection with our breathable ultralight see through mesh netting provides ventilation & even keeps out a noseeum. Enjoy the outdoors bite free! Hammock accessories.
COMFORTABLE DIAGONAL LAY. You won't get that in a hammock with mosquito net (attached). Our hammock bug net provides SAFE SPACE around your hammock or double hammock giving you more protection!
FITS ALL CAMPING HAMMOCKS. Any bigger & you're just packing extra weight! Smooth double zippers make getting in/out a breeze. FAST & EASY SETUP.
TRUST OVER 243 HAMMOCK BUG NET REVIEWS! Whether hiking, camping, backpacking, or lounging around at home our hammock bug net will keep you comfortable and bite free!
This hammock net is large enough to accommodate both normal-sized hammocks and larger double models. Combined with 360-degree bug protection, you can fall asleep in your hammock without any fear of mosquito bites and no-see-ums. 
It is easy to set up this net using the included 5-meter paracord that acts as a ridgeline. At the ends of the net, there are carabiners that secure it to the hammock.
There is a half-moon shaped zipper to help you get in and out of the net. The Chill Gorilla Defender can also pack into a compressor sack, and it measures 4 by 5 inches when packed. 
Pros
The net comes with a 5-meter long ridgeline.
It packs up small, which makes it more portable.
The net has double zippers which together with the moon-shaped design, make for easy entry.
Cons
Although the holes are tiny enough to keep the bugs out, they make air circulation inefficient. In a hot setting, this may be uncomfortable.
---
04 – Therm-a-rest Slacker Hammock Bug & Mosquito Net
Dimensions – 125×26 inches | Weight – 17 ounces | Material – 70D Nylon| Insect Shield Treatment – No | Quick Setup – Yes
Therm-a-Rest Slacker Hammock Bug Shelter
Fast set-up: Webbing ridgeline makes it easy to set-up and it's a great place to hang a light.
Full enclosure: No-see-um mesh and durable nylon bottom keep out the critters.
Large zipper opening: Getting in and out is a snap (even though it's a zipper.)
This net was made for use with the Slacker Hammock. It has suspension points for you to slip the net into.
Another benefit of this net is that it offers top to bottom protection thanks to the no-see-um polyester netting and a PU-coated nylon bottom. 
The net makes use of guy points for anchorage. These guy points can also pull out to provide more space. A ridgeline is also used to keep the net steady, and you can also use it to suspend your lights. 
Pros
The net has a wide coverage area.
The nylon bottom of the net can also be used to store some of your gear.
The product comes with a 3-month full refund policy and a limited lifetime warranty.
Cons
The floor material adds some weight to the product.
This net does not come with any accessories.
---
05 – Hummingbird Hammocks Warbler Bug & Mosquito Net
Dimensions – 110×51 inches | Weight – 6.3 ounces | Material – Nylon| Insect Shield Treatment – No| Quick Setup – Yes
You can say goodbye to crawling and flying bugs with this net. It provides 360-degree protection from bugs using the thin no-see-um netting. The fabric is thin, making the net light and air can move easily through it.
Getting in and out is also easy thanks to the ultralight zipper that runs from the top to the bottom, giving you a wide opening. 
The net is reinforced at the point where it meets the hammock. Since there is much friction at this point, the area is bound to wear. There is also some reinforcement on the edges of the net to provide a seal around the hammock. 
This unit comes with a non-load bearing ridgeline and a compression sack. When packed, the sack measures 6 by 4 by 3 inches.
Pros
This net is lightweight.
There is reinforcement on the places that the net is prone to tear or let bugs in.
The ultralight full-length zipper doesn't compromise the weight of the net.
Cons
The lightweight zipper is easily breakable.
---
06 – ENO – Eagles Nest Outfitters Guardian Bug & Mosquito Net
Dimensions – 9'4"x4'3" | Weight – 16 ounces | Material – 70D Nylon taffeta | Insect Shield Treatment – Yes | Quick Setup – Yes
Eagles Nest Outfitters - ENO Guardian Bug Net with Insect...
CRITTER-FREE PEACE OF MIND: Say buh-bye to bug bites and hello to sleep filled nights. The Guardian Bug Net surrounds you and your hammock (not included). Plus the added bonus of Insect Shield Technology for extra protection.
PROTECTED 360 DEGREES: Constructed from 950 square inches of 70D Nylon Taffeta, super-fine, SkyWeave Mesh netting. The Guardian Bug Net offers 360-degree bug protection with a spacious interior perfect for relaxing.
BUGS HAVE NO BUSINESS HERE: The Insect Shield's revolutionary technology is designed to provide long-lasting, effective insect protection. Includes a 3-mm ridgeline so you can hang it anywhere.
ADVENTURE READY: Features a full-length zippered entry. Weighing only 16 ounces, the Guardian Bug Net plus Insect Shield stuffs easily into attached storage bag. Unfolded Dimension: (L x W) 9'4" x 4'3."
This net offers 360-degree protection thanks to the 950 square inches of coverage. A feature that puts this one in the front line is the insect shield protection.
The no-see-um net has a permethrin formula in its material that is guaranteed to give odorless protection for as long as the net does. Despite the double netting, the air circulation while the net is up is comfortable. Moving in and out of the net is also a breeze thanks to the full-length zip.
It is easy to install the net, as it comes with a 3-meter ridgeline cord. The net also stuffs into the attached compression sack.
Pros
The insect shield offers more protection from bugs.
The net is relatively light and durable.
It packs into a small size.
Cons
The included ridgeline might be too short for use with some hammocks.
---
Conclusion
As you can see, each one of these options has its own unique set of advantages and disadvantages. That said, the ENO – Eagles Nest Outfitters Guardian bug net with insect shield stands out due to its insect shield treatment, making it a lot more effective at stopping bugs. 
Related guides
Hammock Camping Under Quilts vs Sleeping Pads
How To Hammock Camp As A Couple
Hammock Camping During a Thunderstorm
How To Find The Best Hammock Rain Fly
Best Hammock Sleeping Pads For Summer And Winter