The following hammock camping tips are a collection of own experiences and knowledge obtained over the last 6 years of camping, that we feel are particularly useful for those heading out into nature for the first time.
…From information on how to find the right area to hang a hammock, to how to stay dry during the rain, these tips aim to be a good starting point for anyone who wants to spend one or multiple nights in a hammock out in the wild.
Tips for first-time hammock campers…
Try out your hammock before heading out
Practice is essential when it comes to hanging a hammock. Ideally, users should be familiar with hanging a hammock with its straps at approximately 30 degrees to form a deep sag. This allows users not to fall off while sleeping.
We have a complete guide on how to choose the correct hammock straps here.
The straps play an important role here. Webbing straps are normally made with lightweight durable materials with no stretching. Users should be familiar with the straps around various tree trunks. The suspension line that connects the hammock to the tree straps shouldn't be horizontal when the hammock lays in its final position.
Learn about the hammock's features
Features can vary from one hammock to another. Users should be aware of what their new hammock offers before heading out. Some like storage pockets or sleeping pad pockets. But others come with interesting features such as a mosquito and bugs net.
Installing a mosquito and bugs net is easy. Some hammocks even come with built-in nets. Before spending a night in a hammock, users should know the hammock can be reversible if it comes with a mosquito net most of the time.
This means that users can sleep without it, spending the night in an area with no mosquitoes freely admiring the stars when the skies are clear.
A guide on how to find the right camping hammock with a built-in mosquito and bug net can be found here.
Learn how to set a hammock to be used as a chair
Among the many benefits of a hammock, it's worth considering it can double up as a chair. Sitting directly on the ground might not be the best idea, and this way the damp can be avoided.
Buy a rainfly
A rainfly or a tarp can be crucial when it comes to staying dry in all weather conditions. One good tip is to go for a large rainfly that also covers a few feet around the hammock for the best protection. When anchored in at 4 points, the rainfly lines guide water away further from your hammock.
A complete guide on how to choose the best rainfly can be found here.
A rainfly is hung at various heights above the hammock. Ideally, it should be made from lightweight nylon materials. Improvising a rainfly with items from around the house such as a shower curtain (as some campers do!) only adds unnecessary weight to the outdoor gear.
Protect your rainfly
Some users insist on pitching their hammock in high locations, however this also exposes it to unnecessary high winds. An area that is naturally sheltered from this such as those blocked by boulders or trees is going to offer the best rainfly protection during windy nights.
Learn how to use a mosquito net against insects
Investing in a good mosquito net is going to greatly pay off in the long term. Made to wrap around a hammock or available in a built-in design, mosquito nets are now the ultimate protection from flies and bugs.
Unlike improvised nets, a mosquito net closes the entire hammock sleeping area off with either zippers or Velcro straps. A specialized mosquito net also comes in lightweight materials, ready to be carried without too much effort in a trekking backpack.
Bring extra carabiners
As far as accessories go, carabiners are among the most important. Used to hang a hammock, they can also be attributed to all types of accessories and uses.
These durable accessories can also be used to hang other camping gear such as backpacks. Those who want to keep clothes such as jackets off the ground can easily connect carabiners to the hammock's straps to keep their camping outfits and even the boots off the ground.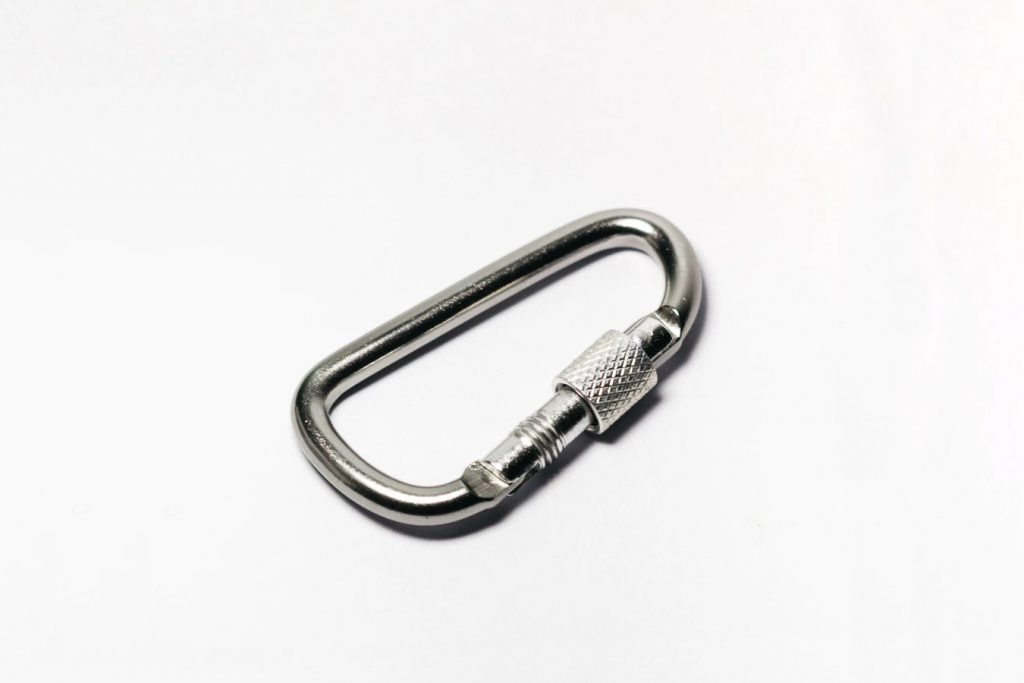 Pack the right clothes
Even with the best hammock, the right clothing is still important. Most users have the freedom of using sleeping clothes and trekking clothes when outdoors since they can be lightweight.
Ideally, users can layer up with warm fleece clothing underneath and a waterproof layer on the outer layer during the night. Daytime clothes can be handed off the hammock or packed in one the hammock's pockets.
Limit the weight of the gear
If most hammocks only weigh around one pound, most users think that they're traveling light. But the rest of your camping gear should also be lightweight.
Clothes, food, and water can add serious weight to your backpack. The entire purpose of hammock camping is to offer a lightweight alternative to a tent, and packing extra camping gear is only going to defeat this objective.
Consider a tent backup first
Changing camping habits from using tents to using hammocks can come with an adjustment period. Those out with a new hammock for the first time can still bring a tent as a backup plan.
Maybe the setup of your hammock won't be precise, or maybe sleeping in a hammock is going to be too difficult. This is where a backup tent can ensure those struggling to adjust to hammock sleeping have a backup plan.
Start during the summer months
All beginners should camp during the warm summer nights. Heading out into the cold with a hammock is going to pose many more challenges. For example, beginners might not know how to deal with the cold air underneath their hammock.
Practicing during the summer is the best alternative to staying warm regardless of the weather conditions. Even learning which type of hammock sleeping clothes are the best, is going to be easier to learn and master during the warm months of the year.
Learn how to pick the right trees
The average hammock needs around 10 feet in-between trees to hang properly. Users should only consider supportive trees, and stay away from dead tree and/or young varieties. But not all trees are the same judging by their location.
One of the best locations to set up a hammock is between 2 trees which are also sheltered from the wind. Those who want to sleep safely out in nature should also look above their camp as dead or loose branches pose a significant risk which is often overlooked.
Bring an underquilt
Even when sleeping out in nature, there are a few practical solutions for extra insulation. An underquilt is among them and it can cover either the bottom of the hammock or the entire hammock. Used during the cold months of the year, it keeps cold air away.
An underquilt may be used on its own but it can also be used with a sleeping pad or even better, with a sleeping bag. All of these options might be required when heading out in nature during the colder winter months.
Learn how to clean sap
Tree sap can destroy anchor straps and even clothes. Sticky sap often remains on the hammock's anchor straps and it may damage them in time or simply make them look very unappealing.
Using an alcohol-based solution such as a hand sanitizer on the straps can potentially remove the sap. Most professionals recommend starting on a small section of the strap before applying the lotion on the entire strap.
Clean your hammock regularly
It's not just about sap with hammocks. Users also need to clean them regularly to prevent any potential long-term damage and to kill bacteria as soon as possible.
Washing your hammock in a washing machine together with laundry is all that it takes to keep it fresh and clean. All manufacturers give out indications as to what the maximum water temperature for washing is and the user should respect these indications before loading their hammock without the carabiners in the washing machine.
Use large straps or tree-saver straps
Zip cords are not the norm in a hammock hanging anymore. Their small surface puts extra pressure on the bark of trees, and it isn't the most low-impact method of camping. Alternatively, large polyester straps that wrap the tree with wide 1 inch webbing disperse the weight better.
These straps minimize the impact on the tree and they make the most out of the non-intrusive nature of the sleeping method compared to sleeping in tents.
Often called tree-saver straps, these wide straps are the primary option for those wanting to break away from cords and even nails as an anchoring system.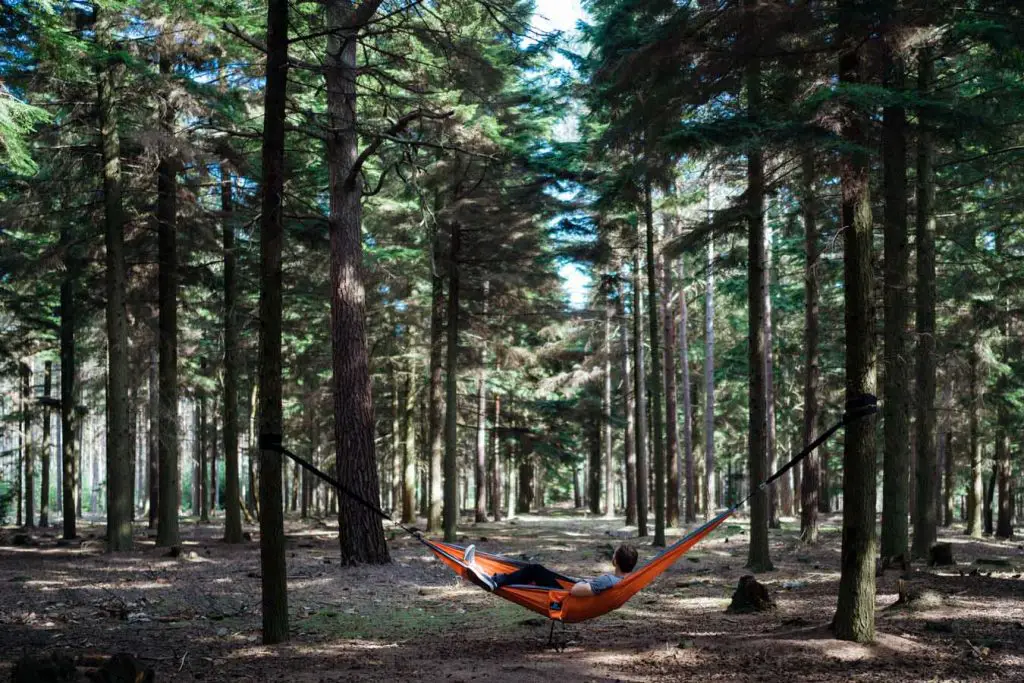 Avoid hanging the hammock off dead trees
Dead trees can break under the weight of the hammock at any time. It's not the wisest idea to put up a hammock on dead trees even if they're the only trees around. For safety reasons, the chosen trees should be healthy.
Those unsure if a tree is dead can check for fallen or dry branches. A dry tree trunk is also a sign of a dead tree and users should look to set up camp in a different location.
Stay clear of the water
The immediate area surrounding water is a habitat for unique plants and animals. Sleeping should be at least 200 feet away from the water source to avoid this area, its animals, bugs, lizards, and to protect the habitat which is called the riparian area.
At the same time, users should stay clear from a water source in case something goes wrong with their hammock. Falling on dry land is different than falling straight into the water!
Learn to hang the hammock with sag
Deep sag is a sign of a safe sleeping position in a hammock. Sag normally prevents falling off the hammock while moving around during the night. To achieve this, users need to have the strap of the hammock lying at a 30-degree angle.
But the right height of the hammock is also important for safety. Hammock height is determined by user height. All users should be able to easily sit into their hammock from the ground, without climbing in trees or on other objects.
Check for hidden hazards such as wildlife
There are many wildlife dangers to stay clear from. Whilst hammock camping, having the same common sense as when pitching a tent is important. Campers need to stay away from lichen, wasp nests, and hidden dangers such as poisonous plants.
Even looking for dead trees, branches, or small rocks to trip on is important. Many campers only recommend hanging a hammock off trees that users can't completely wrap both of their hands around. But even these trees can be dead and checking for immediate danger is recommended.
Research camping locations
The right camping spot makes the entire experience more enjoyable. Finding a place behind boulders or in a forest can mean the hammock is protected from high winds. As long as there's a 10ft minimum distance between the trees, the campsite can be anywhere out in the wilderness.
For a comfortable sleeping experience, it's smart to stay on the low ground as hanging the tent at higher altitudes only exposes it to high winds and lower nighttime temperatures.
Break the hammock down when leaving the camp
Those new to camping might not know they need to break down the hammock whenever they leave the camp. This protects the animals around you and also keeps you safe from returning to your sleeping area and finding an animal trapped inside.
Breaking down a hammock is also a smart idea for those out with kids. Most children can feel tempted to climb onto hammocks and keeping an eye on them can prevent accidents.
Only sleep in camping hammocks (proved and tested)
Camping with a hammock that has been laying around the yard for years is not wise. Most home hammocks are only made to support the user while sipping a coffee and they can't be reliable in true outdoor conditions. Their biggest issue is with user weight support.
A dedicated outdoor' hammock doesn't have to be expensive. Even within $100, outdoor enthusiasts can find reliable hammocks that have been weight tested, heat tested, and which also come with waterproofing.
Using an old hammock which has been laying on the deck for years is not safe and in most cases, it doesn't come with good anchoring straps either.
Always pack a bug net for warm-weather trips
Bugs nets are now becoming more popular with new hammocks and they're a must during the bug and mosquito season. There are multiple types of nets for insects compatible with hammocks and nobody should truly consider camping without one.
Usually made from lightweight no-see-um mesh, bug nets are also easy to pack. The lightweight mesh folds either with your hammock or on its own and it can easily be stored in the backpack before heading out to the trails.
Practice hanging the hammock at home
Before heading out, all new hammock users should practice using it at home. This involves unwrapping and wrapping it properly. It also involves learning how to anchor it on a tree safely.
Many people haven't seen carabiners before, and using it together with other accessories such as rain stoppers is crucial when it comes to saving time when setting up camp.
Another method to test a hammock out is to simply sleep it in at home, in the backyard. This method answers all the questions such as how cold does it get inside, and the best part is users can go inside the house and change their clothes appropriately.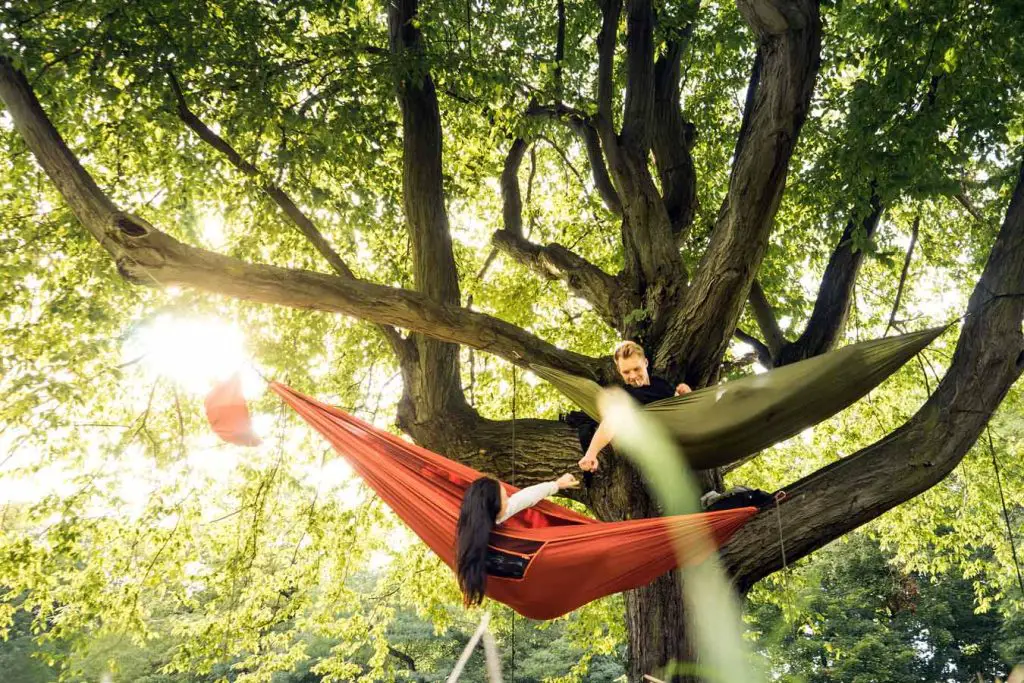 Learn about the correct sleeping position
The sleeping position is also something that requires attention for proper camping comfort. Most campers recommend sleeping in a diagonal position. This allows the body to sit in a straight line where the legs aren't higher up the hammock than the upper body.
This can be a step to go through while practicing hanging up your hammock. Users can even take a quick nap at home just to find the right sleeping position for their height.
Use the right sleeping bags
Sleeping bags are essential for nighttime hammock comfort, but not all are the same. Rectangular sleeping bags take up too much space inside a hammock, and therefore a rounded edge sleeping bag or the "mummy-style" sleeping bag is the best alternative as it fits most hammocks a lot better.
Additionally, sleeping pads are also important to have with a sleeping bag. Most users place them inside their hammocks to offer better control in case they slip off it during the night.
We have further guide and product review on sleeping pads here.
Find a good sleeping pad
Insulation is crucial during the night. A sleeping pad is one of the best lightweight options to trap air between the body and the hammock itself, which acts as an insulation layer.
This is why even the most basic of sleeping pads can be helpful. Those who can spend a bit more can even get a sleeping pad that prevents them from slipping around while inside the hammock.
Packing small pillows
2 small camping pillows might be all that's needed for proper comfort. One should be placed under the head. The other small pillow can be placed under the knees or even between the knees. This eliminates one of the biggest hammock sleeping issues, knee discomfort.
Buy water breaks
Water breaks are small pieces of plastic that break the connecting line of the hammock to the tree.
As its name suggests, it stops water from tracking into the hammock. During rainy periods, the drips from the hammock's line can get inside the sleeping area, and a simple break stops water from traveling further towards the hammock.
Pack the basic supplies
Camping with a hammock is still camping, and basic supplies always require planning. Among them, campers should consider food, water, protein bars or snacks, utility knives, a flashlight, and tools to make a fire, to name a few.
Plan hanging 2 hammocks on the same tree
Those not camping alone might feel more comfortable sleeping close-by. But this isn't always easy when sleeping in hammocks. A simple method is to find one tree on which to hang both hammocks as this brings people closer even if the other end of the hammocks is anchored to other nearby trees.
Consider ground-level sleeping alternatives
As an emergency sleeping method, campers should know how to set up a sleeping bed using a hammock. This is in case something goes wrong, or in case outdoor fans don't find the best trees to hang the hammock before nightfall. Even using sticks, users can still raise a rainfly while sleeping on the ground to keep water away.
Create guyline hoops to hang camping gear
Guylines can help campers hang their backpacks or other personal belongings. Unlike those camping in tents, there is not a lot of space for backpacks, clothes, hiking boots, snapbacks, or sunglasses etc. But users can create guyline hoops to hang all of them to keep them off the ground.
Check your hammock before leaving
Many hammocks can break down in storage due to various reasons. A dog might chew off a line or the bug net might have been ripped. Before heading out, check its anchoring straps, and bug net are in good condition to avoid unpleasant surprises.
Summary
These hammock tips can help anyone who needs to stay safe and comfortable even when camping without a tent. They prove proper planning can go far in terms of overall camping safety.
Most importantly, they show that practice is always the best route to safe camping. Learning how to hang a hammock before even leaving the house is key. Most campers should also know how to choose a hammock anchoring location to stay safe outdoors.
Related guides
How To Find The Right Portable Hammock Camping Stand
How To Choose A Camping Hammock
The Ultimate Hammock Camping Equipment Checklist
How To Hammock Camp In The Rain