Imagine it – you're hammock camping under a blanket with a view on a sky full of twinkling stars. What on earth could possibly make it better? Hint: It loves to cuddle, has a wet nose, and has four paws!
Hammock camping with your dog only adds to the adventure of camping between two trees. But how do you do it? Is there even enough room for your dog to sleep in a hammock with you?
In this article, we're taking a doggy nose-dive into how to take your dog hammock camping. You'll learn about safety tips, how to prepare, what to bring with you, and much more.
Let's get to it!
Do dogs like hammocks?
Before we go ahead and romanticize the idea of hammock camping with your dog, you must first ask yourself, "Does my dog even like hammocks?" Every dog will be different, so make sure to rule out the following possibilities before you go packing your bag.
Will a hammock make my dog feel nauseous?
Does my dog have a hard time balancing?
Will the swinging movement scare my dog?
Remember when testing out whether or not your pup enjoys being in a hammock to start extremely slow. If your end goal is to seriously go hammock camping with your dog on multiple weekend adventures, it's important to take time for training.
Forcing a dog into a hammock will do more harm than good.
To train a dog to use a hammock without panicking, entice them with treats. In the beginning, you'll also want to ensure the hammock is no more than one foot off the ground in case they fall.
While some dogs may not like the feeling at all, others might just love it! If your dog takes to hammocks naturally, you're one step closer to making your doggie hammock camping dreams come true.
Preparing to hammock camp with your dog
No matter whether you and your dog are novices or experts at camping, you'll need to prepare in advance for your trip. Here's how you can best prepare to go hammock camping with your furry friend!
Size and fit
Like dogs, hammocks come in many sizes and shapes. So you'll need to plan accordingly when selecting the best sized hammock for both you and your dog. Remember, there will be four extra legs to accommodate!
In general, smaller to medium-sized dogs are best for hammock camping while bigger and heavier dogs will make it a challenge to sleep comfortably. Not to mention, larger pups means more weight which in turn means finding durable trees and hammocks with hefty, non-tear fabric.
If you can't refuse your oversized pup a camping trip, then make sure to buy a large, double-wide hammock that's designed to sleep two. Double-wide hammocks usually span 5-6 feet in width and can hold up to 350-500 pounds.
Fabric is another aspect to consider when selecting the best type of hammock to camp with your dog. Popular camping hammocks are made from parachute silk, or nylon, which makes them ultra lightweight and ideal for hiking and camping.
But you'll want to be careful with these lighter fabrics as they'll tear easier and will wear down quicker than heavy-duty fabrics with higher denier numbers.
Clipping your dog's nails
Speaking of fabric, you'll want to make sure to clip your dog's nails before you go hammock camping. Long nails could easily rip and tear the hammock when your dog enters and exits.
You also don't want to get scratched up as your dog wiggles around to get comfortable! Luckily, clipping your dog's nails is a fairly quick step in the preparation process.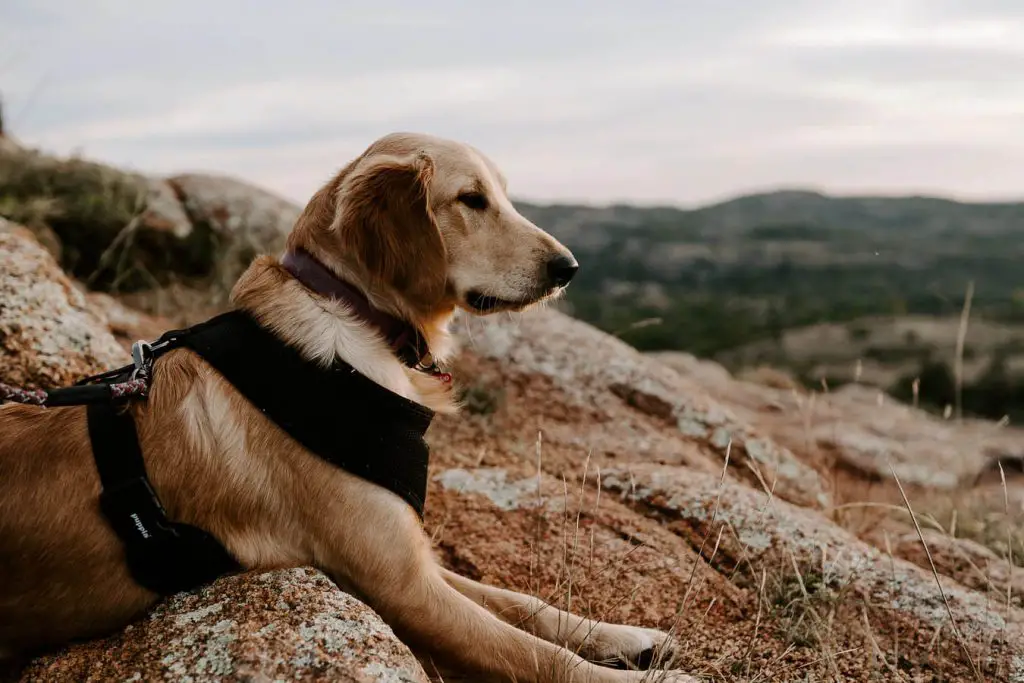 What if your dog doesn't like hammocks?
It's important to recognize when your dog just isn't up for adventure. If you've tried several times to acclimate your dog to the idea of hammock camping but he's just not biting, don't fret. You can still go hammock camping with your dog, but you'll have to accommodate his bedding situation outside of the hammock.
Here's how you can make it work even if your dog doesn't like hammocks.
Pack a lightweight tarp and a thin padded mattress/bed to place on the ground
Put it under/beside your hammock and under the rainfly in case of rain
Try and camp only in milder weather so you don't freeze your pup
Always attach your dog's leash in case of wildlife during the night (you don't want Fido to go on a wild goose chase)
Hanging a hammock with a dog in mind
If it were just you without your dog, hammock camping would be a little more flexible. But when your pup joins in on the fun, you shouldn't hang a hammock just anywhere or anyhow.
First, you'll want to always hang your hammock a lower to the ground. It's much safer and easier for your dog to climb in the hammock and get out.
Second, consider your hammock's rainfly or mosquito net – is the hammock accessible for quick entry and exit in case of emergency?
Third, don't forget that nights in a hammock are much colder than in a tent. Although you can cuddle your furry friend to stay warm, you'll still want to make room for a cozy underquilt and warm sleeping bag.
Lastly, don't forget to adjust your sleeping position accordingly! Smaller dogs can curl up next to your mid waist or chest while larger dogs are better off down at your feet. This will also make the hammock more balanced and result in a comfier night's sleep.
Safety Tips
Wildlife, other dogs, ticks, cuts, reptiles… There are many things that can pose a threat to your dog.
1. Keep an eye on your dog and respect local fauna and flora
Dogs often attract unwelcome wildlife and also tramp on local flora which is why most national parks ban pets from accompanying their humans in parks and in wilderness areas.
2. Get your dog a tracking collar
In case of emergency, it's best to equip your pup with a tracking collar. That way if they escape during the night you can have a better chance of finding your canine companion again.
3. Make sure to use flea/tick prevention
Fleas and ticks are annoying pests for both dogs and humans. When out camping, your dog is likely to romp in tick-infested bushes so it's best to arm them with an anti-tick and flea collar or topical drops before your trip as a mode of prevention (or after for treatment).
4. Take along extra dog supplies and first aid
Humans carry first-aid kits, but what about for dogs? Don't forget about Fido! Sometimes dogs can get themselves in a rut and having a few tools like bandaids, tweezers, and styptic powder (to clog bleeding), might come in handy.
Using Dog-Friendly Campsites
Before you pull up to just any campsite, did you check to make sure it was dog-friendly? Sometimes dog owners can be blinded by an unruly no-dog policy. Such news can spoil your entire weekend plans. So in foresight, take the time to research for dog-friendly campsites.
Dog-friendly campsites will likely have doggy-designated areas such as relief stations and a local dog park where your pup can meet fellow canine campers.
The campground will also be more dog-friendly meaning less potential threats and hazards in the area. For example, avoid hanging your hammock around places that would be deemed unsafe for Fido like sharp rocks, slopes, uneven ground, etc., which could make it more difficult for your dog to hammock camp with you.
Also don't forget to check if your dog is allowed off-leash! Even at dog-friendly campsites, sometimes they don't allow dogs to roam around free for other people's privacy and protection. That's why, if you can, you should aim to find a campsite with an off-leash dog park.
What to bring when hammock camping with a dog
Now that you have finished packing your camping bag, it's time to pack a doggy bag! (Hey, pups need supplies too!) Here is a non-exhaustive bulk list of things to bring with you when going hammock camping with your pup.
Collapsible food and water bowls
Enough food and plenty of water
Extra quick-dry towels
Your dog's leash/harness and name tag
Dog-safe insect repellent and sunscreen
Water-proof ground tarp and doggie bed
Wind-resistant blanket
Medications (if any)
First aid kit
Biodegradable poop bags
1-2x fun dog toys (Frisbee, tennis balls, etc.,)
And though not essential, packing a couple of treats can go a long way in retrieving and rewarding your pup for good behavior!
Getting comfortable
First-timers might not find hammock camping with a dog so comfortable. But don't give up just yet! With practice comes perfect. So it might take a few tries to find that sweet spot.
 Here are a few tips to keep in mind to get comfortable.
Blankets/Quilts – Adding a blanket and quilt to your hammock setup will not only provide more comfort, it will also keep you warm and toasty! An underquilt can prevent loss of heat during the night while a top quilt will prevent you from chilly winds.
Staying Clean & Dry – It's always a good idea to wipe down your dog before crawling into your hammock. You can either use biodegradable cleansing towelettes or a simple microfiber towel. A dirt-free and especially dry dog is more cuddly than a cold, dirty one. (That goes for the both of you!)
Weather – When packing, don't underestimate the weather. Even if it announces sunshine, equip yourself for rain. That means packing a rainfly to cover the hammock and also a tarp you can line the ground with so your dog's bed doesn't get soaked from the bottom up.
Insects – Mosquito nets go a long way in ridding you of pesky stings and bug bites throughout the night. The disadvantage of using this type of enclosure however means an extra learning curve for your dog, so make sure to practice before getting out in the wilderness for real!
Summary: take your dog hammock camping with you!
Hammock camping with your dog is not only doable, it's a load of fun! Why would dogs be called man's best friend if they couldn't be a part of your every adventure?
 As long as your dog enjoys it, you can safely hammock camp with your dog. And even if they don't like the hammock in particular, it's still possible to successfully camp outside with your dog with a hammock instead of a tent.
Use this article to plan and prepare accordingly so you and Fido will be set for your next hammock camping trip!
Related guides
How To Hammock Camp in Hot Weather
Hammock Camping Under Quilts vs Sleeping Pads
How To Hammock Camp As A Couple