If you want to camp during the colder months without the risk of frostbite, then a tent heater should be an integral part of your camping gear to ensure you stay warm. However, unfortunately with a vast array of options to choose from on the market, finding the best product can be rather difficult. 
So, in this article we aim to look at everything you need to know about finding and buying the best camping tent heater, along with a few of our own personal recommendations.  
Camping tent heater buying guide
When buying camping gear, quality, and safety are obviously our top considerations.  Although most of the tent heaters you find on the market are safe for use, you must also consider their practicality. Is the heater going to meet your needs? Is it going to fit well inside your tent? Is it strong enough to heat the entire tent?
Each of the units we've reviewed in this guide have there own sets of strengths and weaknesses. If you want something that will perfectly suit your unique needs, then they at the vert least provide a good starting point. 
You also need to think about your safety and that of the people you will be camping with. Tent heaters require a high amount of heat to function, and we all know what unchecked campfires can do.    
We have a full guide on "How To Safely Use a Tent Heater" here.
Types of tent heaters
Tent heaters are categorized into three main groups; gas, electric, and kerosene heaters. 
Butane and propane are the two types of gasses used to fuel tent heaters. 
Propane can be described as a liquefied flammable hydrocarbon gas. Propane heaters are among the most popular and used heaters on the market. Butane is the other option, although it is less preferred as it tends to change from a liquid into gas during high temperatures. Propane heaters are more preferred as they are relatively more reliable, burn faster, and maintain their liquid form in colder climates.
The shape and size of gas heaters vary according to your needs. While propane heaters are adept at heating tents, some safety concerns are associated with their use.
As a result, most propane heaters have added safety features to escape any damage. Some of the features you may come across include a built-in mechanism for automatic turn off; if you find a catalytic propane heater, it does not have an open burning flame. 
Electric heaters are not only an easy choice but also a safe heating option outdoors, but only if you'll be able to access electrical power from your campsite. 
Also, as a pro tip, consider buying an electric heater with a fan-only utility. That way, you can use it as a fan during warmer days. 
Most portable electric heaters come in two sub-categories;
Convection Heater- This contrivance gets its name from the heating mechanism it uses. Convection involves standard or fresh air entering a heated surface, getting warm and emitted again. This kid is designed for large spaces.  
There's also a ceramic convection heater that uses a ceramic plate to produce heat, after which an aluminum confound absorbs the heat. Eventually, a fan blows out the warm air. 
Radiant Heater- This type uses a metal plate either made of quartz or other similar minerals, alongside a reflector. This heater is designed for smaller spaces.
While these types of heaters are a good option, they must be used in an area where the ventilation is ample; kerosene heaters usually emit small amounts of soot and carbon monoxide. 
Kerosene heaters are mostly preferred by habitual outdoor users such as fishermen, given that they can last a long time on pretty low-cost fuel.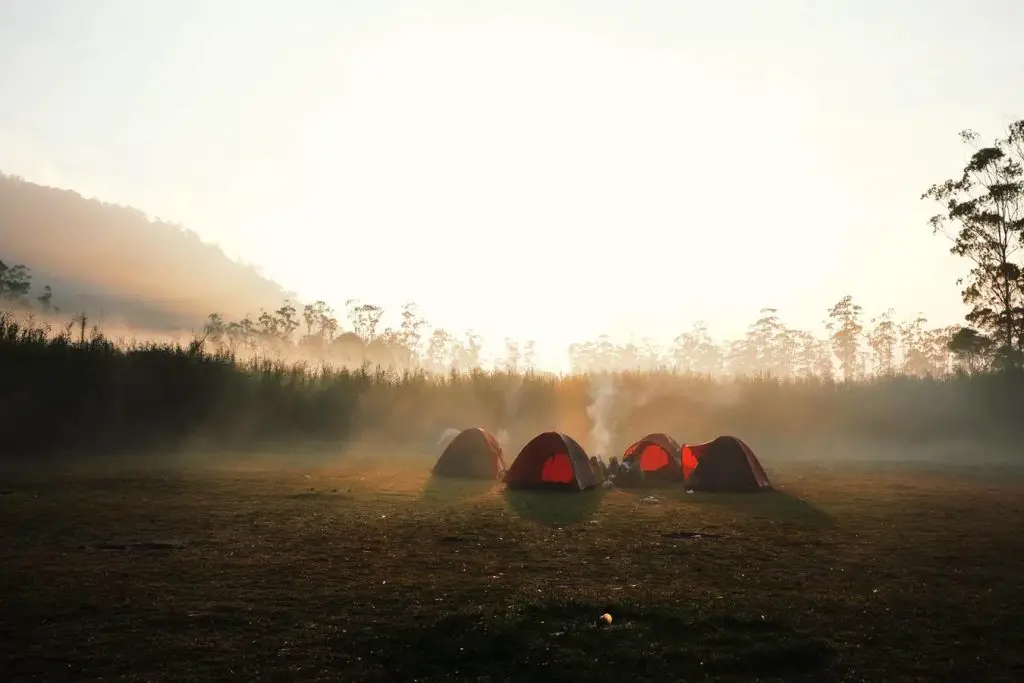 What to consider when buying a heater
Fuel Type
As we've established earlier, camping tent heaters are powered by different means. Gas, especially propane heaters are the most common and widely used. However, when dealing with gas-powered heaters, some of the issues you'll have to deal with include
Reduction of oxygen in high altitude areas
Foul smell from burning gas
Higher risk of accidents
When using kerosene or gas-powered heater, you need a well-ventilated tent as the two produce an unsuitable residue when used in an enclosed space, making the air uncomfortable and unfriendly. 
Also, remember that buying an electric heater requires that your camping destination has access to an EHU. 
Size and Weight
You don't have to pack a mule for your camping expedition. Remember that you'll be moving the heater in and out of your location on your own. Consequently, it's crucial to pay attention to the weight and size specifications.
If you know that your adventure will include hiking, you should consider getting a portable heater. What's more, a radiator might be light, but its accessories heavy. As such, you should opt for a heater with few accessories to also cater for storage provisions. 
Noise Level
Who wants to sleep in a tent with a noisy heater making it difficult for you to sleep soundly in wait for the next day's activities? Often, gas heaters are found to be louder than electric heaters. 
If you're a light sleeper, you may be in for a rough night, depending on the number of decibels produced by your heater. Remember, it is not advisable to bring earplugs or headphones to reduce noise in the wilderness.
BTU Measurement
BTU (British Thermal Unit) is often the unit used to measure the heat output from a tent heater. The BTU measurement helps you to calculate how much space you'll need to heat. Additionally, BTU measurement needs also depend on the weather and the thickness of your tent material. 
Tents are usually assigned an insulation rating. Your BTU requirements can be calculated by multiplying your space (in cubic feet) by the insulation rating. E.g, if you're going camping in the peak of winter (you need a tent with an insulation rating of 8), and you have about 100 cubic feet of space, you'll need an 800 BTU heater for maximum insulation and heat retention. 
Energy Efficiency
This factor primarily applies to propane and butane heaters.  Before buying a heater, check the consumption specs to ensure that you pack sufficient fuel.
Your unit's energy consumption will also impact your energy bill. The best camping heater, in this case, may have a thermostat feature that will cause your appliance to turn on and off without giving up your preferred heat setting.  
Tipping/Safety Feature
The majority of the tent heaters have safety features incorporated. These provisions are made to ensure the prevention of fire risks, among other dangers. For instance, a heater may turn off automatically when in oxygen-depleted areas. 
Some of the safety features to look out for include a topple-over shutoff addition that works as a fire prevention mechanism in case the unit falls over. Again, some appliances have a built-in timer to shut the heater down when you fall asleep. 
Brand Reputation
You cannot overlook the importance of buying a heater from a reputable manufacturer. It not only betters the chances of having a working heater for a good amount of time, but also helps to guarantee a good level of customer service. 
Most of the top brands have remarkable warranty offers for camping tent heaters. Brands such as Mr. Heater and Coleman are excellent options as they have been tried and tested.
Durability
The best camping tent heater must be made out of durable material such as stainless steel. It must be capable of sustaining all the abuse it may receive from the outdoors.
Durability is quite challenging to determine by checking the specs. As such, you must read user reviews and purchase a camping heater form a reputable brand.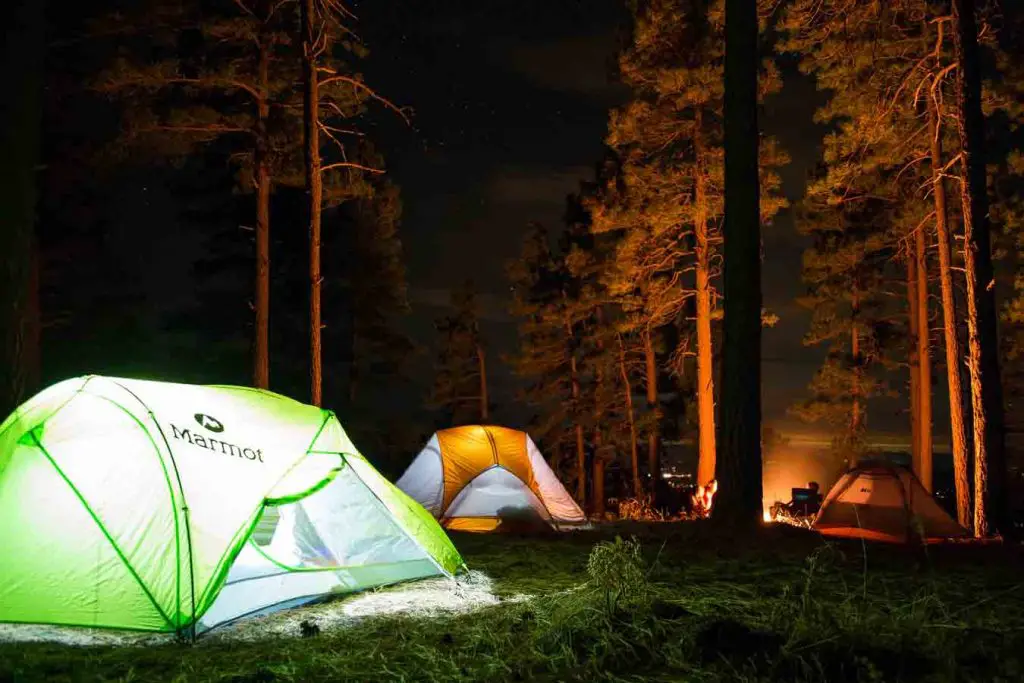 Tent heater safety tips
There's more to using a camping tent heater than merely assembling it, turning it on, and hoping that everything will be alright. You must keep in mind all tent heater safety tips if you want to make sure that everyone in your camping party is safe…
The only stand you should use is the one that came with your heater. However, if yours has no mount, don't be tempted to improvise a base in a bid to raise it off the ground. For starters, the object you use to elevate the heater may catch fire. Even worse, in case the heater falls off due to instability, it will be projected much farther, potentially burning your camping cot or a member of your party.  
While it may be efficient to place your heater at the center of your tent, it is not always practical. Now, if your camping tent is one that boasts an ergonomic and compact design, then it is not meant to withstand tent heaters. Consequently, you must endeavor to optimize heat efficiency, and also keep the heater away from the edges. 
Understand the Maximum Heat
The booklet that accompanies the heater contains information regarding the maximum heat limit that your appliance can reach. This info can help you make better decisions regarding the unit's placement, as well as the understanding of whether your heating appliance can start a fire in the first place. 
NEVER buy a heater that isn't rated safe to use in small indoor spaces. The best camping tent heater should be extensively tested to ensure that it is tent safe.
Turn off during the night
It's easy to succumb to the temptation of leaving your heater running during the night. However, this can prove disastrous as something can happen while you're tucked away in your sleeping bag. 
Use your heater to warm the tent as you get ready for bed. By the time you want to retire, then space will be warm enough, and you won't mind turning it off. 
Ventilation is exceedingly crucial, especially when using gas and kerosene powered heaters. Proper aeration ensures that any carbon dioxide/monoxide the heater emits leaves and permits fresh air to enter the tent. Furthermore, exposure to air reduces the condensed air caused by the heater.  
---
Tent heater reviews
We only review the products that we feel are the most worthy of selection, and this often results in a list that is a little smaller than the "10 best" collections we see everywhere else.
So the below carefully sourced 5 tent heaters form a list of what we consider to be some of the best products currently available:
01 – Mr. Heater MH18B, Propane Heater
Product Dimensions – 18.5 x 18 x 11.4 inches | Weight – 288 Ounces | Material – Steel | Fuel Type – Propane | BTU – 4,000-18000 |Auto-Shut Off – Yes | Temperature Controls – Yes
Mr. Heater Big Buddy Pro Series Propane Heater, 18000 BTU,...
4,000- to 18,000-BTU radiant heater for spaces up to 450 square feet. Approved for indoor/outdoor use; clean-burning; nearly 100-percent efficient
When operating the heater at altitudes over 7,000 FT above sea level the heater may shut off. Maximum Hours Of Operation- 220.0
Auto shut-off if tipped over, if pilot light goes out, or if detects low oxygen levels
Low, medium and high heat level control knob for steady temperatures; connects to propane tank (not included). Note- Due to recent governmental changes to import tariffs, Mr. Heater has removed the fan on some models of the Mr. Heater Big Buddy (MH18B).
This is one of the most highly rated members of the Mr. Heater family. The Big Buddy can be connected to two 16-ounce cylinders, allowing it to heat enclosed spaces of up to 450 square feet. This makes it one of the best tent heater designs for cabins. 
The MH18B boasts an in-built fan to boost its heating capacity, blending convection, and radiant modes of heating for maximum comfort. What's more, it contains two swivel regulators; they modify your usage from the one-use cylinders to remote gas containers using an elective single hose and filler. 
This model also features an Oxygen Depletion Sensor (ODS) and safety shutoff, which may come in handy in case of an accidental tip-over. Furthermore, the unit requires 4x D batteries or an AC adapter to power the fan. Finally, it features temperature control settings with high, medium, and low heat provisions that deliver 18,000, 9,000, and 4,000 BTU per hour, respectively. 
Pros
It's quite powerful to power a six to eight-person tent. 
It features a three-setting temperature control
It has an in-built temperature control setting
MH18B has an accidental shut off provision and ODS safety sensor for enhanced safety
Can connect to two propane tanks
Cons
It has no thermostat
The in-built fan requires batteries or an AC adapter to function
---
02 – Dura Heat DH 2304S 23,800 BTU Kerosene Heater
Product Dimensions – 17.5 x 17.5 x 26.8 inches | Weight – 444.8 Ounces | Material – Steel | Fuel Type – Kerosene & Battery | BTU-23,800 | Auto-Shut Off – Yes | Temperature Controls – No
No products found.
The Dura Heat 2304S offers up to 23,800 BTUs of heat output, making it ideal for heating large spaces. The heater is made from steel, making it quite heavy (444.8 ounces). However, it features a carrying handle, which makes it easy to move around. 
Another excellent feature is that it has a 360-degree heating radius, boosting the unit's overall energy efficiency. Again, given that the Dura Heat uses kerosene, a relatively conservative fuel, you can save considerably on total costs. You'll also love to learn that you can use your heater for up to 12 hours on one tank of kerosene alone. 
Thanks to the innovative no-lift heat chamber technology, the start-up odor is reduced when you light up the heater. Additionally, this heater can double up as a light source, which is great because you can use it to light up your tent at night. 
Not to worry, this model has an electric ignition system, eliminating the hassle of using matches. For safety, this model has grills, designed to protect you from the hot surfaces. It also features a highly sensitive automatic shutoff that will immediately turn it off even when you hit the base slightly.
Pros
It heats over a 360-degree radius, heating all corners of your tent.
Provides light and heat
Produces no start-up odor
Boasts a highly sensitive auto shut off safety feature
Features a carrying handle for easy movement
It's a quite economical model due to the conservative nature of kerosene
Features an electric ignition system
Cons
It is slightly bulkier than most portable heating units
Produces some soot, making it ideal only for well-ventilated spaces
No temperature controls
---
03 – Mr. Heater F215100 MH4B Little Buddy
Product Dimensions – 11 x 11 x 11 inches | Weight – 94.4 Ounces | Material – Steel | Fuel Type – Propane | BTU – 3800 | Auto-Shut Off – Yes | Temperature Controls – Yes 
Mr. Heater F215100 MH4B Little Buddy 3800-BTU Indoor Safe...
Indoor-safe portable propane heater for rooms up to 95 square feet. THIS UNIT IS NOT INTENDED FOR GOLF CART USE OR FOR MOTORIZED VEHICLES.
Continuous odor-free, 45-degree heating angle. Maximum Elevation (Ft) 7000 Feet. Automatic low oxygen shut-off system (ODS). Perfect solution for heating small enclosed spaces like tents up to 95 square feet
Simple on/off buttons; uses 1-pound disposable propane cylinder (not included). Run time at minimum btu and maximum btu is 5.6 hours. Do­ not­ operate­ heater­ in­ any ­moving­ vehicle. This ­heater ­requires ­a­ vent­ area­ of­ 4­ square­ inches­ minimum ­for­ adequate ventilation ­during­ operation
Low-oxygen sensor and accidental tip-over switch with auto shut-off for safety.THE USE OF UN-AUTHORIZED ACCESSORIES/ATTACHMENTS WITH THIS HEATER ARE EXPRESSLY PROHIBITED, MAY CAUSE SERIOUS INJURY, AND WILL VOID THE WARRANTY.
As the name suggests, this appliance is a small indoor propane heater that weighs less than six pounds. Unlike several of its counterparts, the model has a mobile (closed safe space) propane cylinder. The unit is very portable, which is quite convenient as you can carry it well without consuming much of your space or weighing you down. Well, you could also connect the gadget to a larger gas cylinder if you prefer. 
The Mr. Heater MH4 Little Buddy offers a maximum elevation of 7,000 feet, which is great because you can still use it at lower altitudes. The model is highly favored for its automatic shut off against overheating, not to mention a thermostat for temperature control. It also features an accidental tip-over switch.
One feature we appreciate a lot in this compact model is the ceramic construction that provides shock-absorbing insulation, an excellent way to heat even the coldest rooms in winter quickly and safely. 
The unit can serve a maximum of 95 square feet and has a running time of approximately 6 hours. It is also quite stable, which is ideal as it will minimize unwarranted tilting and tipping over. 
Pros
Contains a tilt-auto shut-off feature
Features an oxygen depletion shut off feature
Easy to operate
Auto shut off feature for protection against overheating
45-degree heating angle to maximize efficiency
Can work for 6 hours without requiring a recharge
Is a portable and compact unit with an in-built gas cylinder for easy transport
Cons
Suitable for providing close-up warmth
No heat setting or thermostat
---
04 – Camco Olympian Wave-6 6K BTU LP Gas Catalytic Heater
Product Dimensions – 4 x 12.8 x 18 inches | Weight – 224 Ounces | Material – Steel | Fuel Type – Propane | BTU – 6000 | Auto-Shut Off – Yes | Temperature Controls – Yes
No products found.
It would be an injustice if Camco's Wave-6 catalytic heater did not make it on the list of the best camping tent heaters. It is quite an interesting model that produces up to 6000 BTU, which is sufficient energy to cover 230 square feet.
Camco Olympian Wave-6 is almost 100% efficient. Therefore, you can rest easy knowing that you will not lose propane to cracks or leaks. Nevertheless, if the unit detects any signs of leaking propane, it will shut off spontaneously. 
We love the fact that you can use your Camco Olympian outdoors as well as within your office, workshop, or home. This appliance includes a wall mount which provides maximum location control if you chose to use it for other purposes besides camping. Furthermore, the Olympian wave 6 features an automatic sparker that'll remain functional for up to 20,000 starts, making it ideal for long backcountry escapades. 
You may also appreciate that this heating device uses two ounces of propane per hour; it can last up to 15 hours on the small propane cylinder. 
Pros
Features a compact, lightweight and easily portable design
Equipped with safety features
Features an automatic ignition spark
Can be erected on a wall
---
05 – Mr. Heater Buddy 4K/9K BTU Portable Propane Radiant Heater
Product Dimensions – 7.7 x 13.4 x 15 | Weight – 144 Ounces | Material – Steel | Fuel Type – Propane | BTU – 4,000-9,000 | Auto-Shut Off – Yes | Temperature Controls – Yes
Sale
Mr. Heater F232000 MH9BX Buddy 4,000-9,000-BTU Indoor-Safe...
PORTABLE HEATER: Portable propane heater designed for emergency heat, tents, campers, job sites, porches, decks, garages, tailgates, barns, sheds, ice fishing, hunting blinds, and more
HEAT SPACE: Perfect for heating enclosed spaces up to 225 square feet
PROPANE GAS: For use with propane gas; Runs off a 1-pound cylinder of propane and can connect directly to a 20 pound cylinder with optional hose and filter
FEATURES: Includes Piezo igniter, Accidental tip-over safety shut-off, swivel regulator and fold-down handle, and hi and low heat settings
Apart from the attractive price and remarkable power, this unit offers the security and safety of the dual sensors. The dual sensors are an excellent addition as they cause the unit to shut down automatically if the unit falls over or the oxygen in the tent dips dramatically.
This portable radiant heater from Mr. Heater comes with a hose that attaches to a propane tank; you can run this unit in a 225square foot space without a problem. It also features a small kink added for safety, although it all depends on how you view it. When you camp at 7000 feet above sea level, the safety kink shuts off, considering that the air at this altitude is thinner, and the oxygen regulator will shut down frequently.
Overall, this tent heater is a remarkable addition to your camping gear as it won't exhaust your propane reserves too quickly, all while providing an excellent heat source despite your heating requirements. 
Pros
Quite safe due to lots of safety features
Pretty versatile as it can be used to heat various spaces such as your tent, workshop, patio, and camper.
It is very portable weighing in at merely 9 pounds
Attains maximum warmth quite fast owing to the large heating surface on the radiant heater
Cons
It has no thermostat 
Doesn't feature a high limit safety shut off
---
Final Thoughts
Camping in the cold season can be a remarkable experience. When you have had your fill of the stunning scenery outside, it is a comforting thought to know that you can always retire to a warm and toasty tent thanks to your tent heater. 
It is the secret ingredient to a warm and memorable adventure in the wild outdoors. 
As you've seen, there are several impressive tent heaters in the market. However, Mr. Heater models truly stand out due to their quality and overall functionality.
The brand has become synonymous with quality and durability, where their mobile heaters are among the most popular in North America. 
The Mr. Heater MH18B Propane Heater takes the crown as the best camping tent heater by far. It produces enough heat to warm up a six to eight-person tent and can be connected to two propane tanks at the same time.
Additionally, it features a three-setting temperature control and is equipped with lots of safety features. What more could you ask for from a camping tent heater? 
The Dura Heat DH 2304S 23,800 BTU Kerosene Heater is a close runner-up for those who prefer a more pocket-friendly option. 
Related guides
Guide To Finding The Best Camping Wood Stove
How To Find The Best Wood Burning Tent Stove