As much as we love camping we still want to be able to enjoy some of our creature comforts. From warm tents to some soothing music, to being able to charge our phone and laptop, we still want to have a modicum of civilization available to us. 
And this is where portable camping generators comes in. These handy appliances make it possible to experience the best of both worlds, without having to make any major sacrifices.
In this article, we discuss and highlight the process of choosing the best portable generators for camping, as well as review a selection of our favorite products just below… 
---
01 – Honda 662250 EB2200i 2,200 Watt Portable Inverter Generator
Product Dimensions – 22 x 13 x 20 inches | Weight – 50 pounds | Running Wattage – 1700 Watts | Surge Wattage – 2200 Watts | Half-Load Run Time – 8 Hours | Fuel Type – gas | Fuel Tank Size – 95 Gallons | Engine Displacement – 121 CC | Outlets – Three-Prong/Receptacles/USB Ports | Fuel Shut Off – Yes
No products found.
This portable generator from Honda is capable of an output of 2200 watts and can easily power your laptop, phone, TV, coffee pot, and many other electrical devices.
It's not just a generator, but an inverter, and therefore gives off stable power for sensitive devices and equipment. With a runtime of 8 hours, it should be able to keep you well powered through the night.
Pros
It's very easy to operate
Super quiet
Highly efficient
Cons
Quite pricey since it's from a large brand
---
02 – Champion Power Equipment 100233 3400W Portable Inverter Generator
Product Dimensions – 22.4 x 17.3 x 18.3 inches | Weight – 80.9 pounds | Running Wattage – 3100 Watts | Surge Wattage – 3400 Watts | Half-Load Run Time – 7.5 Hours | Fuel Type – gas | Fuel Tank Size – 1.6 Gallons | Engine Displacement – 192 CC | Outlets – Three-Prong/Receptacles/USB Ports | Fuel Shut Off – Yes
No products found.
This generator is actually a duel fuel generator as it is capable of running on both propane and gas.
It gives off 3400 starting watts but runs on 3100 watts, which is still quite good. On gasoline it will do up to 7.5 hours at a 25% load. Also, with a sound output of 59 dB, it's very quiet relative to most other generators. 
Pros
Runs on both propane and gas
Very quiet
Has a 3-year warranty
---
03 – WEN 56200i Super Quiet 2000-Watt Portable Inverter Generator
Product Dimensions – 18 x 11 x 18 inches | Weight – 48 pounds | Running Wattage – 1600 Watts | Surge Wattage – 2000 Watts | Half-Load Run Time – 6 Hours | Fuel Type – gas | Fuel Tank Size – 1 Gallon | Engine Displacement – 79.7 CC | Outlets – Three-Prong/Receptacles/USB Ports | Fuel Shut Off – Yes
WEN 56200i 2000-Watt Gas Powered Portable Inverter...
Dimensions: 18" x 11" x 18" | Weight: 48 lbs
Noise Level: 53 dB operation
EPA III and CARB Compliant 79.7 cc 4-stroke OHV engine produces 2000 surge watts and 1600 rated watts
Great for campgrounds, construction sites, tailgates and power outages
This model provides 2000 watts as starting watts and 1600 watts as running watts. Because it has a built-in inverter, it provides steady power with a distortion of less than 3%, making it safe for powering your laptop or smartphone.
It also comes with a high altitude conversion kits if you want one, and there are plenty of replacement parts offered by WEN off the shelf. At 51 dB, it's also one of the quietest generators on the market. It also provides clean power and is CARB (California Air Resources Board) compliant.
Pros
Super quiet
Portable
Steady power
Cons
Difficult to add fuel without long neck funnel
---
04 – Jackery Portable Power Station Explorer 240 Portable Inverter Generator
Product Dimensions – 5.2 x 9.1 x 7.7 inches | Weight – 6.6 pounds | Peak Wattage – 240 Watts | Outlets – Three-Prong/Receptacles/USB Ports
Sale
Jackery Portable Power Station Explorer 240, 240Wh Backup...
BUY WITH CONFIDENCE: The Jackery Explorer 240 portable power station has been featured as the "Best Portable Power Station for use in the outdoors" by Digital Trends. A classic choice for your pick.
EASY TO CARRY: This entry-level portable power station is equipped with a 240Wh lithium-ion battery pack, weighing only at 6.6 pounds. The solid handle makes it easy to carry around for outdoor adventures such as Tent Camping, Road Trip, Backyard Camping, etc.
VERSATILE POWER SOURCE: 1* Pure Sine Wave AC outlet (110V 200W 400W Peak), 2* USB-A ports (5V, 2.4A), and 1* 12V DC car port to charge your road trip essentials such as smartphones, laptops, cameras, fans, lights and so on. Pass-through charging is supported.
GREEN POWER SUPPLY: The power station can be recharged by the Jackery SolarSaga 60 solar panel or SolarSaga 100 solar panel. Its built-in MPPT controller enables the solar panel to operate at its max power point for the power station to be recharged at its highest efficiency. TWO alternative ways to recharge: through the wall outlet or the car outlet.
This small battery powered generator only weighs 6.6 lbs. and provides up to 240 watts of power for all your devices.
It's highly portable and compact, making it perfect for backpacking. It has an AC outlet (US standard) and should be able to power any device that draws less than 200 watts of power.
It also has an inverter which produces a pure single phase sine wave for AC power, protecting sensitive devices like laptops and phones. You can read the battery status on an LCD screen.
Pros
Lightweight
Great for powering your smartphone and other small appliances
Perfectly silent
Easy to use
Cons
Pricey
Not good for power hungry appliances
---
05 – Generac GP3000i Super Quiet Portable Inverter Generator
Product Dimensions – 22.2 x 13.3 x 18.4 inches | Weight – 46.6 pounds | Running Wattage – 3000 Watts | Surge Wattage – 3500 Watts | Half-Load Run Time – 4.5 Hours | Fuel Type – gas | Fuel Tank Size – 1.06 Gallon | Engine Displacement – 149 CC | Outlets – Three-Prong/Receptacles/USB Ports | Fuel Shut Off – Yes
Sale
Generac 7129 GP3000i 3000-Watt Gas-Powered Portable Inverter...
PowerRUSH Technology - Delivers over 50% more starting capacity-allowing you to do more with less
Quiet inverter power - reduces sound emissions and provides optimal performance
Easy to carry - compact & lightweight with built-in handle
Truepower - clean power for sensitive electronics. ItemWeight: 59.5 pounds
This Generac model features proprietary PowerRush technology, which can provide up to 50% more starting watts than what's advertised on the label.
It also comes with a built-in inverter that not only converts DC power to AC, but also keeps things super quiet. Another great thing about it is that it comes with parallel capability, meaning you can pair two of them for more power capacity.
Pros
Super quiet
PowerRush technology offers more than 50% more starting power than advertised
Has parallel capability so you can pair two for more power
---
06 – Generac 7117 GP2200i 2200 Watt Portable Inverter Generator
Product Dimensions – 19.7 x 11.4 x 17.9 inches | Weight – 46.6 pounds | Running Wattage – 1700 Watts | Surge Wattage – 2200 Watts | Half-Load Run Time – 7 Hours | Fuel Type – gas | Fuel Tank Size – 1.2 Gallon | Engine Displacement – 80 CC | Outlets – Three-Prong/Receptacles/USB Ports | Fuel Shut Off – Yes
Generac 7117 Gp2200I W 50St Inverter, Orange
Quiet, Compact, Easy to use. AC rated output running Watts: 1700, AC maximum output starting Watts: 2200. Rated 120 VAC Amperage-14.1
Truepower technology provides clean, stable power ideal for sensitive electronics, tools and appliances while the 1.2 gallon fuel tank allows 10.75 hours of run time at 25% load
Built-in handle makes it easy to transport and the integrated OFF/RUN/CHOKE knob simplifies startup procedures
Economy mode provides excellent fuel economy and noise reduction while the LED status lights alerts you on low-oil, overload and power
Here we finish off on yet another fantastic product from Generac. This generator has a starting wattage of 2200 watts and 1700 running watts.
The built-in inverter keeps the power stead so you can use it with any sensitive electronics and it even has LED lights to tell you the power level and when the generator is overloaded, as well as the oil level.
The parallel kit, which is sold separately, allows you to pair up 2 generators for twice the power. 
---
Why is a camping generator useful?
There are numerous advantages to getting a generator for your camping trips. For starters, it gives you more power over the climate control aspect of camping. In case you want to install an air conditioner to cool your tent when it's hot, you'll need a camping generator to power it.
If you have a bug problem (mosquitoes, gnats, etc), then you might want to carry electric bug zappers along with you, and those will need to be powered. Guess what will power them…
If you like to cook with the slow cooker, or want to steam the fish you just scooped out of the lake, or want to use an electric grill to make hotdogs for everyone, then you'll need a source of power.
I'm sure you can see where we're going with this: there are lots of things you might want to do when you're out camping that will likely require a power source.
Whether it's as simple as using an electric grill to make a few burgers or setting up a discotheque in the middle of the night and dancing your cares away, a camping generator can come in handy. And even if you would use battery packs to power all of these activities, those batteries should be rechargeable, and they'll need something to handle the recharging. 
Now that we've got that out of the way, let's learn a little more about camping generators before we go into the factors you should consider before buying one.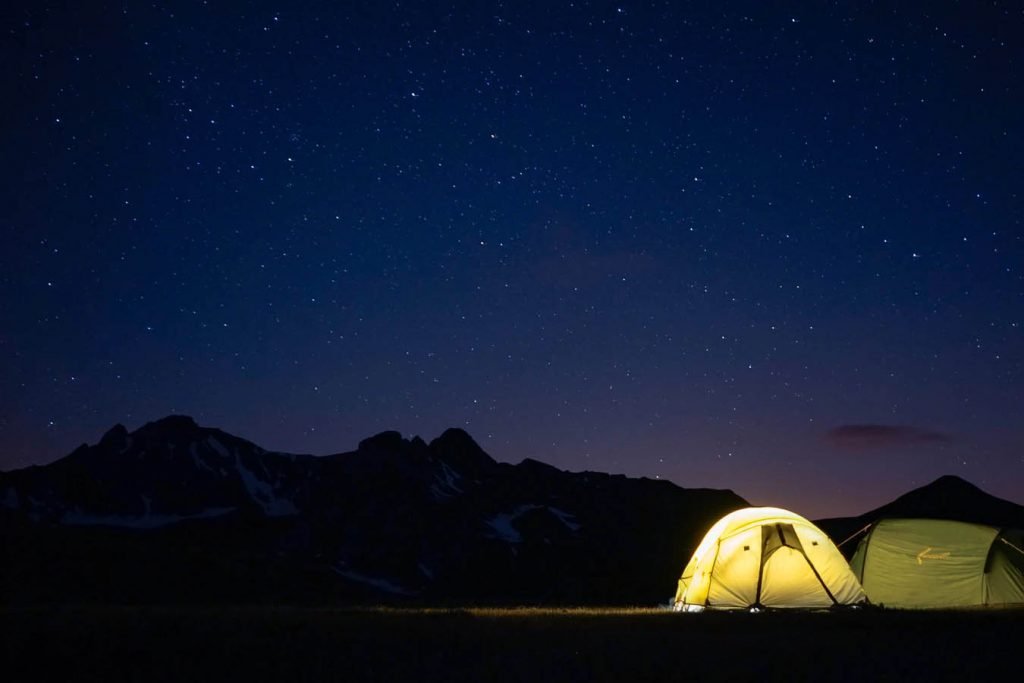 The basics of camping generators
Camping generators, as the name implies, generate electricity. They convert the mechanical energy of an induction motor into electric energy that you can then use as power.
The mechanical energy is produced by the engine of the generator, which runs on combustible fossil fuels, such as gasoline, diesel, natural gas, propane, and so on. The engine is attached to a motor that is, in turn, attached to an alternator.
Pistons in the engine control the motor and cause it to revolve, in turn triggering the alternate to set up electromagnetic induction. That electromagnetic induction causes electricity to flow through the wires to your devices. 
The motor will revolve a certain number of times a minute, known as revolutions per minute (or RPM), which will produce a certain frequency for the current of electricity. The standard RPM is 3600, which produces a 12 volt current at 50 or 60 Hz (Hertz) frequency. If the RPM of the motor changes, so will the frequency of the current. 
The electricity coming from the generator is direct current, or DC, much like what you would get from a solar panel or car battery. Some generators will have a built-in inverter that converts the DC into AC.
The inverter uses clever circuitry to convert the DC current into AC, allowing you to modulate it to just about any frequency or voltage, depending on the type of devices you will want to plug in to the power. 
How to choose the best portable camping generator
Now that we have a fair understanding of what camping generators are, let's go further into the details of what factors to consider before buying yourself one. 
Wattage
The first thing you'll want to consider before going out and buying yourself a camping generator is the power.
Its beneficial to know what your power-requiring camping essentials are and add up their total wattage requirements. If you want the lights to stay on, then you won't need as much as wattage as if you, say, want to power kitchen appliances. 
The starting wattage of the devices you intend to power also matters. Larger devices will generally require more starting power than smaller ones, so choose a generator that can provide the starting wattages of multiple devices at once.
If you find that the kind of generator that can provide what you need is too expensive, then you might need to strip down your needs and carry fewer appliances. Ultimately, you can save a lot of money by carrying fewer appliances. 
The level of noise
Generators have a notorious reputation for being noisy, and have maintained this reputation since they were first introduced in the late 1800s.
You don't want something noisy for indoor use, as it will be a nuisance to you and your family. On the other hand, a noisy unit outdoors will disturb the neighbors and the wildlife. Heck, it might even be bad for the plants! 
Conventional generators are pretty cheap. However, this great saving in price comes at the cost of silence as they are also incredibly noisy.
There are, however, niche generators made for the camping market and other uses that are efficient and quiet. The tradeoff in this case is that they don't provide as much power as conventional generators, making them only great for limited uses, such as camping. But that's what we're interested in, isn't it?
The main reason why generators that can afford to be quiet are flooding the market, is the introduction of inverter generator technology.
Inverter generators have mechanisms that allow them to vary the speed of the engine, based on the load of use on the generator. When there isn't much of a demand on its resources, the generator simply quiets down.
The sound output of a generator (and just about everything else that can produce a sound, including my adorable 1-year old) is measured in decibels (dB). The higher the decibel count, the louder the generator. The quietest ones have a dB of between 50 and 60. You don't want anything with 80+dB. 
We have a full article on inverter vs conventional generators here.
The type of fuel
The type of fuel a generator uses is a major factor in how long the generator is going to run. This is because different types of fuel naturally get consumed at different rates.
Gasoline
The most common fuel is gasoline, which probably has something to do with the fact that it's readily available at every gas station. The big catch is that gasoline becomes unavailable during a power outage, since the pump at the gas station uses electricity to run.
On the other hand, lots of gas stations themselves have standby generators that kick in when there is a power outage, so that should help. However, gasoline, albeit common, isn't the most efficient of fuels.
Gasoline engine generators consume a lot more gallons for the same run time than generators which use other types of fuel. Lots of portable generators run on this type of fuel. However, they typically have a shorter shelf life than other generators, not to mention the high emissions of gasoline generators aren't environmentally friendly. Gasoline is also a bit of a hazard because it is highly flammable. 
Diesel
The most fuel efficient generators are those that run on diesel. They are often very powerful and will run on fewer gallons of fuel than gasoline generators for the same run time. Diesel also happens to be readily available at gas stations, just like gasoline. It also has a longer lifespan, as long you maintain the engine properly.
Because of all their advantages over their gasoline counterparts, diesel generators are more expensive than gasoline generators. They're also much easier to operate. They do, however, have their own set of disadvantages. Diesel pumps at the gas station are just as dependent on electricity to operate as gasoline pumps, and diesel isn't any friendlier to the environment than gasoline. 
Propane
Propane generators give off clean power and so are good for the environment. A 2000-watt propane generator can run on 1.18 gallons of propane for 6 hours, so long as the load doesn't go over 50%.
The fuel has a long shelf life and is easy to store. You don't have to do too much maintenance on the engine, either, since the fuel gives off clean power. It's a good idea to find out how much the generator consumes on full load (100% load, when the electric devices connected to the generator consume all the power the generator generates). Most manufacturers will estimate consumption levels at either 25% load or 50% load. Based on this, it's easy to extrapolate consumption at full load. 
Battery
Battery powered generators are rechargeable and portable. They are completely silent and have zero emissions. The catch is that they are insanely expensive.
Moreover, they recharge painfully slowly, and don't necessarily give more power than other generators. They are great as backup generators, however, when your main generator runs out of fuel and you didn't carry more.
Solar
Solar generators are basically battery powered generators, but with a solar panel attached that recharges the battery naturally.
They also typically have power outlets to give you other options of charging the battery. Solar powers have all the advantages and disadvantages of battery powered generators and so are best used as backup generators. 
Size of the tank
The size of the tank also matters as it is a big factor in consumption. A large tank will run longer before needing refueling as compared to a small tank.
Most camping generators have tanks large enough for between 7 and 9 hours of run time at 50% load between refuellings. Basically, ignoring the type of fuel being used, the greater the load on the generator and the smaller the tank, the shorter the run time.
What you want is a generator with a large tank and to keep the load on it low by not connecting power hungry devices to it. Note also that the larger the tank the heavier the generator.
Weight, size, and portability
A key factor to consider when buying a camping generator is portability. You want something you can easily carry around.
Pay attention to the weight and size of the generator. A bulky one will consume space when you're packing for your camping trip. This might be such a problem that you won't be able to carry everything you need for the camping trip. Larger generators also tend to be harder to operate. 
You'll also want to pay attention to the weight of the generator. The outdoors need a light generator. Heavy models are best used in environments where they won't need to be moved around much, such as the house. Outside, you want something that won't break your back and remind you that your college football days are far behind you. 
Apart from size and weight, ergonomics are important to consider. These include such add-ons as wheels and handles, which make the generator easier to move around. Handles make it easy to carry the generator while wheels make it easy to maneuver it no matter what kind of terrain you're on. 
Inverter generators
As mentioned earlier, there are conventional generators and inverter generators. We already went over how conventional generators produce DC power earlier in the article. We'll take a closer look at inverter generators here.
Inverter generators are a modern type of generator that produces AC power right out the gate. This is because the power coming out of the engine is passed directly through an alternator and converted to AC power. It also has a rectifier in case you want to convert it back to DC power.
Some of the best inverter generators on the market also include a microprocessor to intelligently minimize the number of steps required in the inversion and rectification processes, as well as limit speed based on the load.
Inverter generators are quite fuel efficient because they adjust the speed of the engine to produce only the power needed by the devices connected. This leads to fuel saving and quieter performance.
Most of these engines will produce less than 60 decibels of noise. They also often feature special designs including enclosed exteriors and mufflers to further reduce noise.
Inverters also allow parallel coupling, where you can have two or more generators connected in parallel and running at the same time to increase power output. Inverter generators are best for super sensitive devices, like smartphones, laptops, and so on. 
Price
Price is, of course, going to be a huge factor to consider when buying anything, and with generators in particular the price can vary wildly.
The most popular brands can often cost several hundred dollars more than value proposition brands. Often, the greatest factors in the price are the motor and the added features. You can save a lot by getting a generator with only the features you need and discarding the rest, especially after considering that it has all the things you want in a generator, as outlined above.
You can also save a lot of money by going for a lesser known but reputable brand. Big brands often leverage their brand popularity to charge more.
Warranty
Warranty is yet another important thing to consider. The longer the warranty offered by the manufacturer, the better. That way you can just take your generator to the manufacturer's servicer if it breaks down during normal use. You don't have to tinker with it yourself.
The warranty is also an indirect statement from the manufacturer about their confidence in their own product. A longer warranty means you're dealing with a more durable and reliable generator.
Warranties can range from 1 to 4 years on camping generators. I would advise you to go for generators with warranties of 2 or more years. Also, make sure the manufacturer has plenty of service stations near where you live so you don't have to travel too far to get your generator serviced.  
Maintenance and care
Maintaining your generator is important if you want to keep it running as long as possible. Here are a few important maintenance tips:
Change the oil on your generator frequently. Just like a car engine, your generator uses oil to lubricate the engine and that oil needs to be changed to keep the engine healthy.
For safety purposes, it's a good idea to draw the fuel out of the generator when not in use, especially if it runs on gasoline. Generators with fuel in them are potential explosion hazards. Draw out the fuel when you're not using the generator and keep it somewhere cool, dry, and away from children.
If you're using a battery powered generator, then keep it charged. Charge it after every camping trip and leave it on full charge so you don't end up unpleasantly surprised the next time you try to use it.
Keep your generator serviced, preferably by an approved servicer as stipulated by warranty terms.
Keep your generator stored in a cool and dry place when not in use.
To keep your generator at the top of its game, make sure to use it at least once every 30 days. This stops internals from gathering rust. 
Can I use a generator on a campsite?
The short answer is yes. The slightly longer answer is that you should be considerate.
Note any noise restrictions at the campsite and ensure your generator does not violate them.
Note any pollution restrictions at the campsite and ensure your generator does not violate them.
Check with your campsite neighbors, if they're close enough, and make sure they're comfortable with you using your generator on the campsite. Be considerate. 
Is it cheaper to run a generator on propane or gas?
This mostly depends on availability. Gas, or gasoline, is more available than propane. However, gasoline is not good for the environment and isn't as efficient as propane.
It's also highly flammable. Propane, on the other hand, burns quicker than gas but also happens to be more efficient. It's also clean and environmentally friendly. Ultimately, if propane is available, you should choose it over gasoline.
Related guides
Guide To The Best Tent Air Conditioners
How To Find The Best Wood Burning Tent Stove