If you are an avid camper, it will be good to know that you do not have to 'rough it' every time you go out. With an electric heater by your side, you can take your camping trips to a whole other level and enjoy the wild outdoors even in cold!
In this article we outline everything you need to know before buying such a product and how to select the best one for your needs.
Types of electric tent heaters
Electric tent heaters come in various shapes and sizes, and can be divided into four categories:
Convection heater – These heaters provide heat using the process of convection, hence the name. The air in its original temperature is directed to a heated surface, where it gets warmed. The hot air then rises and is blown out by the machine.
This type of heater is best for use in a large space. Ceramic heaters are a type of convection heater, that uses ceramic plates for heating and aluminum baffles absorb the heat. A fan is attached, and it blows out the heated air.
Radiant heaters – A radiant heater uses catalytic chemical reactions to generate heat, and does not need fire or coals. The heater uses metals like glowing quartz and platinum, together with a reflector.
This heater is better suited for a smaller area in comparison to convection heaters.
Halogen heaters – These work by heating whatever is directly in front of them. They are not fan blown, so they do not warm the surrounding air.
This means, once you turn them off, the temperature of your tent instantly begins to drop off.
Infrared heaters – These heaters use the concept of radiation to heat the space, meaning they can work even in a vacuum! Our eyes are sensitive to this radiation, so you should be careful about looking at the light.
Aside from that, infrared heaters are generally safe and do not get too hot to touch, whereas the above heating methods can.
Advantages of an electric tent heater
They consume almost no oxygen. Since the heater is powered by electricity, it doesn't need a lot of oxygen to feed it (in the case of radiant heaters). 
Cost effectiveness. Electric tent heaters will not need you to buy extra propane gas tanks.
Electric tent heaters heat the tent faster in comparison to their catalytic propane gas counterparts.
They are portable. These heaters are lightweight and small, making them easier to transport.
Safety. The ceramic tent heater, for example, does not need any glowing materials or an open flame, thus reducing its risk. These heaters can be placed on any material, since they come with an outer plastic casing. This casing prevents the heater's body from overheating. They also have a safety tip over system, which turns off the heater when it topples over.
Disadvantages of electric tent heaters
They require electric power supply to work. This will inconvenience campers going to a campsite without electricity. If this is the case, you might have to carry a portable generator to power your heater.
You will need an extension cord. If your campsite has an Electric Hook-Up (EHU), you will need an extension cord with a built-in circuit breaker to power your heater. EHUs need a specific electrical fitting. Some are usually limited to 5 amps of electricity. 
Energy consumption. The heater needs a lot of power to work, and some EHUs might not support the electric draw needed to power your heater.
Like any other heaters, electric heaters pose a fire threat if they are not used properly, and thus cannot be left on overnight.
Some heaters will need you to keep turning the fan on and off during the night, which will disturb your sleep. However, others come with a thermostat which automatically turns this on and off.
Electric heaters are suited for relatively small areas compared to propane gas heaters.
Since they prevent condensation from building up in the tent, these devices can make the air dry and stuffy.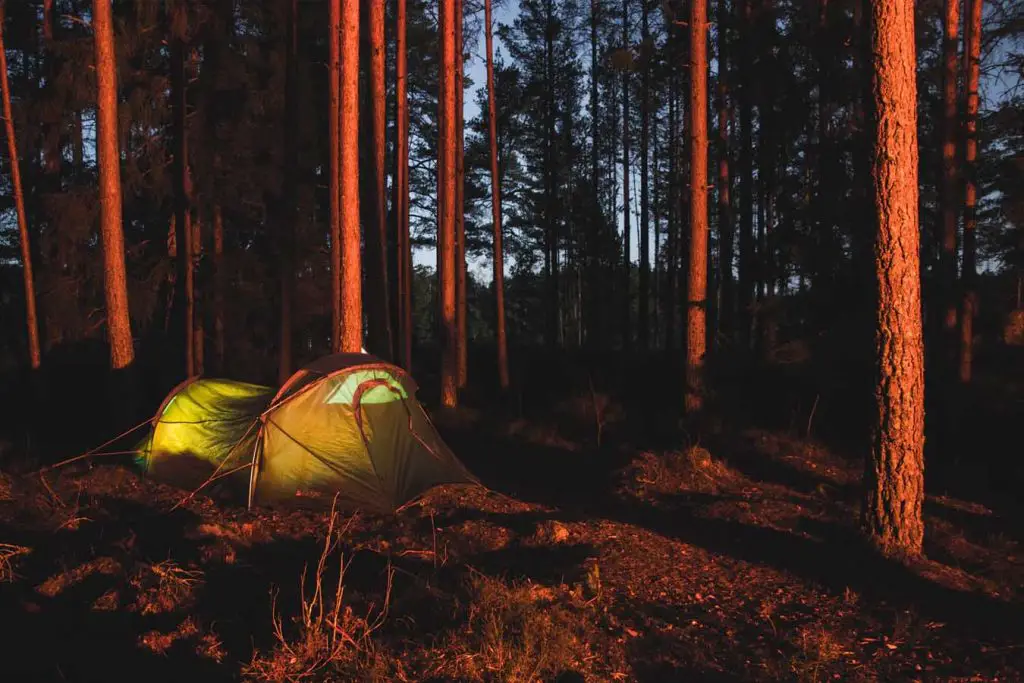 Features to look for in an electric tent heater
Heater sizing
The size of your tent is one of the most important areas to consider before buying a heater.
As a heater with a too little power for the size of tent, won't be able to provide a sufficient amount of warmth, despite the heater still consuming power.
Equally too much power and therefore heat for the intended area, will quickly become too hot and uncomfortable.
A heaters power is usually measured in BTUs, and there is a simple calculation in place that will help you find a heater with the most suitable rating for your tent.
To do this, you will firstly need to know your tents volume (length x width x height), and multiply this value by a number between 2 and 8, depending on your tent's insulation factor:
For a well-insulated tent, x 2
For moderate conditions, x 4 or 5
For a tent on a high cliff face with howling wind, multiply by 8.
Safety features
Auto shut-off – Most heaters come with an automatic shut-off system that turns the heater off when the components inside the unit get too hot. This reduces the risk of it overheating and starting fires inside your tent.
Some also have a tip over system that will turn off the unit if it falls over, which can be incredibly useful in tight and confined spaces, or where pets and children share the same space.
Timers – This feature comes in handy, especially at night. Some heaters have a one-hour timer, that automatically turns the heater off. This is safer than having a heater run all night long.
Oxygen depletion sensor – The sensor checks the levels of oxygen inside the tent, and if they are too low, the heater powers off until the levels rise. Although this feature is more common in propane gas heaters, it also comes in handy with the radiant heaters.
Energy efficiency
Most electric heaters provide 100% efficiency since they convert all the electric energy they receive into heat energy.
Cost
Electric heaters are more pocket friendly compared to the propane gas heaters, even with the electricity cost, since you don't have to keep buying fuel.
Design
Electric heaters aren't known for their aesthetic qualities, but rather for their functionality, however one or two of the below products have a very acceptable appearance.
How to power your electric tent heater
Electric hook-ups
Your heater will need electricity to run. Some campsites provide electric hook-ups, also known as EHU's. EHU's are usually rated at 10 or 16 amps, but some are as low as 5 amps. It all depends on the campsite you visit and their power limits.
To use an EHU, you will need a device made specially for this purpose. These usually have a fitting called a circuit breaker, or a residual Current Device (RCD). RCDs are designed to cut off power supply in case of a leakage of current to the earth, which can occur if a person touches a damp appliance. You will also have to use a special lead to bring electricity to your tent.
Pros
– They are silent, unlike the petrol-powered generators.
– EHUs will not need you to carry a lot of equipment in order to use them. They will only need you to have a special lead and your tent hook-up device.
– They are cheaper to use, since you will not need to buy any fuel to power them.
Cons
– EHUs have a low power rating.
– Electricity can pose a serious threat, especially in a damp tent setting and in the open air. Without the necessary safety measures in place, this raises the risk of electrocution.  
Portable generators
In the event that your campsite does not provide an EHU, the other option would be to use a portable generator. These are smaller than standard generators, but are also petrol-powered. To connect your generator to your tent, you will need an extension cord.
Pros 
– Self sufficient.
– A portable generator offers a more reliable solution. For example, in case of a power outage, your generator will not go off.
Cons
– Generators are noisy, and they might make your fellow campers' stay unpleasant. Due to this, some campsites don't allow them and have rules about when they can be turned on.
– They are expensive, since you will have to keep buying fuel to power them.
– The generator will remain within an extension cord's length of your tent. This means that the heat and foul-smelling exhaust fumes will be in close proximity.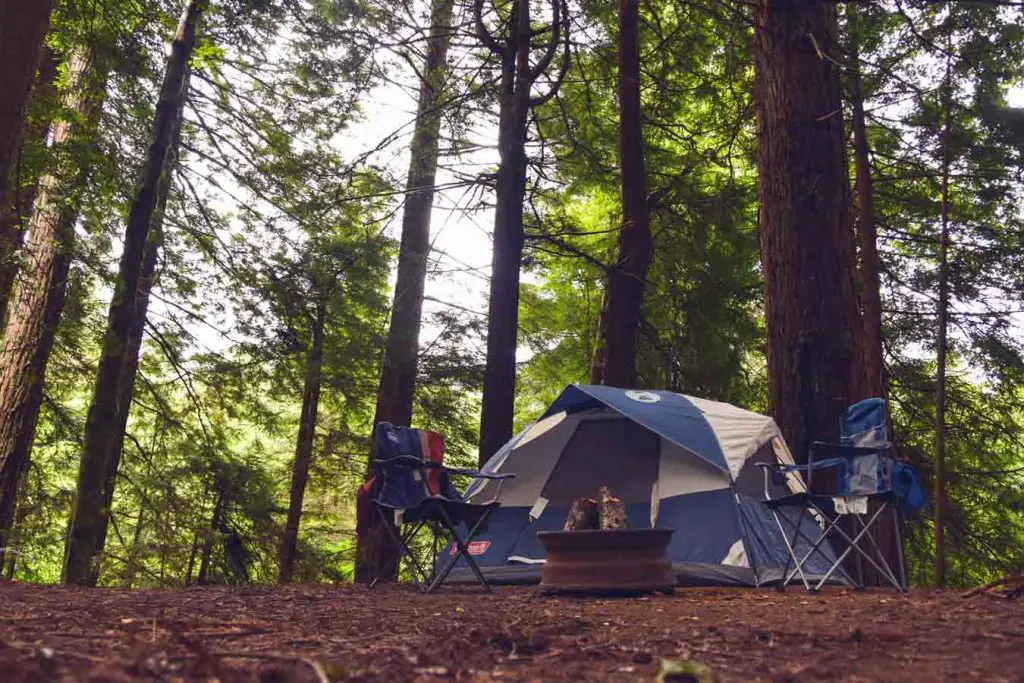 Safety tips for electric heaters 
There are a few measures you should take to ensure that your electric tent heater doesn't cause any harm to you, your fellow campers and to your belongings.
You should ensure that there is enough space between the heater and your possessions. Your heater's manual should have a few guidelines regarding how much space should be between the heater and other objects.
Make certain that there is nothing blocking the passage that lets air into your heater. Lack of air is sure to cause the device to overheat and this might cause damage.
You should buy a unit that is equipped with all the necessary safety features. As much as this might be more expensive, safety should always be a main priority.
Keep children and pets away. 
Remember to always plug the heater directly into an outlet. This will reduce the chances of the heater short-circuiting.
If absolutely necessary, you should use heavy duty extension cables only to connect your heater to the power supply.
You should keep water and all liquids at a safe distance from the heater even when it is not in use.
If the fan has not been in use for a long time, you should continually turn it on. This will help get rid of any dust that may have accumulated.
---
Best electric tent heaters for camping
The wide variety of tent heaters currently available on the market, makes it extremely difficult to sort though the good from the bad.
So here we have reviewed and shortlisted our top 5 products, and believe that they form a well rounded summary of the best electric tent heaters currently available:
01 – PROWARM, Portable Electric Tent Heater
Product Dimensions – 9.84×6.69×8.85 inches | Weight – 68.8 ounces | Material – metal casing, ceramic heating elements| Overheat Protection – Yes/No | Portable – Yes | Low Noise Level – Yes | Wattage – 1500 watts | Thermostat – Yes | Automatic Shut-off – Yes
No products found.
The PROWARM heaters portable design lets you enjoy warmth wherever you please with its easy to carry recessed handle.
Made from a fire-retardant metal shell and a durable ceramic heating element, this electric heater also comes with 3 heat settings; fan only, low and high.
The thermostat provides automatic heat protection to the device, and stops heating automatically when the temperature is above 149° F. Its overheat procedure automatically shuts it off, and the machine cannot function until it has cooled off. 
The heater has a powerful 1500W engine and a large air outlet that heats a large room (up to 215 sq. ft) within minutes.
In addition to its design, it has a low decibel working of less than 48 db. This makes the PROWARM heater excellent for any room and any setting.
Pros
The heater works silently.
It has 3 heat settings.
The heater has a 30° angled design, which lets air blow upwards.
It has an LED indicator that shows when the device is on.
Cons
It operates at a minimum of 15 amps, so it won't work in a camp setting with EHUs that supply a lower current.
---
02 – ISILER 1500W Portable Electric Heater
Product Dimensions – 6×6.7×7 inches | Weight – 38.8 ounces | Material – metal casing, ceramic heating elements| Overheat Protection – Yes | Portable – Yes | Low Noise Level – Yes | Wattage – 1500 watts | Thermostat – Yes | Automatic Shut-off – Yes
Sale
ISILER Space Heater, 1500W Portable Indoor Heater, Ceramic...
SAFE & RELIABLE: This small space heater made from fire-retardant materials; The ceramic heater has a self-regulating element and automatic overheating protection for added safety. Tip-Over Protection will shut off the room heater if it gets knocked over accidentally to avoid accident happens. It will automatically shut it off if the temperature exceeds the limit value and back to work once it gets to a safe temperature inside.
ADJUSTABLE THERMOSTAT CONTROL: Features a temperature range of 41 °F-95 °F; Rotate the thermostat control dial to lower the temperature once the room is warm, this ceramic heater will greatly reduce power consumption.
INSTANT WARM-UP: The small space heater heats up a room within seconds thanks to its 1,500 W output, reliable ceramic heating elements and large air outlet; Distributes warm air evenly around a large area of up to 108 sq. ft.; The space heater suitable for living rooms, dressing rooms, bedrooms, studies, offices and more.
COMPACT, PORTABLE & CONVENIENT: The space heater only measures 6 in x 6.7 in x 7 in and weighs in at just 38.8 oz; The light weight and ergonomic handle allow for easy transportation.
This product by iSiLER was designed to provide all the warmth you might need at any time and in any place, thanks to its lightweight, portable size and a plastic ergonomic handle.
The outer casing is made out of a fire resistant material, and the heating components are made from premium PTC ceramic elements.
This heater has a 50 decibel noise rating, which is the sound of a normal home conversation. The heater has a thermostat control with a range of 41°F – 95°F. In addition, this heater comes with an inbuilt automatic shut-off mechanism once the internal temperature reaches 176°F.
Despite its small size, this heater boasts of a 1500W power rating, and can heat up a room of up to 108 sq. ft.
Pros
This heater is lightweight (38.8 oz), and this makes it easy to carry.
The heater is also small, as its widest side measures 7 inches. This makes it more suitable for small spaces.
The heater does not emit any light when it is on, except for the LED indicator.
Cons
This heater does not have a tip-over system.
When its internal temperature gets too high, only the heating element goes off and the fan starts to blow cold air.
---
03 – TRUSTECH Portable Electric Heater
Product Dimensions – 8.2×8.2×11 inches | Weight – 60 ounces | Material – metal outer casing, ceramic heating elements | Overheat Protection – Yes | Portable – Yes | Low Noise Level – Yes | Wattage – 1500 watts | Thermostat – Yes | Automatic Shut-off – Yes
No products found.
The TRUSTECH space heater is an excellent device for any camper. The device comes with an adjusting knob, which lets you switch between its 3 modes, making it perfect for use all year round. It has a 1500 watt setting, a750 watt one and a natural wind setting which acts as a normal fan. 
It also comes with an overheat cut-off, that prevents the heater from overheating. Another attractive feature is that its outer casing is coated with a thermal protection paint, which protects the heater's body. This improves the durability of the heater, to give it a longer use time.
In addition, this heater also comes with a built-in handle. This reduces the risk of the handle detaching while the heater is being carried, and improves on the heater's portability. 
Pros
The heater is coated with thermal protection paint.
The heater also comes with a secure built in handle.
The heater has a free standing feature, which increases its stability.
This heater comes with a long 74 inch power cord, which also adds to the portability of the device.
Cons
The unit gives off a strong odor when it is turned on and it does not seem to go away with time. This could be because of the heat-resistant coating on the heater. 
The heater does not have numerical indicators of the temperature, and you can only rely on the high, medium and low settings.
---
04 – Honeywell 360-Degree Electric Heater
Product Dimensions – 8×8.11×11.2 inches | Weight – 60 ounces | Material – plastic outer casing, ceramic heating elements | Overheat Protection – Yes | Portable – Yes | Low Noise Level – No | Wattage – 1500 watts | Thermostat – Yes | Automatic Shut-off – Yes
Sale
Honeywell HHF360V 360 Degree Surround Fan Forced Heater with...
360 DEGREE ALL AROUND WARMTH – Use the Honeywell 360 Degree Surround Heater in small to mid-sized rooms for additional comfort. This space heater features an adjustable thermostat as well as 2 heat settings and all-around heat output so you're always cozy.
SAFETY MATTERS: This small heater offers multiple safety options including a 360-degree tip over switch, 2x overheat protection, an auto-off timer option and an easy grab, cool touch carry handle.
INCREASE YOUR COMFORT – Always be comfortable, no matter what season it is. This personal heater has fan forced technology and provides 360-degree, all around warmth. As a small space heater, it's perfect for a bedroom, office and more.
SMART SAVINGS – Worried about heating costs? An electric heater can help you save up to $276* in heating costs this year. A space heater for indoor use can help you save money while providing soothing warmth.
The Honeywell Heater is the perfect solution for campers who need a powerful yet portable device to get through the cold days and nights.
This unit generates 5118 BTUs. The device comes with a special 360° heating system that lets it fan out hot air all round. It also has a sturdy cool touch handle that lets you carry it anywhere you might need it.
Aside from that, this product has a 360° tip over protection feature, that prevents it from setting fires in the event that it falls over. Another amazing feature is that it has 2 heat settings, low and high and there is also a programmable thermostat in place. When the thermostat is set, the device will remain powered until the temperature is attained, after which it automatically powers off.
This heater also comes with thermal insulated wiring, which gives the heater more durability, and in turn lets you get the most value from your purchase.
This product also boasts of an auto-off timer option, which increases the safety level of the heater.
Lastly, this heater has a 2X overheat shutoff protection, which makes it less susceptible to starting fires. Meaning that the heater turns itself off if the internal components get too hot and if there is an obstacle too close to the heater.
Pros
This unit comes with a timer, which means you can turn it on and go to bed knowing it won't cause any danger.
It has tip-over protection, which also gives it points for safety.
Its 360° heating system heats the room more effectively.
The plastic casing is cool to touch even when the device is running.
Cons
They have a slight burning smell, although it usually goes away after a couple of minutes. The cause of the smell could be as a result of the outer plastic casing burning from the inside.
The 360° heating system can cause a wastage of heat, since you might be supplying heat to a part of the tent that doesn't need it.
The fan inside the heater is loud, which might irritate you as you try to get some sleep.
---
05 – STANLEY ST-222A-120 Electric Heater
Product Dimensions – 8.5x5x10 inches | Weight – 121.6 ounces | Material – molded plastic outer casing, ceramic heating elements | Overheat Protection – Yes | Portable – Yes | Low Noise Level – No | Wattage – 1500 watts | Thermostat – Yes | Automatic Shut-off – Yes
STANLEY 5100 BTU, 1500W Heavy-Duty Electric Heater,...
ST-222A-120
Powerful This Room Heater Can Heat Up To 165 Sq Feet Making It A Great Space Heater For Office
Versatile Two Heat Settings With Adjustable Thermostat Lets You Choose How Much Heat You Need
Fast Space Heaters Should Be Quick This Portable Electric Heater Heats Up In Seconds
This heater is powerful with a 1500w power output, and it can heat up to 165 sq.ft. of space comfortably. It is aesthetically pleasing, with bands of yellow on the sides of the black device.
It is fun-sized, and its large and comfortable built in handle makes it efficiently portable. This quality is also added on to by the fact that the heater has a 6-foot-long power cord, which gives you the freedom of putting it wherever you want.
This heater also has two heat settings and an adjustable thermostat, to let you choose how much heat you need. It also has a special setting that lets it function only as a fan. 
Another great feature of this electric heater is that it has an inbuilt tip off switch that activates immediately the unit is not upright.
Pros
The inbuilt tip-over switch makes it safe for use, especially in a camp setting.
This heater has a whisper-quiet fan, which allows you to concentrate on other things without a loud, constant and infuriating hum in your ear.
It has a long power cord, which gives you a wider radius to work with.
It's aesthetically pleasing with the yellow bands on the sides.
Cons
The heater has a plastic casing which can get hot from the inside due to all the heat being produced.
---
Conclusion
The Honeywell 360-Degree Fan Forced Surround Heater is easily the best electric heater on the market today.
It ticks off most of the boxes for safety requirements. It has an automatic function that turns it off in the event that the internal components start to overheat, and also in case an obstruction blocks its vents.
Moreover, this heater comes with a timer that you can set and enjoy your trip without having to worry about rushing back to the campsite to turn it off. 
That said, the other heaters on this list are also strong contenders for a number of reasons. Whichever one you opt for, you can rest assured that they will heat your entire tent uniformly in a short amount of time. 
Related guides
Guide To Finding The Best Camping Wood Stove
How To Find The Best Wood Burning Tent Stove
Guide To Finding The Best Small Camping Wood Stove