Anyone who has gone camping before knows that things can go from good to bad in a blink of an eye, and this is especially true when it comes to not being sufficiently prepared for the changing weather.
…when it comes to cold weather spells and dropping nightly temperatures, there a few methods that can be used to ensure you stay warm, and at top of that list is a portable tent heater.
Tent heaters come in many shapes and sizes, including electric, solar, battery and of course propane.
In this article we aim to provide everything you need to know about propane tent heaters from how to choose one, through to their maintenance.
But firstly, for those simply looking for recommendations, the below list and product reviews feature some of the best propane tent heaters that are currently available to buy on the market today.
Table could not be displayed.
---
01 – Mr Heater F215100 MH4B little buddy propane tent heater
Product Dimensions: 21 x 16 x 12 | Weight: 5 pounds | Material: steel | BTU: 3800 | Auto shut off: Yes | Temperature Controls: No
Mr. Heater F215100 MH4B Little Buddy 3800-BTU Indoor Safe...
Indoor-safe portable propane heater for rooms up to 95 square feet. THIS UNIT IS NOT INTENDED FOR GOLF CART USE OR FOR MOTORIZED VEHICLES.
Continuous odor-free, 45-degree heating angle. Maximum Elevation (Ft) 7000 Feet. Automatic low oxygen shut-off system (ODS). Perfect solution for heating small enclosed spaces like tents up to 95 square feet
Simple on/off buttons; uses 1-pound disposable propane cylinder (not included). Run time at minimum btu and maximum btu is 5.6 hours. Do­ not­ operate­ heater­ in­ any ­moving­ vehicle. This ­heater ­requires ­a­ vent­ area­ of­ 4­ square­ inches­ minimum ­for­ adequate ventilation ­during­ operation
Low-oxygen sensor and accidental tip-over switch with auto shut-off for safety.THE USE OF UN-AUTHORIZED ACCESSORIES/ATTACHMENTS WITH THIS HEATER ARE EXPRESSLY PROHIBITED, MAY CAUSE SERIOUS INJURY, AND WILL VOID THE WARRANTY.
Mr Heater little buddy is a simple, easy to carry propane heater that can be used indoors. It has a convenient automatic shut off safety feature, making it very safe to use. 
Since it is designed to be used indoors you can either use it in a camper or in a tent. It can heat an area of up to 95 square feet. 
It spreads heat in an angle of 45 degrees offering nonstop odorless heat for about 5.5 hours. It has a straightforward on/off button and requires 1lb propane cylinder and has an inbuilt ignition. 
Pros
It has a low oxygen sensor.  
It is small and portable. 
It has an on/off ignition button.
Cons
It takes time to ignite. Considering its purpose especially in a cold tent or camper, this can be a huge disadvantage. 
Even though it is small enough to be regarded as a handheld heater, it is still too big for backpacking.
---
02 – Mr Heater F232000 MH9BX BUDDY 4000-9000 BTU propane tent heater
Product Dimensions: 7.7 x 13.4 x 15 | Weight: 9 pounds | Material: steel, Nickel, plastic | BTU: 4000-9000 | Auto shut off: Yes | Temperature Controls: Yes
Mr. Heater F232000 MH9BX Buddy 4,000-9,000-BTU Indoor-Safe...
PORTABLE HEATER: Portable propane heater designed for emergency heat, tents, campers, job sites, porches, decks, garages, tailgates, barns, sheds, ice fishing, hunting blinds, and more
HEAT SPACE: Perfect for heating enclosed spaces up to 225 square feet
PROPANE GAS: For use with propane gas; Runs off a 1-pound cylinder of propane and can connect directly to a 20 pound cylinder with optional hose and filter
FEATURES: Includes Piezo igniter, Accidental tip-over safety shut-off, swivel regulator and fold-down handle, and hi and low heat settings
The Mr Heater F232000 MH9BX BUDDY is a great heater for use indoors and outdoors. It has the capacity to heat up to 225 square feet , which is approximately a small sized room.
This heater can provide heat for 2 to 4 days with the 20 pounds cylinder. It also has a built-in igniter. 
Additionally, it comes with a low oxygen sensor which ensures the safety of both you and your family. 
Built as a lightweight heater, it comes with foldable handles that make it easy to carry around. It is also very efficient and spreads its heat all around the room. It has a ceramic burner tile that acts as a shock absorber
Pros
Once ignited, it quickly heats up the entire room or tent within a short while.
It has been designed as a lightweight heater that is easy to move around.
The small size means that it does not take up a lot of space.
It has a built in igniter
It comes with the auto shut off safety feature. 
It has a temperature control button.
It is highly efficient.
It has a long lasting ceramic burner tile.
Cons
It is only limited to areas up to 200 square feet. 
---
03 – Texsport portable propane tent heater
Product Dimensions: 6.75 x 6.75 x 20.00 | Weight: 3 pounds | Material: Stainless steel | BTU: 3000 | Auto shut off: Yes | Temperature Controls: Yes
No products found.
Texsport portable outdoor propane heater is portable and will keep you warm on your camping trip. It has 3000 BTU, a bit lower than other heaters on this list, but this also makes it very expensive. 
It has been designed in a way that it's easy to direct heat to various sections in your tent. In a sense, this heater gives you control on which areas you need to heat most. 
Pros
It is lightweight and easy to carry.
It heats up quickly once ignited.
It has been made with stainless steel.
It is quite affordable even with its lower heat output.
It has a versatile fan.
Cons
It does not produce much heat.
It does not have an inbuilt igniter.
It can be fragile so it needs to be handled with care.
---
04 – Mr Heater MH18B, portable propane tent heater
Product Dimensions: 18.5 x 18 x 11.4 | Weight: 17.5 pounds | Material: steel, Nickel, plastic | BTU: 4000, 9000, 8000 | Auto shut off: Yes | Temperature Controls: Yes
Mr. Heater Big Buddy Pro Series Propane Heater, 18000 BTU,...
4,000- to 18,000-BTU radiant heater for spaces up to 450 square feet. Approved for indoor/outdoor use; clean-burning; nearly 100-percent efficient
When operating the heater at altitudes over 7,000 FT above sea level the heater may shut off. Maximum Hours Of Operation- 220.0
Auto shut-off if tipped over, if pilot light goes out, or if detects low oxygen levels
Low, medium and high heat level control knob for steady temperatures; connects to propane tank (not included). Note- Due to recent governmental changes to import tariffs, Mr. Heater has removed the fan on some models of the Mr. Heater Big Buddy (MH18B).
The Mr Heater MH18B, portable propane heater can heat an area up to 400 square meters. When connected to a 20 pound cylinder tank, it can last up to one week without needing refills. It requires four D batteries to run.
It has been designed with a highly sensitive bump sensor, that automatically shuts the heater down when disturbed. This protects the heater against overheating and malfunctioning in an event where it has been knocked over.
It heats up the 400 square feet room in approximately 20 minutes or less. The Mr Heater MH18B design has been optimized for efficiency, utilizing two methods of heat production; radiant heat transfer and convection heating.
The radiant heating uses infrared while the convection method warms the air around the heater, which then moves to other areas of the room until the whole area is warm.
Pros
It comes with a strong handle.
It has an inbuilt blower that helps it to transfer heat more efficiently within an area.
It has been designed using metals and high grade plastic making it very durable.
It has a low oxygen safety measure for accident prevention.
It has ceramic burner tiles that come with shock absorbers to protect against damage. 
Cons
The air produced under the medium heat setting can smell like propane.
If set to high it can only run for a few hours.
---
05 – Mr. Heater MH12B Hunting Buddy portable propane tent heater
Product Dimensions: 10.2 x 15.5 x 16.5 | Weight: 9 pounds | Material: steel, Nickel, plastic | BTU: 6,000 to 12,000 | Auto shut off: Yes | Temperature Controls: Yes
Sale
The Mr Heater MH12B Hunting Buddy Portable Space heater can heat up an area of 300 square feet. It can be easily connected to a 20 pounds cylinder through a hose.
If it is running on 1 pound gas cylinder it will offer heat for 3.5 hours and 72 hours when using a 20 pounds cylinder.
It is usually quiet and offers odorless heat. It has an inbuilt single know start ignition. You can set high or low under temperature control settings. It has been designed with an automatic low oxygen detector for maximum protection.
It has an accident tip over safety feature.
Pros
It comes with two heat setting modes; high or low.
It has been designed with a shut off switch for protection.
It has low oxygen sensors to protect you and your family
Cons
If used outside the tent, even a small wind can blow off the pilot flame.
---
Conclusion
As you can see, Mr. Heater propane tent heaters are very popular. It is easy to see why this brand is synonymous with high quality propane heaters. 
That being said, the Mr Heater F232000 MH9BX BUDDY 4000-9000 BTU outshines all the others on this list for several reasons: even though it is not as light as the Mr Heater Buddy, it has a ton of safety features and it also comes with temperature control. It can be used in both small and large tents, and it can last a very long time especially when you use it with a 20-pound gas cylinder. 
---
Why use a propane tent heater
Propane tent heaters are used by people on camping trips and people who spend extended lengths of time outside. Generally, tent insulation does not offer much protection against the cold, which is why you need a little boost from a propane heater if you intend to stay warm. 
While there are some safety concerns that some people who intend to use propane tent heaters might have, when used correctly, most propane tent heaters are perfectly safe to have inside your tent. 
So how do they work?
Generally, a propane tent heater works by emitting radiant heat. It has a burner and uses oxygen to generate warmth. Most of them are powered by propane gas, although some propane heaters come with the option of switching propane and electricity.
Also, most propane tent heaters come fitted with automatic shutdown measures for safety. Plus, they can also emit light without an open flame, which makes them even safer to have in the tent. 
Advantages of using a propane tent heater
Of course, there are both advantages and disadvantages of a propane tent heater. Let's start with the advantages.
They will keep you warm. Most can heat an area of about 225 square meters.
When compared with other powered tent heaters, such as electric ones, propane-based heaters are better because they are cheaper.
They are well designed with automatic shut off features that improves their safety. 
They are portable and easy to carry around. Because weight is a big issue when it comes to camping, portable propane heaters are a source of convenience. 
Very little propane can last for a long time. For instance, 16.4 ounces can be used for more than seven hours.
Disadvantages of using propane tent heater
For safety reasons, a propane tent heater should be used in a place with the right ventilation. This means that the openings will let in some cold air into your tent.
You should only really use them while awake because they are very risky to use while asleep/to leave unattended
There is a risk of oxygen depletion in poorly ventilated areas while using the propane tent heaters.
Safety tips to remember when using a propane tent heater
Position your heater in a way that there is enough room around it. Do not place flammable objects close to the heater.
It is always good to read and understand any manufacturer's warnings that come with heater.
Turn it off if you need to leave the tent or when you are about to sleep. Although some propane tent heaters come with automatic turn off systems, it is good to shut it down yourself if it is going to be left unattended. 
Use the heater as an addition to other warming methods but not as the main source of heat. Plus, it should not replace sleeping bags or any other essentials that usually keep you warm.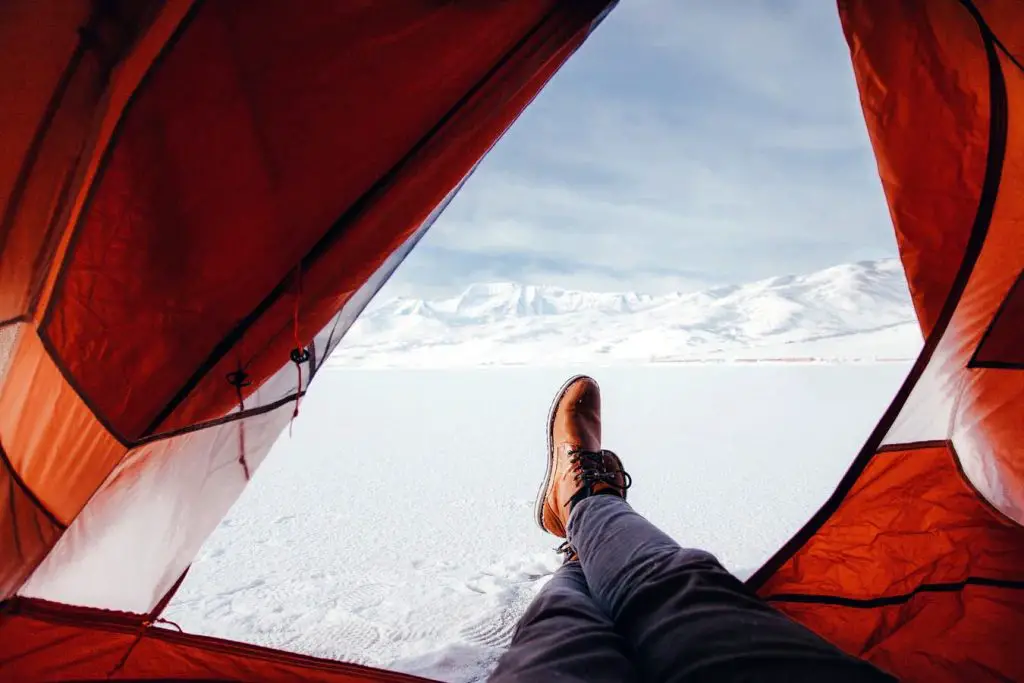 How much heat do you need from your propane heater?
To know how much heat you will need during your camping trip, you have to know how many BTUs you are going to need. BTU is a unit of measurement that shows the amount of heat your propane tent heater produces. When the BTU is high, more gas is consumed and vice versa.
There are also some propane tent heaters that will require a smaller 1 pound gas cylinder. Other larger models will require a 10-pound cylinder or even 20 pounds depending on the size. Smaller sized 1-pound cylinders typically last for about 7 hours.
What are propane tent heater alternatives?
If you are not comfortable with using a propane tent heater, there are several alternatives that you can explore. Some of these include chemical heat packs and camping wood stoves. You can also use a different fuel powered tent heater such as an electrical one.
Chemical heat packs are inserted inside your sleeping bag 15 minutes before you sleep. As you use them, you need to make sure that you've eaten plenty of food, worn warm clothes and get extra warmers to maximize the amount of heat you get.  
There are two types of chemical heat packs; reusable and one time use packs. Ordinarily, heat packs are safe for most people. But some people have reported getting irritation by using chemical heat packs.
Camping wood stoves are also great alternatives. They are very effective during winters and can serve more than one purpose at a camp site. The camping wood stoves can be used to warm your tent. Furthermore, they can be used to prepare meals and dry out wet gear you might be having.
The fire produced adds warmth to your tent. You also get to use the heat to cook some meals. Lastly, when your gear gets wet from snow or rain, it can be dried using the camping wood stove.
Propane tent heater maintenance and servicing tips
Ideally, you should get your propane tent heater maintained by a professional regularly. This allows the heater to continue functioning for longer. The last thing you want is a faulty heater when you need it most. 
Just like other appliances and equipment at home your heater needs to cool off after every use. Letting it run for too long drastically shortens its lifespan. 
When it comes to cleaning, larger heaters can be cleaned by using a vacuum cleaner to remove dust particles. Use a brush to loosen particles in hard to reach to all places for easier vacuuming. 
Some areas that a lot of dust always settles around include near the flame and ignition. Remember to dust these areas as well.
To clean the inside of the heater you need to first remove the cover. Typically, the cover is held by screws. Unscrew them and lift up the cover, then take a piece of cloth with warm water and wipe the inside part of your cover. Finally, vacuum the inside of the propane tent heater. 
Buyers Guide
Factors to consider when purchasing a propane tent heater…
Ignition
Most heaters come with either a manual ignition or an automatic option. Look out for the presence of an ignition. The automatic ignition allows users to simply turn a knob and the flame is on.  On the other hand, you have to turn on the flame manually for heaters with a manual ignition. 
That said, the ignition wears out over time. You can either get it replaced or continue igniting the heater without it. If you fear the automatic ignition might wear out, you can choose a high quality propane tent heater backed with a warranty.
Location
Where will you be using the heater? There are indoor heaters and outdoor heaters. Tent heaters are outdoor heaters and they tend to be smaller and produces less heat than indoor heaters. Additionally, you also need to think about the proper ventilation of your tent space whenever your tent heater is in use.  
The cost
The more feature-packed a tent heater is, the more expensive it will be. Therefore, you need to strike a proper balance between your needs and your budget. Cheaper is hardly ever better. 
Additionally, it is important to consider the cost of fuel in your area. Efficiency in fuel consumption also comes into play here, where most cheap heaters tend to be inefficient when it comes to fuel consumption, meaning the cost will eventually add up. 
Portability
Portability is very important because you are probably looking for something that is light and easy to move around during camping. 
Additionally, the tent heater should have handles for the convenience of the user. 
Good heaters will be light and easy to carry with or without fuel. Remember to carry it around while empty. Also, remember to consider the size of the tent. A smaller tent will need a smaller heater and vice versa.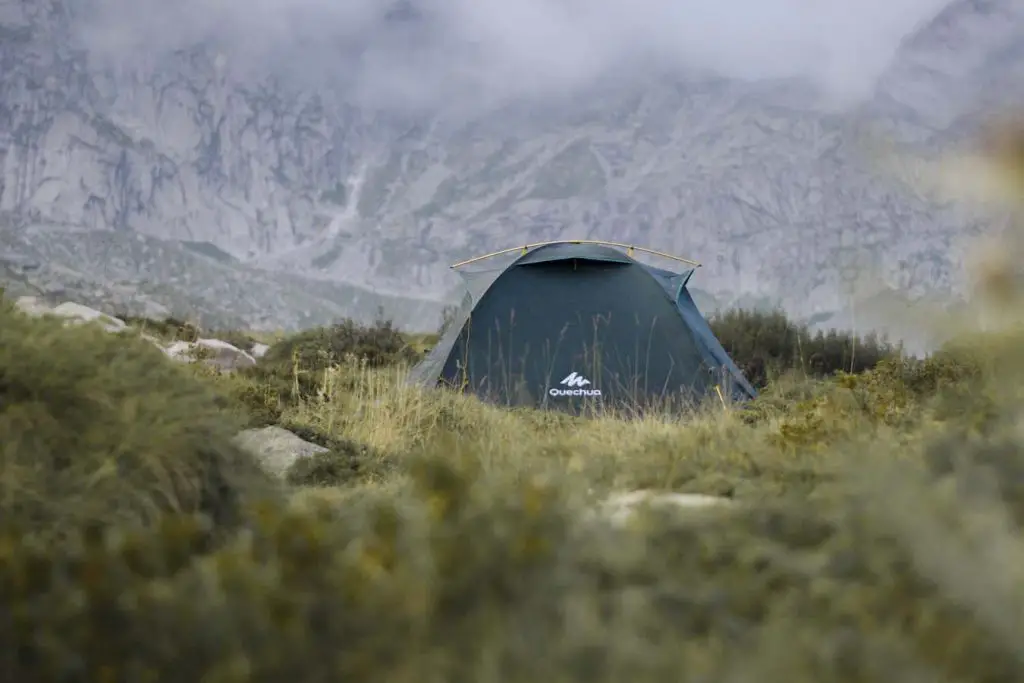 Safety features 
Propane heaters can be dangerous, the best tent heaters are the ones that come with manufacturer installed safety features. 
For example, a lifesaving safety feature is the anti-tip feature. The heater has an anti-tip switch that automatically shut down the heater when it tips over. Likewise, most heaters come with inbuilt heat control feature. When it overheats the heater automatically shuts down to allow for cooling off. 
Read the manufacturer instructions carefully to ensure you get everything right. For instance, sometimes outdoor tent heaters come with specific ventilation requirements. 
Size 
The heater you purchase should have the capability to warm the size of the tent you are sleeping in. Tent heaters come in different shapes for differently sized tents. 
Tent heaters are outdoor heaters, which means they lose a lot of heat to the outdoors. This is why a 1 pound heater will struggle to heat a larger tent.
Always check the heater's rating to have a better idea of the amount of heat it can potentially produce. You should also know how much heat you need in your tent. 
Weight 
You need to consider your unique needs carefully when searching for a propane tent heater. For instance if you are backpacking, you need to search for a heater that can be carried around in your backpack easily.
On the other hand, if you plan on camping with family, go for a larger, heavier one that will warm larger areas. 
Adjustability 
Choose a propane tent heater that can be easily adjusted for other needs. For instance, there are heaters that can be used at home through a connection with a hose to a larger, typically 20 pounds cylinder.