When all that lies between you and the cold earth is your hammock, it's essential for it to be reliable, durable, and comfy all in one. While a handful of hammocks will do the trick, there are but two that consistently come out on top: ENO vs Kammok.
This guide gives an in-depth comparison of the ENO DoubleNest and Kammok Double Roo – the bestsellers of both iconic brands. In it, you'll learn the nitty-gritty specs of both so that you can spend less time researching and more time swaying by the campfire.
The Ultimate Showdown: Kammok Double Roo vs ENO DoubleNest
Kammok Double Roo Overview
Packed Dimensions: 5.25 x 6.5 in (13.3 x 16.6 cm)| Unpacked Dimensions: 5 ft 7 in x 10 ft (170 x 304.8 cm)  | Max Weight Capacity: 500 lbs (227 kg)| Product Weight: 18 oz (510 g)| Straps Included: No
KAMMOK 2019 Roo Double - Water Repellent, Portable, Durable,...
SAFETY FIRST: The Roo Double hammock is suspended from Kanga Claw patented carabiners and Dyneema reinforced Racer Slings, engineered to support up to 5,000 lb of force, while double wire gate carabiners ensure your hammock won't slip out while you hang, so you can rest easy all night long.
COMFORTABLE & DURABLE FABRIC: Our Roo Double hammock is designed for maximum comfort. The Gravitas diamond ripstop, UV and water-resistant fabric is tough enough for any camping trip while still maintaining light weight and breathability.
WATER-RESISTANT FABRIC: On hot days or unexpected weather, DWR treated fabric repels moisture so you'll stay cool when it's warm and avoid condensation when it's cold. The Roo Double easily compresses in the attached water-resistant and abrasion-resistant rolltop stuff sack for dry storage on-the-go.
LIFETIME WARRANTY & GREAT CUSTOMER SERVICE: We stand by the quality of our gear. Every Kammok product is covered by a lifetime warranty through our Adventure Grade Guarantee, so you can be confident your gear will outlast your adventures.
Kammok's Double Roo (or sometimes referred to as 'Roo Double') is made to "elevate your time outside" by featuring ultra light yet sturdy comfort. True to its aim, it sets the standard for comfortable hammock camping.
The material is made with tear-resistant 40D diamond ripstop nylon and ensures no wet nights with DWR waterproofing. Plus, not only is the Roo Double lighter than its competitor at 18 oz, but it's also sturdier and capable of supporting up to 500 lbs.
Just from a tech perspective, there isn't much the Double Roo doesn't do. It easily packs into itself so you don't have to worry about lugging a hefty sack around. What's more, thanks to its quick roll-out design, you can set up camp in just minutes when exploring outdoors. Dissembling is just as easy; roll it up, tuck it in, and you're good to go!
Perhaps the only drawback of the Kammok is that it doesn't come included with straps. You can buy the recommended Python 10 straps separately, however. An alternative way to hang your Kammok Roo Double is by adding on the Swiftlet portable hammock stand for camping trees to the coast or in your backyard where there are not suitable trees. Additionally, each Kammok comes with 2x Kanga Claw carabiners and 2x Dyneema Racer Slings. Lastly, when purchasing online, you can choose from a variety of 12 nature-inspired colors.
All in all, if you're looking for a hammock that is ultra soft to the touch yet firm when it comes to durability and longevity, the Roo Double will outperform your expectations. 
But just in case we're wrong, let's take a look at how the ENO DoubleNest compares!
ENO DoubleNest Overview
Packed Dimensions: 4 x 5.5 in (10.2 x 14 cm)| Unpacked Dimensions: 9 ft  x 6 ft 6 in (286 x 189 cm)| Max Weight Capacity: 400 lbs (181 kg)| Product Weight: 19 oz (538 g)| Straps Included: No
Sale
The ENO DoubleNest is a fierce competitor when it comes to portability and durability. At only 4 x 5.5 in when packed, the DoubleNest is capable of compressing down to the size of a plump grapefruit. That said, it's become a favorite travel companion among the outdoor and camping community. Pack it or hang it off the side of your backpack; either way, you'll barely notice it's there!
The material of the DoubleNest features 70D high tenacity nylon taffeta. That means it will have less stretch than the Kammok which features 40D ripstop nylon. Similar to the Kammok Roo Double, the DoubleNest can store itself inside its attached stuff sack. When unpacked, this little pocket can be conveniently used for storing personal items when lounging outside. Despite its small stature, the ENO can still hold its own in weight – up to 400 lbs. That's plenty enough for two adults and maybe even a small adventure pup (or two).
Not surprisingly, the DoubleNest doesn't come with straps included, just like the Double Roo. However, you can add on its own Atlas Suspension System for around $30 more. You'll still be able to save some money as the ENO price tag shaves off a few dollars compared to the Kammok which costs a hair more. It also has triple the amount of color options to choose from online.
Overall, the DoubleNest is a no-frill hammock that lives up to its reputation for being sturdy, comfy, and travel-friendly.
How Do They Compare Side by Side?
Durability
When choosing between the ENO vs Kammok, durability is a big deciding factor. Which one is best? The ENO is undoubtedly made to withstand both weight and weather, but it's the Kammok's sturdy weave and UV inhibitor that makes the Double Roo just a tad stronger, more abrasion-resistant, and long-lasting.
Size
The Kammok Roo Double is slightly longer (10 ft) but slimmer (5 ft 7 in) than the ENO DoubleNest which stretches unpacked to 9 ft in length and 6 ft 6 in in width. The ENO will offer a more comfortable diagonal position than the Kammok as it offers more horizontal space. It will also be a better option for couples looking to snuggle up at night.
Material
Both hammocks feature strong yet soft material that's comfortable to touch. However, many customers have a preference for Kammok's ultra soft crinkle texture compared to ENO's material.
Hammock Fabric
The Roo Double is made with Kammok's very own Gravitas 40D diamond ripstop nylon with DWR waterproofing. Gravitas is lighter and more sweat-resistant than most hammock fabrics. The DoubleNest on the other hand features 70D high tenacity nylon taffeta. Taffeta is known in the hammock community to be relatively heavier and less smooth on the skin compared to ripstop nylon.
Carabiner construction
ENO uses a special type of carabiner construction made with aluminum wire gate which is lightweight and secure, whereas Kammok includes a set of its patented Kanga Claws which are durable and meant to support up to 5,000 lbs of weight. It also comes with double wire gates for extra security. According to Kammok, the Roo Double is reported to be the highest strength-to-weight ratio on the market!
Stuff Sack
Both the ENO and Kammok hammocks feature their own stuff sacks. The Kammok is made of similar material to the Roo Double featuring a shell made from Diamond Shell 40D ripstop nylon with PU + DWR waterproofing. The ENO's stuff sack is made with 70D ripstop nylon with PU coating only.
Comfort
In terms of comfort, you'll find the Roo Double to have a softer touch than the DoubleNest. That's because the Kammok comes coated with a special crinkle coating to ensure silky-soft comfort, whereas the ENO's rougher taffeta weave feels more abrasive.
Weight
If you're wanting the hammock that won't weigh your backpack down, then the Double Roo won't disappoint at only 18 oz (510 g) compared to the DoubleNest's 19 oz (538 g).
Packed Size
Even though the Roo Double has come a long way in reducing its packed size, compressing over 30% more than its previous models, the DoubleNest comes out on top as it packs down to an itty bitty 4 x 5.5 in. That's about the size of a grapefruit!
Water Resistance
The Kammok Roo Double is the big winner of this category as it features DWR waterproofing to ensure ultra water-resistant comfort so you don't have to worry about staying dry. The rollup stuff sack is also coated with DWR waterproofing to create a moisture-resistant barrier.
General Brand Comparison
Warranty & Support
Kammok offers a lifetime warranty of its products. In case of non-function equipment or defects, the support team will try to repair your gear or replace it if necessary. You'll be covered for life! To enjoy this benefit you must first register online with a free account to activate your warranty. Compare that to ENO's limited 2-year product warranty and it's clear who comes out on top for this category.
Cost & Value
The ENO is the cheapest option between the two at just under $70. But when you consider that the Kammok is lighter, stronger, and has 100 lbs more of capacity, it's worth paying the extra few bucks for the Roo Double which is priced between $70-80.
Build Quality
While both offer extreme quality all-around, it's the Kammok that takes first place again. Everything from its DWR waterproofing and tear-resistant fabric to its patented carabiners and silky soft touch just exemplifies quality craftsmanship.
Long-term Reliability
The simple yet robust ENO DoubleNest will hold up for many years if taken care of, but the Kammok is the ultimate choice for long-term reliability. If the Kammok lifetime warranty doesn't speak loud enough for its reliability, we're not sure what does!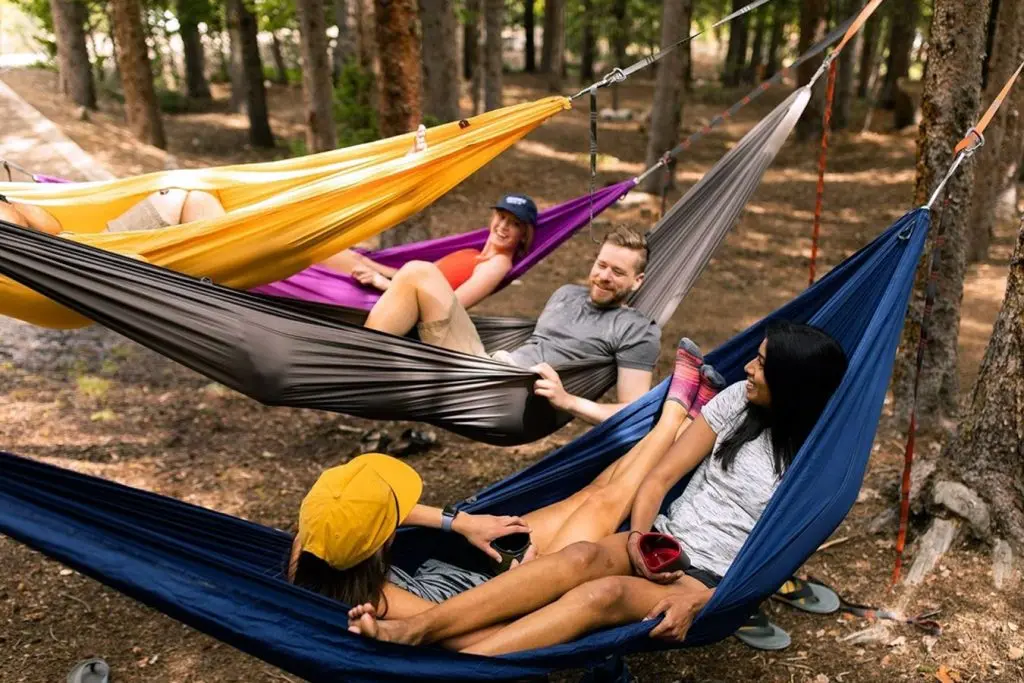 FAQs
Single vs. DoubleNest ENO?
If you're hesitating between the Single vs. DoubleNest ENO, consider the differences in size, price, and weight. The length of both remains the same at 9 ft, but the width is where you see the most change. The SingleNest is 4 ft 10 in whereas the DoubleNest is 6 ft 6 in. Also, the single weighs only 1 lb whereas the double weighs 1.3 lbs.
As for price, the SingleNest is around $20 bucks cheaper than the DoubleNest. The rest remains the same in terms of fabric, build, and capacity. If you are a solo hammock camper, the single will provide the most form-fitting comfort. The DoubleNest is ideal for couples who like to lounge together, whether in the backyard or out in the woods.
Kammok Roo Double vs. Single
With the Kammok Roo Double vs. Single, you run into one two main differences – its weight and capacity. The Single Roo weighs a total of 10.3 oz and holds up to 400 lbs. With the Double Roo, you'll have up to 500 lbs capacity weighing in at 18 oz.
Summary
Having to pick between the ENO vs Kammok is a tough choice. Both are highly popular and outperform most expectations. However, it's the Kammok that repeatedly offers slightly better features.
Not only is it backed by a lifetime warranty, its quality build, fabric, silky comfort, and waterproofing make it one of the best hammocks you can get on the market. That said, if you're adamant about having a highly-packable hammock that's wide enough for two, then the DoubleNest might be a better option for you.
In either case, both will provide you a comfortable place to rest your head in the great outdoors.