Camping's a fun activity. It gives you a chance to get away from the overwhelming buzz of city life; a chance to get in touch with nature.
You get yourself a tent to protect you from the elements and give you some shelter as you try to get some sleep at night. Nothing's better than going camping on a summers day…
Except, actually, there's at least one thing that might be wrong with that scenario: the fact that it's likely to be a hot summer's day. 
The one element a tent won't protect you from is the heat. Now, in your home, you just buy the best home air conditioner you can find and switch it on on a hot day and the problem is solved.
But is there a best tent air conditioner? How does a tent air conditioner even work? That's what we're going to talk about today. Hopefully, by the end of this review, the idea of camping on a hot summer's day won't feel so hot and heavy anymore.
Together with a list and review of our top 6 recommended tent air conditioners, we provide an in depth guide to identifying the most important aspects and elements that need to be consider before buying such a product.
Recommended products
Firstly for speed and efficiency we have reviewed and shortlisted the below products, and believe they form a solid summary of some of the best air conditioners currently available:
Best Overall: Mightykool a 12-volt Tent Air Conditioner
Best For Large Tents: Honeywell mo08ceswk Compact Portable Tent Air Conditioner
Best Mister: Xpower fm-48 Misting Tent Air Conditioner 
Best For Small Spaces: Zero breeze portable Tent Air Conditioner
Most Powerful: Edgestar 12,000 btu portable Tent Air Conditioner
---
Products reviews
01 – Mightykool a 12-volt Tent Air Conditioner Review
This little portable cooler was our personal favorite for its versatility. It was built to cool people and pets in cars but works just as well for small tents. It has a strength of 6000 BTU and will easily cool a small tent of up to 6 people, though not much more.
What we like most about it, is the fact that it can run on 12-volt batteries and draws just about 11.3 watts of power. Even by air conditioner standards that isn't much at all, making it extremely power efficient. If you want to run it on the mains it will accept a voltage of between 110 volts and 120 volts. 
The Mighty Kool A uses water to do the cooling. The unit holds a maximum of 2 liters of water, which is just enough for about 2 hours of cooling work. That's not much, but you could attach a larger bag of water to it if you want it to run longer. It's also pretty light at just 3 pounds, making it highly portable. 
The air coming out of it is pretty powerful, at 35 mph and about a cubic foot of air per minute. With such powerful blasts it should cool a small tent down almost instantly, keeping things cool even when temperatures outside are really high. Couple that with the affordable price and you're onto a winner!
Pros
Very light and portable

Affordable

Draws very little power, making it energy efficient

Provides powerful airflows, cooling the temperature almost instantly

Can run on both batteries and mains at 110-120 volts
Cons
It has a maximum runtime of 2 hours due to its reliance on water for cooling
---
02 –  Honeywell mo08ceswk Compact Portable Tent Air Conditioner Review
The Honeywell is a large portable air conditioner. In a sense, we felt like calling it a large portable air conditioner was an oxymoron. It weighs 43 pounds! That said, it's a heavy duty air conditioner that's well suited to large tents.
The power rating on this air conditioner is 8,000 btus, making it powerful enough to cool a tent of up to 350 square feet. It also doubles as a dehumidifier, capable of pulling up to 44 pints of water from the air in a day.
Something we really liked about it was the digital humidistat, which gives you a real time indication of just how much moisture you've got in your air at any given time. As for the 44 pints of water, an auto evaporator takes care of that. However, if you want to have continuous drainage you can just attach a hose to it. 
The Honeywell also comes with 24-hour energy saving timer, making it easier to save up on power. The system allows you to use it as a simple fan, an air conditioner, or a fan. That's an A+ for versatility. 
That doesn't mean it's entirely perfect. Because of how large and powerful it is, it's going to make a lot of noise, so it's not a good idea to use it in a smaller tent. It's also very heavy, so you might need help ferrying it around. 
Pros
Extremely powerful and suitable for large tents

Has a very efficient dehumidifier built in, sucking most of the moisture out of the air

Very versatile as it can be used as a fan, air conditioner, and dehumidifier

Comes with a remote control
Cons
Not very portable due to its heavy weight

Quite loud
---
03 – Xpower fm-48 Misting Tent Air Conditioner Review
The xpower FM-48 is yet another 8000 BTU air conditioner. This one is called a 'misting fan', which is to say it will sprinkle cool mists of water into the air to cool things down. It's pretty effective at it, capable of reducing temperatures by up to 30 degrees.
You might be wondering where all that water will come from. Is there some kind of reservoir I have to separately maintain? Well, no. It comes with a 10 foot garden hose adaptor which you can connect to the nearest water source. It certainly means you don't have to worry about constantly refilling the water. It also comes with a 7-foot power cord so you can connect it to the mains (this one only uses the mains). Again, it has cord management for both the power cord and the hose, which are very long. 
You don't have to use the xpower as just a misting fan. If you want dry air you can turn the fan on, which is also pretty effective. Capable of moving about 300 cubic feet per minute of air, the temperature drop is almost instant.
We noticed that it also comes with multiple pivot positions, which means, in theory, that you can orient it in whatever position. That shouldn't matter much when you're setting it up in a tent. Upright makes the most sense in that environment. Given how powerful it is, you'll definitely feel its presence, no matter the orientation. 
Pros
Very powerful at 300 cubic feet of air per minute

Has misting fan feature for spraying cool moisture into the air

Comes with a garden hose adaptor so you don't have to keep refilling it

Comes with a cord management packet for easy management of the power cord and garden hose
Cons
It only uses mains power

It can be quite noisy
---
04 –  Frigidaire ffre0533s1 Tent Air Conditioner Review
The main reason why I added this tent air conditioner to this list is how affordable it is while offering great value. It offers 5,000 btus of cooling power, which should be enough for most tents. By tweaking your canvas and taking a few of the steps I talked about above to improve insulation, the performance can be greatly enhanced beyond what is advertised. 
This Frigidaire comes with a remote control and can be used with a generator. It also allows you to delay the start or stop and also has a low power start feature. The best part is that it comes with a built in dehumidifier to keep the air from getting too wet and stuffy. If you are setting up a tent for up to 6 people, then this should work very well. 
Pros
Extremely light at only 35 pounds

The low power start feature conserves power

It uses a 115 volt electrical outlet, making it compatible with most generators and mains outlets

It's easy to mount through the window of your tent, or even the baggage slot
Cons
While it is very light, it's more than a little bulky, since it was originally designed for a house. 
---
05 – Zero breeze portable Tent Air Conditioner Review
The Zero Breeze portable air conditioner is more of a spot cooler than anything. It has a power rating of 1100 btus and will only cool areas of up to 50 square feet at a time. It also only needs 12-volt batteries to function, so you won't need to worry about the mains unless you're charging it. 
There are a few pros and cons to this air conditioner. For starters, it doubles as a heater. Sure, this article is about cooling your tent, but if you're camping at the height of spring, or autumn, you're going to need to warm your tent, rather than cool it, from time to time. The Zero Breeze gives you the best of both worlds. 
Another thing we like about the Zero Breeze is the fact that its drip and leak proof due the large in-built evaporator. A problem we often have to deal with in regular air conditioning units is the sogginess. It not only makes the air more uncomfortable, but predisposes them to rust. This air conditioner doesn't have that problem. 
The downsides for the Zero Breeze are obvious. For starters, it has low cooling power and only works for a small area at a time. This is only going to be a great air conditioner if you're going camping alone. Because of that, it also has a tendency to sound rather loud in small tents, even though its noise level is average. We'd recommend it if you're going camping alone and want some extra comfort but don't mind the ambient noise it brings with it.
Pros
It can be converted into a heater

Has an evaporator to prevent sogginess

It is lightweight and portable

Provides strong airflow in small spaces
Cons
It doesn't have a control board

It is only effective in small spaces

It has a tendency to be loud in small tents
---
06 – Edgestar 12,000 btu portable Tent Air Conditioner Review
This is a large and powerful air conditioner. At 12,000 BTU it can easily cool an area of 456 square feet. As you might expect from an air conditioner of its caliber, it comes with a lot of bells and whistles. It has 3 fan speeds so you can different intensities, a dehumidifier options, and a dry fan-only option. 
One of our favorite things about the edgestar is the patented auto-drain feature. Most of the condensate is automatically exhausted, except maybe in exceptionally humid situations. It also comes with a replaceable carbon filter and a washable pre-filter. 
Along with the performance, there is a 24-hour energy saver timer and a built-0in LED display with electronic controls so you can have finer control over air conditions. It also comes with a remote. 
Our major gripes with this air conditioner are the noise, the weight, and the limited temperature range. They can be so insufferable sometimes that they overshadow all the good it has. If we're being entirely honest here, it's not exactly the kind of tent air conditioner you would take camping with you, but it would be a great option if you're having a wedding or party in the wild and need something to cool the large tents. 
Pros
Has a 24-hour energy saving timer

Comes with auto-evaporation technology so you don't have to keep draining away the moisture, unless in extreme situations

Has multiple modes, including cooling, fan-only, and dehumidifier modes for different situations
Cons
It is quite heavy

It can be quite noisy
---
Conclusion
And with that our winner is the Mightykool A 12-volt Cooler. When picking it, what we were really looking for was a good balance between affordability, performance, portability, and low power consumption.
While a powerful air conditioner is a good thing, you don't want something that is too powerful, bulky, and expensive. You also want something that can use both battery power and mains electricity while consuming very little power.
The Mightykool was ticking all the right boxes. While most of the others are able to provide more power, they are also more expensive and bulky. For a simple camping trip, you actually don't need that much power.
That said, we think this list was comprehensive enough that you are bound to find something for your needs, no matter what they are. They all rank as best tent air conditioners and that's what you really care about at the end of the day, when you just want the right temperature to get some sleep. 
---
What are tent air conditioners?
It's all about maintaining a comfortable internal climate, as the last thing you want to sleep inside is a hot stuffy tent. In fact, you're probably superhuman if you can sneak in even a couple hours' sleep in that kind of tent. 
The solution, of course, is to improve air circulation, and there are many ways to do that as we discuss here in our Guide To Camping In Hot Weather. You could, for example, pitch your tent in a shady spot under a tree, or you could install a tent fan.
However, both of these have their drawbacks. A shady spot doesn't do much for the ambient temperature in a tent where everyone has a raised body temperature due to lots of physical exertion during the day (such as if you were out hiking), and a tent fan only cools the area immediately around it. A portable air conditioner solves both problems.
Air conditioners are more efficient than fans and they work well in areas where electricity is readily available (though you can get a battery or generator powered one if you want). The very best of them are also pretty powerful while remaining lightweight and portable, but let's not get ahead of ourselves. We'll talk about that in a few. 
What are the benefits of tent air conditioners?
As mentioned above, there are numerous benefits to having a portable tent air conditioner, the most obvious being getting rid of the unwanted heat that can sometimes gather in camping tents. This heat is not only uncomfortable, but it can have some nasty implications for the quality of your vacation and health.
A hot and stuffy environment is bound to make you more prone to fatigue. You're also more likely to get dehydrated and suffer from heat strokes. I don't think that's what anyone signs up for when they go out camping.
A portable tent air conditioner at least helps to alleviate that and make the vacation something you look forward to, rather than bemoan. 
Speaking of looking forward to things, there is a second order benefit here. When you're outside the tent, you're more likely to get sunburn. Knowing that you have a cool tent to go back to incentivizes you to get away from the sun. If the tent is just as hot as the outside, you're between a rock and a hard place.
A portable air conditioner is all the incentive you need to rush back to your tent. So, in its own way, it also protects you from sunburns.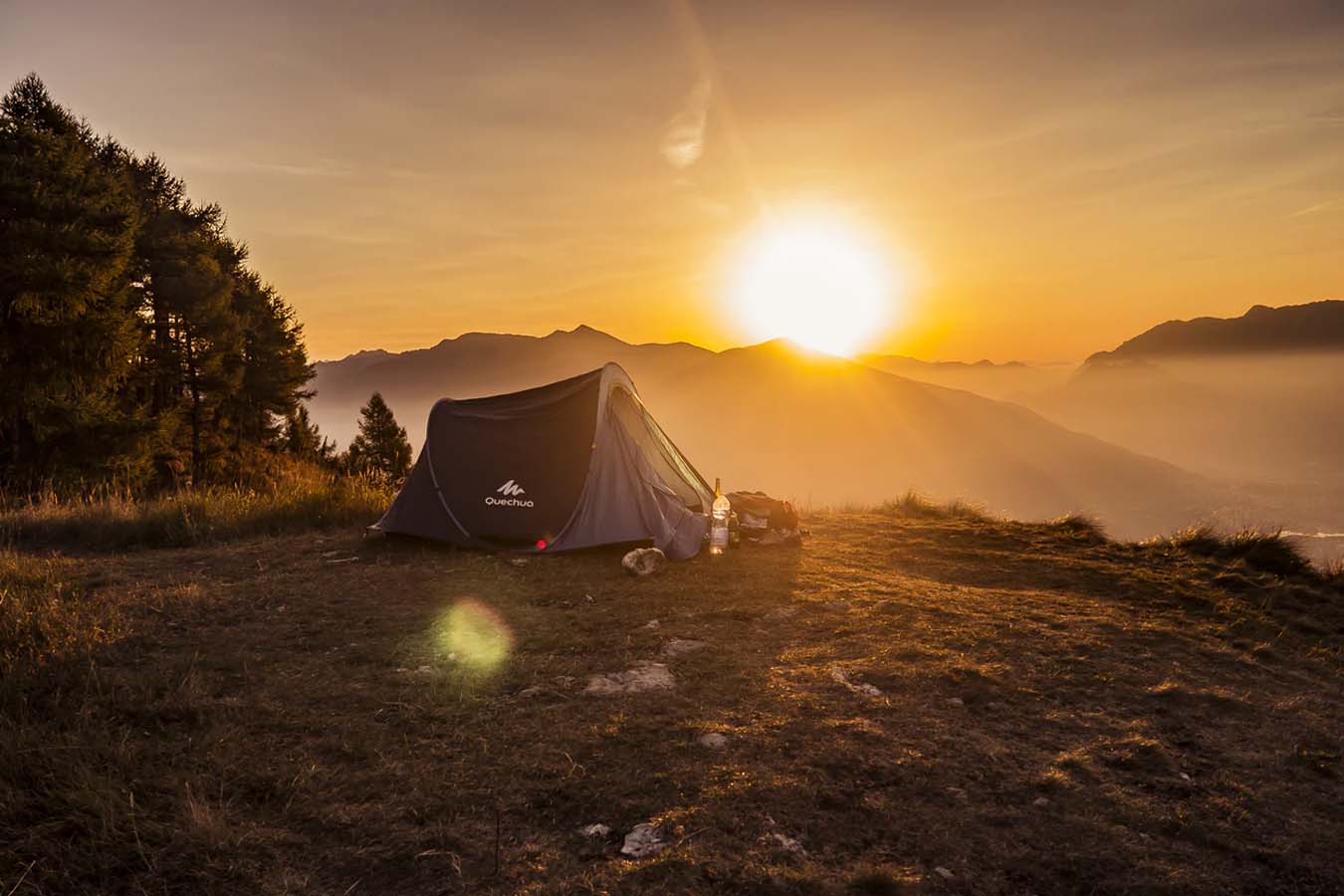 How to find the best tent air conditioner for you
So now that we're done evangelizing, let's make some solid considerations about tent air conditioners so you can choose the right one. As it turns out, there are lots of things you need to consider when shopping for a tent air conditioner.
They include, among others, whether it is portable or free standing (we're partial to the portable ones but will make a case for both), the type of the air conditioner, what source of power is required and how much of it, and many other things we're going to look at in depth. 
The type of air conditioner
There are two types of air conditioners: freestanding, or room air conditioners, and window air conditioners. Room air conditioners, as you might guess from the name, are set up in the room. Window air conditioners are placed by the window. Most people prefer window air conditioners because they are much lighter, more compact, and portable. They also manage to do this without sacrificing much in the way of cooling capacity. 
A window air conditioner runs on about 5,000 BTU (British Thermal Unit) and can cool an area of 150 square feet, which should roughly be equivalent to a 6-person tent. There are also more powerful ones which run on up to 12,000 BTU and can cool tents that sit up to 400 people. These ones are bulkier on average, though most of them come with wheels to help with portability. The great catch with window air conditioners is that they require fitting, which means you're going to have to make arrangements to accommodate it. 
Location
Where you're going to mount the air conditioner is yet another important factor to consider. The market for tent air conditioners is still not yet developed enough that manufacturers have started building mounting kits for them. As a result, most of the solutions are DIY (do-it-yourself) solutions. 
The first is to mount the air conditioner on the inside. However, this doesn't work very well because space is often an issue, especially in smaller tents, which are the majority. It makes sense to have internal mounting only when you're dealing with large tents, such as the kind used at concerts and weddings. 
The other solution, which makes more sense, is to have the air conditioner attached to a wall from the outside of the tent with duct running inside the tent. This solution is the more popular one, though it requires quite a bit of DIY. To start with, you'll need to cut out some space on the side of your tent to make space for the mounting. You can then set up the air conditioner on a table or other raised platform and place it in the opening. 
Fortunately, however, with the growing popularity of tent air conditioners, more and more tent manufacturers are building tents with large vents to accommodate the air conditioning unit built in. Be sure about where you want the air to blow as you figure out where the air conditioner should face. The best places are wherever your feet will be. 
Theoretically, you could somehow have an air conditioner installed in the roof of your tent. It would definitely make for more efficient cooling and would get the tent out of the way. Unfortunately, there is no current solution in the market for this. Most air conditioners are too heavy and they don't have enough power for this. This is a great opportunity if you're entrepreneurial. For now, the only way a ceiling solution works is to get an air circulator, though that doesn't work half as well as an air conditioner. 
The dimensions & weight of the air conditioner
Obviously, you'll want a small, light, and highly portable air conditioner. Luckily, the size of a tent air conditioner is independent of its performance. You want something that you can easily carry around with you whenever you go camping. Speaking of performance…
Performance
This is the most interesting part of choosing a tent air conditioner, in our opinion. It cuts right to the heart of the science of tent cooling. Tents aren't like houses. They have worse insulation and so lose air much more easily. They also gain heat faster on a sunny day, especially if you didn't pitch your tent in the shade. 
In your home, your air conditioner can work in bouts. It can work for a while and then go quiet. In a tent the air conditioner needs to constantly be on, which has great implications for power consumption. Ideally, you should go camping in a place where main electricity is readily available. Otherwise, you'll have to think about how long your battery or generator fuel can last. 
Most tent air conditioners have between 5,000 and 12,000 BTU. 5,000 BTU is enough to cool a room of between 50 square feet and 150 square feet, which translates to a tent with a maximum capacity of 6 people. The cooling capacities naturally increase with the btus of the tent air conditioner. 
The BTU, or British Thermal Unit, is a measure of the heating or cooling capacity of an air conditioner. The simplest definition is that a BTU is the amount of heat required to raise the temperature of one pound of liquid water by 1 degree from 60 degrees Fahrenheit to 61 degrees Fahrenheit at a constant pressure of 1 atmosphere. A small room of about 18 square meters requires a minimum 7,000 btus to be cool on a hot day. Medium rooms of 24 square meters require 10,000 btus. Larger rooms and office spaces of 36 square meters and higher require about 15,000 btus. If you have requirements over 15,000 btus you can combine 2 or more air conditioners. You can learn more here.
So how does all this translate to tents? A tent of 150 square feet, capable of holding up to 6 people, requires about 5,000 btus to cool. A medium sized tent of between 150 square feet and 350 square feet requires about 8,000 btus to cool. Large tents with space between 350 square feet and 550 square feet, and capable of hosting hundreds of people, require between 10,000 and 16,000 btus to cool. You can calculate the number of btus required to cool your tent based on the tent's size here.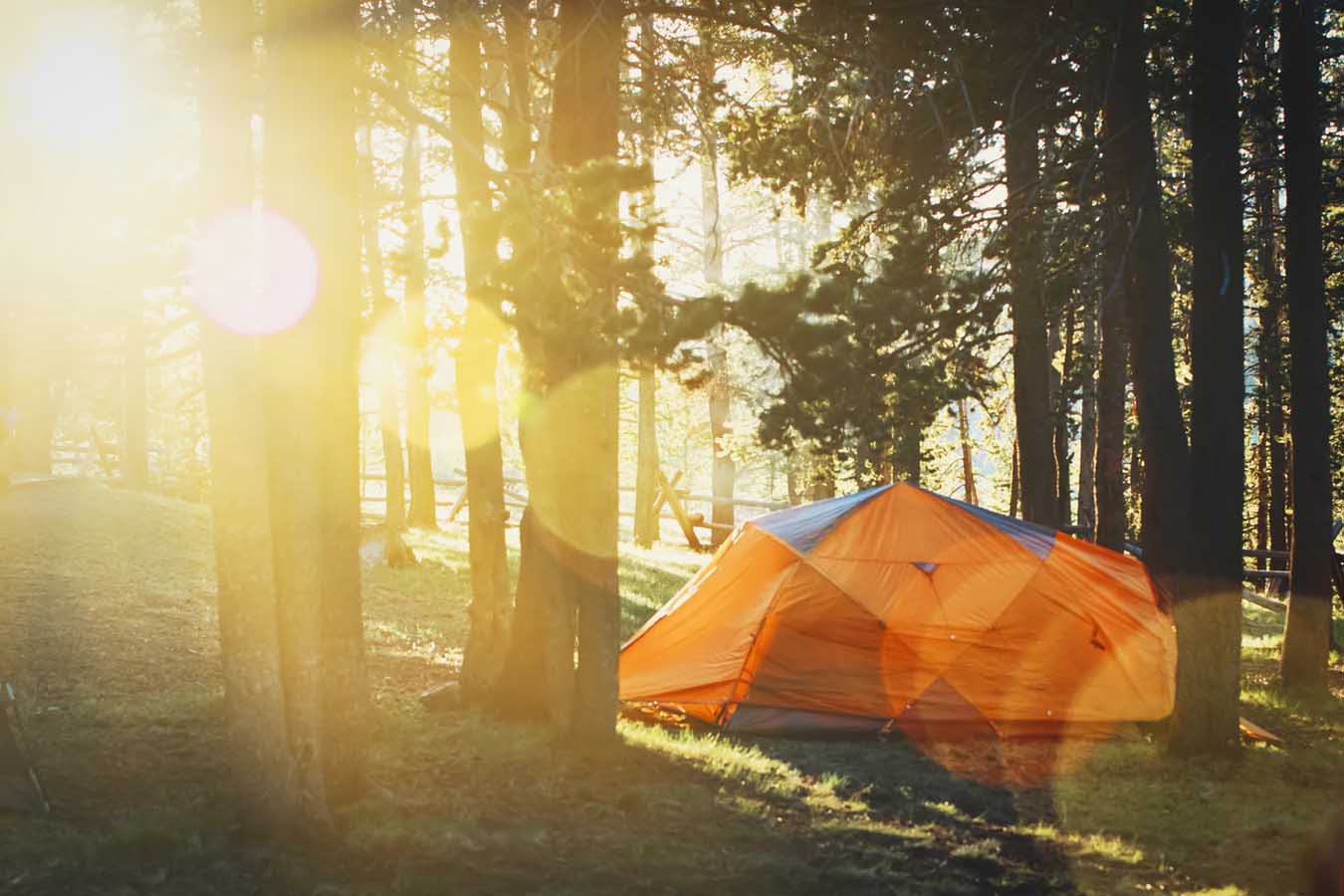 Setting up your tent air conditioner
The first consideration you need to make is the power source. If the camping site has mains electricity, then all you need to bring is a long power cord. That said, note that the voltage may vary from one camping site to another. Check the allowance of your specific air conditioner in terms of amperes. These will be anywhere from 5 amperes to 16 amperes. Carrying the right hookup for your air conditioner ensures you don't blow a circuit or cut the power off for everyone.
Otherwise, you'll have to consider how much juice you need. The battery powered units run on 12-volt batteries. These will provide you with about 40 watts of power and run for 10 hours on average. The performance will range from air conditioner to air conditioner, with some keeping temperatures at 35 degrees Fahrenheit for the full 10 hours and others managing to do so for only 1 hour. It's a good idea to carry backup batteries so you can provide non-stop power for your air conditioner.
The same logic applies for generators. Make sure you carry at least 2 or 3 full tanks as backup for your generator to provide non-stop power, especially if you're going to a hot place. The good news is that temperatures dip considerably at night. The air conditioner doesn't need to work as hard at that time. Once the tent is cool enough, the air conditioner can save on some cooling power. 
Another thing to consider is the ventilation and waste. Most portable air conditioners have a smaller vent for a tube to exit the tent. If your tent doesn't have the vent for the air conditioner built in, you can use the existing door or window, or cut out some space for the vent yourself. 
While we're on the subject of ventilation, make sure the hot air your air conditioner is blowing isn't directed at your neighbors. Most window units do the heat output via the rear. Portable units will use a hose. Point the heat away from other campers to avoid making them uncomfortable.
There might also be wastewater, in case your air conditioner doubles as a dehumidifier. Most of them will come with a tray to collect the water and switch themselves off when it is full so you can remove it and empty it of the water. Others use a hose. If neither of these are available, dig a trench behind the air conditioner to collect the wastewater. 
The AC settings might require tweaking depending on the location and its ambient temperature. Such things as the fan speeds and temperature adjustments will have to be tweaked depending on what feels right for the location. 
One thing that helps is to improve the insulation of the tent as much as you can. The tent's fabric on its own is pretty inefficient at insulating. Some tent fabrics also generate the greenhouse effect when they fail to block the sunlight and trap water vapor and carbon dioxide inside the tent. A good solution to this is get a space blanket to cover the top of the tent with. It reflects most of the incoming sunshine, making a huge difference, especially when coupled with putting your tent in a shaded area. Also, keep the gaps in your tent to a minimum and wash the filter on your air conditioner at least once a month to maximize on efficiency. 
Depending on the size of your tent and the number of people in it, the air conditioner will cool one area at a time. You could, however, set up two tents together and cool them with the same air conditioner if it has enough cooling power and is set up properly. 
Another thing you should consider is noise. These are subjective; it all depends on what your annoyance threshold is (and also your fellow campers' annoyance thresholds, of course). The cooling mode of the air conditioner is the greatest factor in determining the noise levels. To get a sense of how much noise your air conditioner is making, look at the decibel level of the unit, also known as dba. Anything under 60 dba is likely to be bearable. Go above 70 dba and you will likely hear complaints. 
Related guide