Being inside a tent when its hot outside can be a hideous experience, and this is especially true when camping during hot summers and in hot environments.
(…we have a full and detailed guide on exactly how to cope with this here.)
A good solar powered fan is among one of the many tools that can used to combat this and keep both you and tent cool, but like many camping products, there is a certain level of research that must be carried out before buying such a product.
So in this article we aim to address everything there is to know buying a solar powered tent fan in order to help ensure that you, the user, are buying the best and most suitable product for your needs. But firstly…
What is a solar powered tent fan, and how do they work?
Tent fans fall in many categories when grouped by their power source. There are electric, battery-powered, solar-powered, and USB camping fans.
Solar-powered tent fans harness solar energy using small solar panels. Some fans have the solar panel built into them and others need you to physically connect them to a separate solar panel.
The energy in the panels is then converted to usable energy using photovoltaic cells and sent to the fan to power it. 
Why use a solar powered tent fan?
Cooling – At the top of your list will be to cool the air around you. However interestingly, fans do not reduce the temperature of the space they are placed in. The cooling effect happens because hot moving air is more comfortable to be in than stagnant air. 
Air circulation – Fans do this by boosting the flow of air in your tent and create a breeze. A tent fan provides circulation to supplement your tent's ventilation panels even when there is no wind blowing outside.
Drying out – During your camping expedition, there is a possibility of you finding moisture inside your tent. This could be caused by leakage from the outside, or condensation due to warm bodies in the tent., and this might cause your tent to start 'sweating'.
Fans can help to dry out your tent and prevent mold and fungus from growing. 
If the leakage gets to any of your sleeping bags, clothes, and other camping equipment, you can also use a strong fan to dry them out.
Getting rid of bugs – One of the downsides of the great outdoors, that we're sure most of you will agree with this, is the irritating bugs. If you want enough air circulation in your tent, you might have to leave your windows and doors open. This provides winged insects in particular a direct entrance into your tent.
Tent fans can help prevent the bugs from getting into the room and jumping on you, depending on the positioning of the fan.
Advantages of using solar powered outdoor fans
Renewable energy source – The sun is available in almost all locations, and therefore a solar-powered fan has many opportunities to recharge without the need of electricity, except for at night of course. Using renewable energy is more eco-friendly and reduces your carbon footprint.
Can function anywhere – Since they do not need electricity, you don't have to worry about how you are going to power your fan. You can buy and use your fan whether or not your campsite has electricity. 
Comfort – When the sun is hottest, staying inside your tent can be a tad uncomfortable. A tent fan increases your comfort levels.
Improved ventilation – A tent fan increases airflow. When used with your tent's windows, you will experience better air circulation, which reduces stuffiness in your tent. 
Food storage – Storing food in a hot tent shortens its shelf life. If you are camping in a location with high temperatures, then the shelf life of your food can be dramatically decreased, and even food stored in a cooler can be at risk. A tent fan can come in handy to help cool food and keep it fresh for longer.
Better sleep – Sleeping in a hot tent is one of the worst aspects of camping in the summer, but when combined with a tent suitable for hot weather, a fan can add an extra laying of cooling comfort.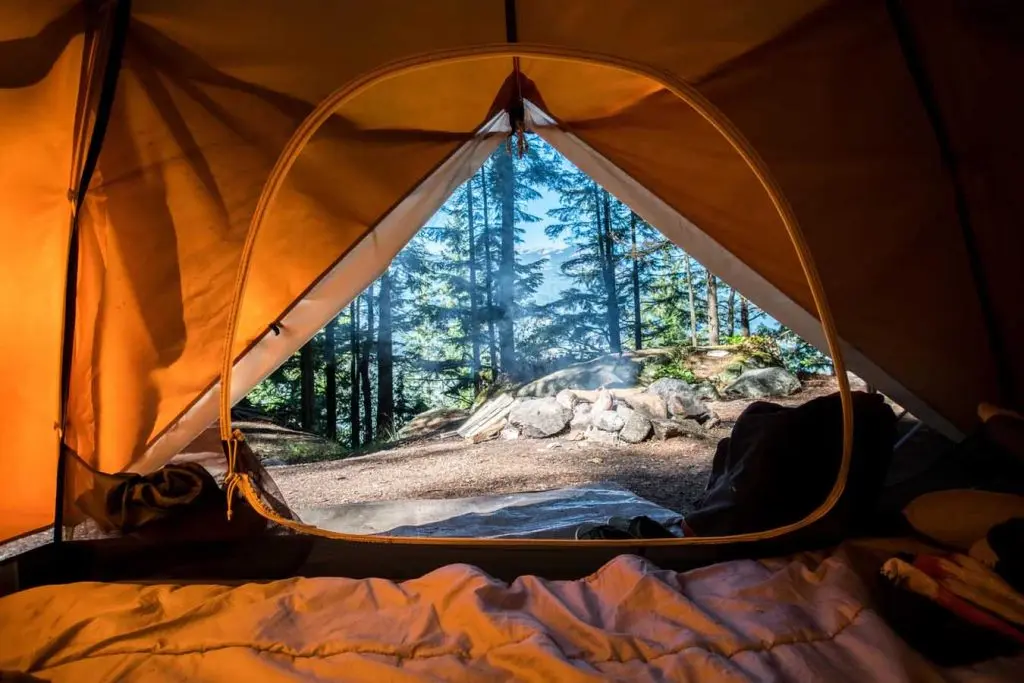 Disadvantages of using solar powered outdoor fans
Drifting clouds – Drifting clouds can reduce the fan's performance, by blocking out its connection with direct sunlight.
Low power – Solar-powered fans may not be as powerful as other electrical, motor-based and battery-powered options. This is because solar energy at this scale does not provide a comparative level of power, and it therefore may take longer to feel the fans benefits.
High initial cost – Like most solar-powered equipment, the cost that goes into buying the fan, solar panel, and any other accessories is usually high and can discourages buyers.
Over-reliance on the sun – Some fans extensively depend on the sun, particularly if they lack a system to store the absorbed energy, and this can dramatically reduce there performance.
Features to look for when buying a solar powered outdoor fan
Size
The size of the fan plays a key role in its strength, and there are a few factors to consider here:
Use – If you are looking for a tent fan to just personally keep you cool, then a smaller model of fan will be sufficient in most cases. However, if you aim to use it to help cool your living space and/or a small group of other people, you should consider a larger product.
Tent size – To effectively cool a large tent, you will need a large fan. Equally your tent must have the room to accommodate your chosen fan. 
Seasons – As size is linked to performance, if predominantly camping in the spring and fall (avoiding the summer) a smaller and lighter fan will in most cases be sufficient. However as mentioned, when in peak summer season, the larger the better.
Weight
For both RV camping and when travelling by car, both size and weight aren't so much of a consideration. However, if backpacking and carrying all your equipment, you should get a small and lightweight fan to reduce the weight of your load. 
Additionally, if you opt for a hanging fan, it should be light enough to hang from your tent's structure. As if it is too heavy there is a risk of it tearing the tent's fabric and/or damaging the tent's poles.
Alternative sources of power
Although the fan is primarily solar-powered, it would be wise to consider options that can also be powered by other energy sources. Some solar fans can also be powered via an AC supply or by using batteries. This might come in handy when the sunlight is low, or at night when there is no sun.
Voltage
High voltage fans will require more solar energy to power them, but they will reciprocate by giving out more power. Although low voltage fans will blow less intensely, they will consume less power and run for longer, especially if your solar-powered tent fan has an inbuilt battery.
Durability
A fan's durability is measured by how well it holds up when travelling and exposed to the natural elements. The fan's durability is contingent on the materials used to make the fan's blades, outer casing, and internal components.
A pricier fan is also more likely to last longer due to the quality of materials used to manufacture it. A fan that is waterproof and dust-proof can be considered more durable.
Blades
Fan blades can be broken down into three categories; metal, plastic, and foam.
Metal blades – These are the more efficient, as they are able to move larger amounts of air, however being metallic, they are the heaviest option of the three.
They are also the most dangerous, and more likely to injure your fingers if caution is not taken.
Plastic blades – These are lighter and the most suitable option for portable fans, although they are also the most delicate if dropped.
Foam blades – Foam blades are more popular with tiny fans that don't have a protective screen. The material is soft, and this makes for less effective airflow. These blades are less likely to injure you, which makes it ideal for camping with the kids.
Adjustability
You should opt for a fan that has more than one-speed setting, most fans usually have 3 as standard. A fan with more speed settings is more versatile over the seasons, and offers more options, increasing its comfort levels. Also, multiple speed settings let you use the fan for different purposes like drying out clothes, air circulation, and cooling.
The adjustability of a fan can also be viewed in terms of whether you can change its orientation. 
Set-up
With respect to setting up the fan, tent fans can be grouped into two:
Hanging fans – These fans can be suspended from the top of your tent, and as a result are often lighter than freestanding models, so that they don't compromise the tent's integrity.
Due to this requirement however, the fans performance is often slightly compromised. Its also worth noting that people with smaller tents may not have the head height for such a fixing.
Freestanding fans – These are more common and offer increased airflow and versatility, that is predominantly provided through their portability and adjustable heights and rotation.
Precautions for using a solar powered outdoor fan
There are a few do's and don'ts when using a solar-powered fan:
Don't set the fan too close to threads and hanging loops as they could get caught up in the fan's mechanism.
Place your standing fan on a flat surface to prevent it from tipping over.
Consider using a fan with a protective screen, especially if you are camping with children and pets.
If you are using a hanging fan, make sure it is securely suspended to prevent accidents.
---
The Best Solar Powdered Tent Fans…
There is an overwhelming number of solar fans on the market, and even with the above in mind it can be difficult to find the right product.
So for speed and efficiency we have only review the products that we feel are the most worthy of selection, and this often results in a list that is a little smaller than the "10 best" collections we see everywhere else.
The below carefully sourced 5 solar-powered fans form a list of what we consider to be some of the best products currently available:
01 – VBestlife Solar Powdered Fan
Fan size – 9.4x 10.2×4.7 inches | Weight – 2.34 pounds | Blade Material – metal | Power – 7W | Alternative power input – AC input, USB power | Number of settings – 1
Solar Panel Powered Fan,7W 5.5V Outdoor Portable Camping Fan...
MULTIFUNCATION:The fan can use alternating current in the room, solar charge packs can be used outdoors.
MULTIFUNCATION:The fan can use alternating current in the room, solar charge packs can be used outdoors.
MULTIFUNCATION:The fan can use alternating current in the room, solar charge packs can be used outdoors.
MULTIFUNCATION:The fan can use alternating current in the room, solar charge packs can be used outdoors.
This is a freestanding fan is a plug and play device that uses solar power and/or AC to run it.
The included solar panel has a USB 2.0 port that you can use to power your phone or music player. The panel also comes with a pouch that makes it easy to carry.
The fans metallic blades provide sufficient airflow, which comes in handy on those hot days.
Pros
The solar panel comes with an easy-to-carry pouch.
The fan is very easy to install.
Cons
Only one speed setting.
Lacks swivel settings, which means you would have to physically move the fan to change the fan's direction of airflow.
---
02 – Garosa USB Solar Powdered Fan
Fan size -7.1x 3.9×2.7 inches | Weight – 1.14 pounds | Blade Material – metal| Power – 4.5W, 6V | Alternative power input – USB power | Number of settings – 1
Garosa Solar Panel Powered Fan with USB, 6V 4.5W Mini...
Solar panel and USB powered fan for versatile use,The fan starts to operate when plugged to the solar panel and it can also get power from other USB devices, such as power bank, computer, etc.
Premium metal frame with adjustable support stand for stable placement,Please kindly know the solar panel doesn't have power, which need under sun light to work. If you use it indoor, please use USB to connect power.
Perfect for outdoor activities such as traveling, hiking, and camping,Fan is made from premium metal frame, with adjustable support stand, you can place it stably on the table and make this mini fan in a convenient angle.
Operating efficiency depends on sunlight intensity when plugged into solar panel,This is an USB solar energy powered mini portable fan perfect for use in outdoor travelling, fishing, hiking, picnic and so on.
This fan starts operating immediately it is plugged into the solar panel, via a USB port. This feature makes it possible to power the fan using other USB devices like power banks and computers.
It is able to swivel back and forth. This adjustability lets you enjoy the fan's breeze from any angle. A feature that we particularly liked was that the fan is also waterproof. 
Includeds a solar panel and a 17.7-inch long USB cable upon purchasing.
Pros
Waterproof.
The package is inclusive of a solar panel.
It can be powered by multiple power sources.
The fan starts to run immediately it is plugged in.
Cons
Has only one setting which might be uncomfortable for some users.
The metallic blades may be unsafe for children.
---
03 – Solar Ventilator Solar Powdered Fan
Fan size – 4 inches diameter | Weight – 10.4 ounces| Blade Material – metal| Power – 5W | Alternative power input – none | Number of settings – 1
This fan is tiny and more portable, thanks to its small diameter and lightness. Regardless of its tiny size, you can feel its effects from a few away. The product also has a stable stand to place on a flat surface. 
This fan comes with a foldable 5-watt waterproof solar panel and a 4-foot long connecting cord.
Pros
Small and lightweight, making it suitable for backpack campers.
The included solar panel is foldable, enabling it to fit into small spaces.
Cons
Not suitable for large areas.
It has no adjustability settings, in terms of both swivelling and speed setting.
With no alternative power sources, the fan cannot work when there is no sunlight.
---
04 – West Harmonics Solar Powdered Fan
Fan size – 11.2 inches diameter | Weight – 5.46 pounds| Blade Material – metal| Power – 12 Volts | Alternative power input – DC power, 12V battery | Number of settings – 2
This freestanding fan is the most powerful in this review. It has three 9-inch blades that rotate at two speed settings, depending on your comfort.
The fan comes fully equipped with a 10-watt solar panel and a 5-foot long DC connector. The kit also includes a 10-foot long extension cord. This brings the longest possible distance between the panel and the fan to 15 feet.
It is important to note that the panel will not power the fan if it placed under filtered light, for example at a window.
However aside from solar power, the fan also runs on battery power. This feature comes in handy when there is little sunlight or overnight.
Pros
Multiple energy sources, so you can use it whether or not you can access sunlight.
With 2 speed settings, you can regulate the airflow speed of the fan to your comfort.
The large blade sizes also optimize airflow.
The manufacturer is a leading company in the making of fans.
Cons
Cannot run on secondary sunlight, e.g light that has passed through a window.
Lacks swiveling ability.
There is no system for it to store the solar energy it harnesses.
---
05 – Yodaily Solar Powdered Fan
Fan size – 5.4×2.29×3.1 inches | Weight – 0.32 ounces| Blade Material – metal| Power – 3W | Alternative power input – USB | Number of settings – 1
This fan, like the others, has no rechargeable batteries. This feature lowers its energy consumption. If you need to use it inside your tent, or overnight, you can power it using a USB cable connected to a power bank or your computer (if you carried one).
Under high sunlight intensity, the fan works optimally, and you can feel its effects up to 10 feet away. On cloudy days, the fan doesn't work as well and can even fail to work.
Includes a 5×5 inch solar panel and a short power cord, that is less than 2 feet long. 
Pros
Full swivel function, means you can easily adjust its position.
Cons
The connector cable is too short, and you would have to buy an extension cord to increase the distance.
With only one power setting, you can't control the speed of the fan's blades.
Related guides