Whether camping is your hobby or you are planning to go for your very first trip, you must be aim to carry as many of the core camping essentials as possible. As these are often the key to having the most comfortable and memorable experience. 
When it comes to these camping tools and equipment, a small wood burning stove is among the most useful not just for its portability and flexibility, but also in case of emergencies.
Due to their low and fordable profiles, they can be packed and taken on just about any camping trip and provide a wide range of functions and uses.
In this article we begin with a list and review of our favorite and recommended 6 best small wood burning stoves, and then take an in-depth look into the most important aspects and elements that need to be considered before buying such a project.
The best small wood burning tent stoves are…
For speed and efficiency the below products form a list of what we consider to be some of the best wood burning tent stoves currently available:
Best Backpackers: Lixada Small Camping Wood Stove
Best For Value: Ohuhu Small Camping Wood Stove
Runner Up: Überleben stoker Small Camping Wood Stove
Best Overall Winner: Soleader Small Camping Wood Stove
Best Performance: Canway Small Camping Wood Stove
Best For Groups: Unigear Small Camping Wood Stove
---
01 – Lixada Small Camping Wood Stove
Product Dimensions – 4.3" x 3.8" x 3" | Weight – 11.5 ounces | Material – stainless steel | Collapse Flat – Yes | Warranty – Yes | Accessories – Stove & Alcohol Tray and Storage Sack
This small camping stove by Lixada is a highly durable and robust stove, that thanks to its strong titanium steel construction, provides a sturdy and stable structure and platform.
The wood stove features an open design, that makes it convenient to use and easy to add and replace firewood, whilst providing a good amount of air flow into the stove itself.
In addition to the compact size, the stove is foldable, and able to easily fit into the smallest of backpacks.
Pros
Lightweight and portable

Strong and sturdy construction

Unique design improves efficiency and performance

Reusable
Cons
It consumes fuel at a high rate due to plenty of air that gets in
---
02 – Ohuhu Small Camping Wood Stove
Product Dimensions – 5.3" x 5.3" x 3" | Weight – 12.8 ounces | Material – stainless steel | Collapse Flat – Yes | Warranty – Yes | Accessories – Stove & Alcohol Tray and Storage Sack
Designed for avid campers, here Ohuhu have design a small, lightweight and affordable small wood burning stove.
Packed with an array of features the small stove has a 3-arm base system that enhances its safety and stability. The compact and lightweight nature of the stove makes it extremely portable, and comes with a useful mesh carry bag for easy transportation.
The sturdy stainless steel makes the wood burning stove strong and durable.
Pros 
It is strong and durable

The stove is compact and lightweight hence portable

It is very stable
Cons
Slightly difficult to refuel
---
03 – Überleben stoker Small Camping Wood Stove
Product Dimensions – 6" x 5.5" x 4.5" | Weight – 14.6 ounces | Material – stainless steel | Collapse Flat – Yes | Warranty – Yes | Accessories – Canvas sleeve breathable
The Überleben stoker wood burning stove is built from stainless steel, and guarantees strength and durability whilst camping. 
The stable yet minimalist design helps to ensure that fuel is fed efficiently and effectively.
Pros
It is Strong and durable

It is lightweight and portable

The stove is easy to use
Cons
---
04 – Soleader Small Camping Wood Stove
Product Dimensions – 5.5" x 5.5" x 3.2" | Weight – 18 ounces | Material – stainless steel | Collapse Flat – Yes | Warranty – Yes | Accessories – Stove windscreen
This Soleader camping stove features an open mouth design, that helps to boost its performance whilst enhancing convenience when cooking.
The gasification design ensures that there is complete combustion of fuel.
The body of the stove is made of stainless steel for strength and stability.
Pros
Has an efficient combustion system

It is stable and sturdy

It is compact and lightweight

It is Environment-friendly
Cons
The arms don't stick to their designated position
---
05 – Canway

Small Camping Wood Stove
Product Dimensions – 5.3" x 5.5" x 3.38" | Weight – 12.8 ounces | Material – stainless steel | Collapse Flat – Yes | Warranty – Yes | Accessories – One storage bag
This wood burning stove from Canway has been design with an efficient thermal system, that enables it to burn fuel for a longer period of time than many of the other stoves on the market.
The stove is also built for strength and durability thanks to the stainless steel material. The three arms ensure that the cooking platform remains stable.
Pros
Burns firewood at a slower rate

The compact design makes the stove portable

It is durable 

The stove is stable
Cons
The stove is slow and smoky
---
06 – Unigear Small Camping Wood Stove
Product Dimensions – 6.3" x 0.8" x 7.1" | Weight – 24.64 ounces | Material – stainless steel | Collapse Flat – Yes | Warranty – Yes | Accessories – One carrying bag
This small Unigear wood burning camp stove has a lightweight and compact design that makes it perfect for backpacking and general camping with minimal weight and equipment. 
The stainless material of this stove makes it ideal for rugged conditions. It is a heavy-duty stove that can last for long.
Pros
It is highly dependable due to the quality of construction

It is easily portable

This is a multifunction pot as it can accommodate different pots

Quite efficient in cooking
Cons
Does not come with a grate
---
Verdict
As you can see, all these stoves have their own unique sets of features to suit different campers' needs. 
That being said, the Soleader small camping wood stove stands out on this list due it being packed with numerous high-end and unique features. The gasification design provides room for secondary combustion, which greatly helps with preserving fuel while whilst maximizing the heat output.
---
Why buy a small wood burning stove for camping?
Cooking
While out camping, there is always the need for fresh, hot food. Cooking is a necessity. A small wood burning stove provides the most convenient way of preparing meals whilst on the go.
Heat
Camping nights are always cold regardless of the season. Tents are not designed to provide the needed insulation. A small wood stove can come in handy to provide additional warmth.
Drying your laundry
Whilst away, just like any other outdoor excursion, you will likely be exposed to the elements, including rain. Or perhaps your clothes and other possessions will get wet in some other way. You can use a wood stove to dry some essentials such as socks and gloves.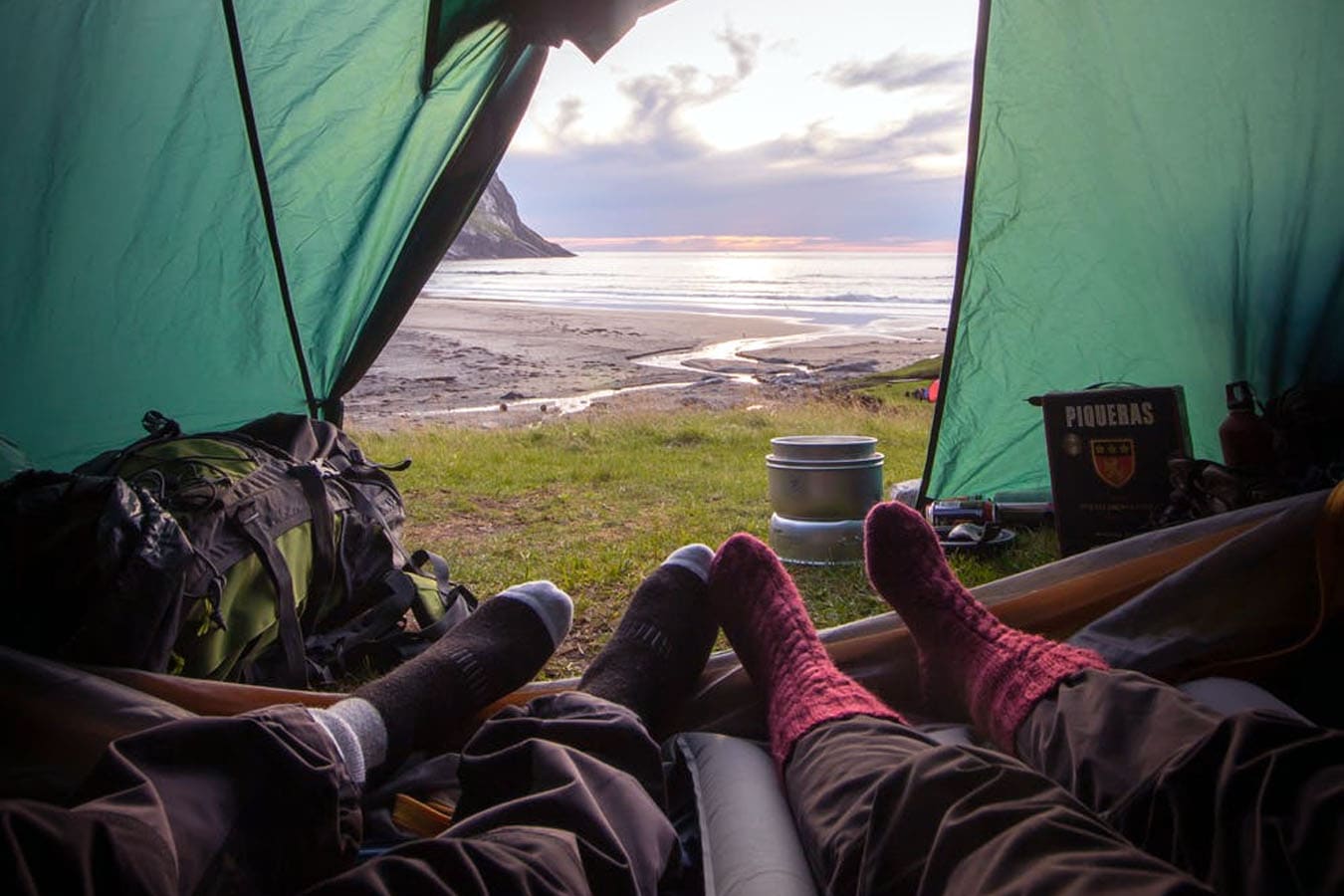 How to choose the best small wood stove
Weight
Small wood burning stoves come in many different weights, some are heavier than others. The weight of a wood stove is usually determined by the types of materials that have been used.
You should pay attention to the weight as it will determine your comfort and convenience. It will be extremely uncomfortable to carry a heavy stove over a long distance. 
Your means of travel will also determine help to determine this. If you are traveling by car, the weight may not be an issue. But if you are trekking, cycling or using a motorcycle, you will definitely need to go for a lightweight model.
Quality and Type of Material
The type of material used will determine the physical and structural properties of the stove.
Since camping stoves are subjected to extremely harsh conditions such as fire, and water, you should strive to buy one that is made of premium quality.
The higher the quality the longer your stove will last. You should also look at the safety of the material, as some have toxic compounds.
Group size
Will the stove meet the needs of your camping group? It is vital to consider the group size before buying a stove.
Boiling time
Find out the time the stove takes to boil water. This is the best way of measuring the performance and efficiency of its output. 
Even if you are not in a hurry, you don't want a stove that will keep you waiting for long periods of time and waste fuel. 
Warranty
Even if the manufacturer claims that their wood stove is of high quality, they should do more to prove this point. This can be done by offering a warranty.
Through warranties, you will know that the stove has a full manufacturer's backing in case of any problem.
Foldability
The foldability of a small wood stove will have a direct impact on its portability. The more foldable the stove is, the more portable it will be. You should be able to fold, pack and go with it anywhere.
You also need to consider the ease of folding the stove. You should not struggle to do so.
Stability
The best wood stoves for camping should be very stable. It should remain upright and sturdy when in use so as to minimize accidents.
Benefits of a small camping wood stove
Wood camping stoves come in different sizes. Some are large while others are small. So why should you choose a small camping wood stove? Well, here are a few good reasons: 
Highly portable
It is easy to carry a small wood stove to whichever camping destination that you are going to. The small size of the stove means that it can fit anywhere. The minimum weight of the stove also means that you won't strain when carrying this stove. In short, this is a carry-and-go camping stove.
Eco-friendly
Small wood burning stoves have minimal impact on the environment, and affect their immediate environment in the smallest possible way, through producing much less carbon monoxide and other greenhouse gases. 
An ideal alternative to a campfire
Despite its small size, a wood burning stove can be an ideal alternative to a campfire. First, the small wood stove consumes less wood than the campfire. Secondly, it is easier and more convenient to handle a wood stove when compared to an open fire.
In recent years, there have been numerous cases of wildfires. Quite a good percentage of these fires are caused by campfires. The ease of managing a small wood stove minimizes the risk of wildfires.
Adventure
While a camping trip is an adventure by itself, a small wood stove can make the whole experience to be even more adventurous. With this type of stove, you won't have to carry your fuel, as instead, you will look for the firewood once you have arrived at your camping destination.
Exploring  nature and scourging for wood is for a lot people, part of the experience. 
Disadvantages of using a small camping stove
As much as small wood stoves are convenient to use, they are not perfect, and when weight and transportation are less of an issue, a wood burning tent stove is far more efficient.
More time, effort and practice required
Although these stoves look simple, they can be rather frustrating when it comes to using them. You may have to spend more time and effort practicing how to use this stove.
Slower cooking times
The small size of the stove means that the heat generated may not be sufficient for fast cooking. This can be troublesome if you are planning to cook for a large group of people.
Usually heavy
Despite being small in size, these wood stoves tend to be heavy. The manufacturers make them heavy so that they can remain stable. The heaviness of the stoves can limit their portability.
Hard to find fuel when wet
If it rains while you are out camping, finding firewood for the stove can be difficult. 
Blackens the bottom of your cooking pot
Usually, small wood stoves for camping generate smoke and soot, which will be deposited at the bottom of your cooking pot. Your sparkling clean pots will turn black and sooty.
Cant use during fire bans
To mitigate the incidences of wildfires, most states and organizations ban the use of wood stoves. Such bans can render your camping stove irrelevant, regardless of how efficient it may be.
Not good for a winter trip
A small wood stove may not be ideal during winter trips. One of the reasons is the scarcity of fuel.  It is almost impossible to find dry wood during winter.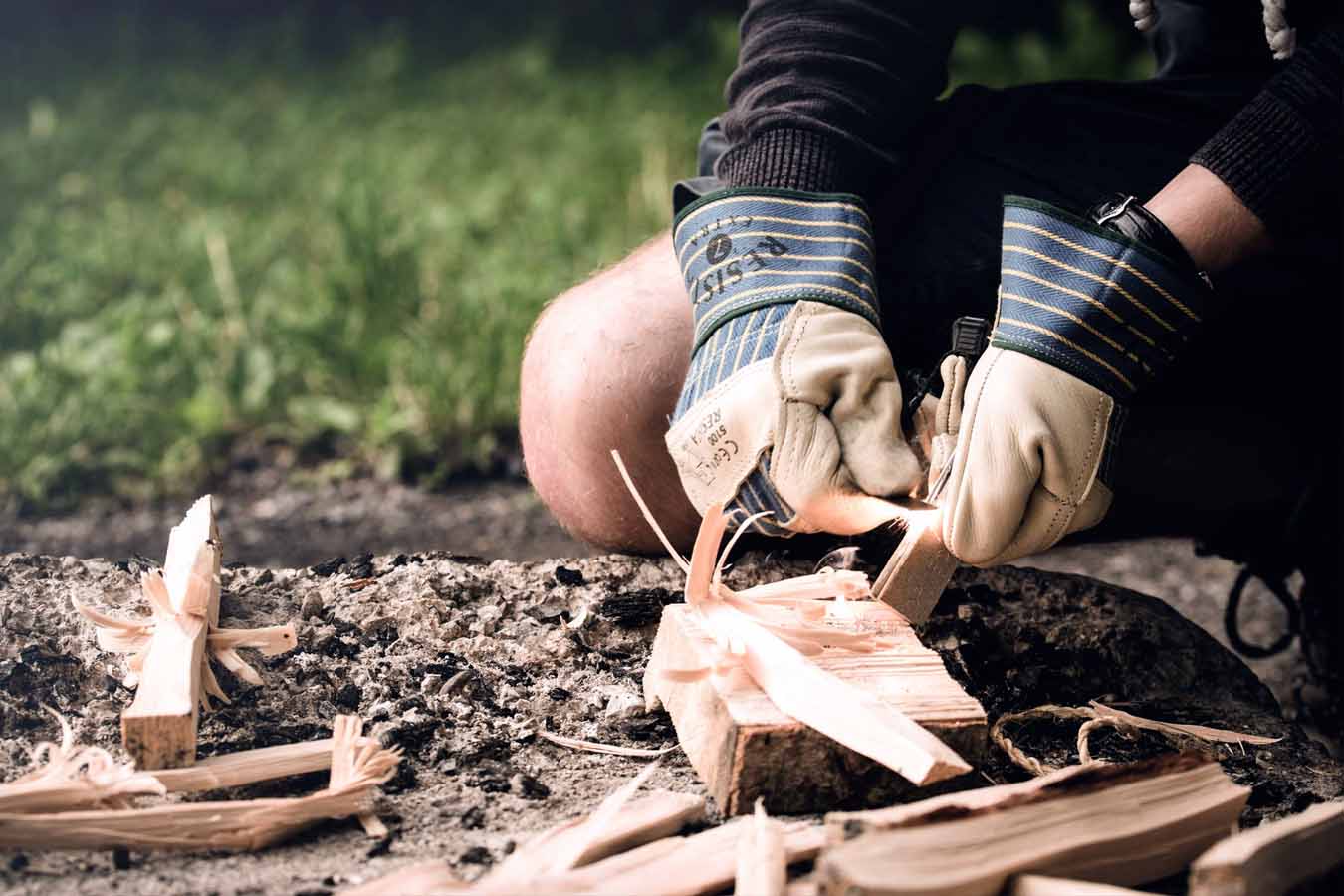 Small camping wood stove tips
Your camping trip should start and end smoothly. There should be no stove-related accidents or incidences that can dampen your spirits. Here are some tips for using small camping wood stoves:
Use on designated areas
Most campsites have designated areas where you can comfortably use your wood stove. Always use it within the set boundaries. Designated areas are usually selected for safety reasons.
Check out the place
Even if there is no designated area, you should take up the task of inspecting the area to determine whether it is suitable for the stove. Choose an area that is open and flat.
Place the stove on flat ground
Ensure that the stove rests on flat and stable ground. A sloppy or slanted surface could spell disaster. Apart from obvious safety reasons, it is also easier to use the woodstove if it is on a flat surface.
Never leave the stove unattended
You should always be there to monitor your small wood camping stove. This will help to prevent any accident that can arise when the stove is burning.
Allow the stove to cool
Do not be in a hurry top pack the stove after you have finished using it. Give it some time so that it can cool down. 
Never leave hot ashes
After removing ashes from the stove, ensure that they are completely extinguished. 
Never leave hot ashes as they can reignite and cause a major fire accident.
Use the stove in an open environment
Do not use your wood stove within a closed environment. Instead, find an open space where there is an uninterrupted flow of air. Using the stove in a closed environment can cause suffocation and even carbon monoxide poisoning.
Supervise children when they are using the stove
Even if your children know how to use the stove, don't let them run the show alone. Supervise them strictly so that you can act in case of anything. You will also be available to provide the necessary guidance so that they don't end up making any mistakes that could cause fires. 
Pack the stove securely
Once you are done with using the stove, pack it carefully. This will ensure that you don't damage the stove or other items around it.
Clean the stove when not in use
You should always ensure that the small wood stove is in pristine condition when not in use. Cleaning the stove eliminates chances of rust and other elements that can cause physical and structural damage. In the long run, your stove will remain strong and durable.
Accessories for Small Wood Burning Camping Stoves
The best wood burning camping stoves are usually packaged with some accessories, although sometimes you may have to buy them separately. The essential accessories include:
Windshield
The purpose of the windshield is to protect the fire from the effects of wind. It surrounds the whole stove providing that needed protection.
Firestarters
Lighting up firewood can be quite hectic. Firestarters simplify this task by getting the flame up and burning within a short time.
Wood grate
This is an accessory that protects the base of the stove from the effects of fire. Since the grate rests on the stove, all the ashes will remain on it. This also makes the process of clearing out the ash easy.
It also helps to keep the stove durable.
Related guides
How To Find The Best Propane Tent Heater
Guide to Finding the Best Camping Tent Heater
Guide To Finding The Best Electric Tent Heater
How To Find The Best Solar-Powered Tent Heaters