In this article, we take a close look at how to choose the best wood burning stove by identifying what contributes to a high performing product, what the important aspects are to consider before buying, and what makes one stove better from another.
The best camping wood stoves are…
Firstly for speed and efficiency the below products form a list of what we consider to be some of the best wood burning stoves currently available:
Best Overall: Emberlit FireAnt, Titanium, Camping Wood Stove 
Runner Up Hanging Fan: Bushcraft Essentials Bushbox XL Camping Wood Stove 
Best Clip On Fan: BioLite CampStove Campstove Camping Wood Stove 
Best Freestanding Fan: Winnerwell Nomad Camping Wood Stove 
Runner Up Freestanding Fan: EcoZoom Versa Camping Wood Stove
---
01 – Emberlit FireAnt, Titanium, Camping Wood Stove Review
Product Dimensions – 3.5 x 5 x 4 inches | Weight – 2.8 ounces | Material – titanium | Collapsible – Yes | Portable – Yes | Warranty – Yes
The Emberlit FireAnt is a foldable stove made of pure titanium. This stove will easily fold flat, making it easier to pack in your backpack and go hiking with. It makes for a great travel companion and can be set up pretty quickly. 
One of the strengths of this stove is that it is a multi-fuel stove. That means it can work with both solid and gel fuels. Also, in case you're using an alcohol stove, you can fit it into the custom slots on the FireAnt.
Add to that a weight of only 2.8 ounces and you've got a stove you can take with you anywhere you go. 
---
02 – Bushcraft Essentials Bushbox XL Camping Wood Stove Review
Product Dimensions – 4.9 x 7.4 x 4.9 | Weight – 1.8 pounds | Material – stainless steel | Collapsible – Yes | Portable – Yes | Warranty – Yes
We'll point out right from the start: this wood burning stove is made of stainless steel. Now, that's pretty great, only some customers have actually complained about it warping easily and becoming non-foldable. 
Apart from that, it's a great foldable wood burning stove with lots of great features. It has a Universal Grate, which for us was its greatest feature. This grate can be used as a platform for a cooking grill or a Trangia. You can also use it as a grate for wood pellets or charcoal.
It has an integrated grate and ash plate near the bottom where you can store ash from the wood for disposal later. 
The hinges are no-stick hinges, which makes them super flexible. The stove itself is overall pretty easy to fold flat and therefore highly portable. If you would also like to slot tent pegs through it for added stability, then you'll appreciate the tent peg grill holes near the top. 
---
03 – BioLite CampStove Campstove Camping Wood Stove Review
Product Dimensions – 5 x 5 x 8.3 inches | Weight – 2.07 pounds | Material – stainless steel | Collapsible – Yes | Portable – Yes | Warranty – Yes
No products found.
If you're looking for a wood burning stove with all the bells and whistles, then this is a great option to consider.
It can charge your phone, comes with an integrated battery and fan to keep the fire going, and has a large grill top that can fit up to 4 burgers. 
The BioLite technology converts the heat energy from the stove into electric energy, providing 3 watt power that you can then use to charge your electronics, when not close to a power source. It also comes with a batter and fan attached, that keeps the fire burning and the smoke away.
The great heat is capable of boiling a liter of water in just 4.5 minutes, making it great for those who are pressed for time. 
This is a large and expensive wood stove, so it's definitely not for your average backpacker. It's best for those with RVs and car campers who, while they enjoy the outdoors, don't want to pack too much gear. 
---
04 – Winnerwell Nomad Camping Wood Stove Review
Product Dimensions – 15 x 8 x 8 inches | Weight – 20 pounds | Material – stainless steel | Collapsible – No | Portable – Yes | Warranty – Yes
Now, we have to admit that this is a very heavy stove. It weighs a whopping 20 pounds, so it's definitely not for your average backpacking hiking trip.
It's also got a large cooking surface, which makes it perfect for cooking for large groups of people. That said, even for its weight, it's still quite portable. The 4 legs can nest under the body, the chimney can be stowed away inside the body, and the side shelves double as handles. 
We love the design. It includes a wide grill top with side shelves to increase your cooking surface, 800 cubic inches of storage space, and a build that's designed to brave the harsh outdoors.
If only they could make something like this for backpackers. Either way, it's still a pretty good product offering great value for money. 
---
05 – EcoZoom Versa Camping Wood Stove Review
Product Dimensions – 13.5 x 12.75 x 12.25 inches | Weight – 17 pounds | Material – stainless steel | Collapsible – No | Portable – No | Warranty – Yes
While the EcoZoom is pretty expensive, bulky, and certainly not meant for backpacking, it is still one of the best wood burning stoves on the market for those who want something a little more than a light backpacking stove.
It can use any combustible biomass as fuel, including wood, charcoal, leaves, and twigs. It's also highly energy efficient and eco-friendly.
It doesn't need as much fuel as your average wood stove to burn, and it has an insulated vertical combustion chamber that feeds enough gas to the flames for a more efficient fire. It doesn't have as much smoke emission as your average wood stove. 
The stove top is medium sized, though you can still use it to cook up quite a lot of food. It also comes with a stick support that makes feeding biomass fuel to the stove super easy. What's more, even though it's bulky, it comes with a carrier bag, which helps the portability a bit. 
---
Wood Burning Stove Uses
You might be wondering why you should get a wood burning stove when you go camping. Actually, why get a stove at all, wood burning or otherwise? 
Think about it, there are plenty of reasons why a stove would be a good idea. You can use it to cook, in case you have any raw food you would like to prepare. That way, you can have some fresh food when you go camping, and don't have to rely on prepackaged food. 
You can also use a stove to warm yourself at night. Nights out camping can get quite chilly, and a stove could be a literal life saver in such a situation. You can also use them to dry things that get wet, and also to boil water. However you look at it, a stove is a great item to have on your camping trip. 
So that's why you might want a stove, but why would you want a wood burning one? Well, for starters, wood is easier to source and readily available unlike gas.
Another reason why a wood burning stove is such a good idea is that gas stoves use fossil fuels, which are not good for our climate and environment. While wood does release CO2 into the atmosphere, it is all balanced out when new trees are planted and the CO2 is reabsorbed out of the atmosphere by the same trees (the 'breathe in' CO2 and 'breathe out' oxygen).
So long as we plant the same number or more trees than we cut, burning wood shouldn't be a problem. The problem comes in when wood isn't the only source of carbon released into the atmosphere. When we release carbon from other sources, such as fossil fuels, then there certainly won't be enough trees to reabsorb it.
Wood is therefore the more environmentally friendly option to go for compared to gas. 
What to consider before buying a wood burning stove
Weight
The weight, and also the size of your wood burning stove, is an important consideration to make when picking out a stove. It will determine just how portable that stove is going to be when you decide to travel with it.
It will also be a significant factor in the amount of weight the stove can handle and how much you can cook on it at a single time. The main balance here is between cooking space, which would be maximized by a larger and heavier stove on the one hand, and portability, which is maximized by a smaller and lighter stove on the other hand. 
If you're only going hiking and have the most basic of needs, then you don't need that much cooking space, especially if you're alone. All you need to carry along with you is a simple hiking pot, which you can use to do all of your cooking. That will allow you to boil some water and make yourself a cup of tea or coffee. 
On the other hand, if you're going camping with a lot of other people, or just generally need a large cooking space, then you should get a larger and heavier wood burning stove. 
Stability
Stability is another important consideration to make, especially when you're comparing the performance of one wood burning stove to another. A wood burning stove should ideally be able to stand upright on whatever surface you place it, whether gravel, earth, or otherwise. 
Think about it from a practical perspective. Imagine your stove tipping over and falling while you cook, spilling hot coals and wood all over your campsite.
Not only is this messy, but quite dangerous as well. When picking a wood burning stove, look for features that add to stability, such as a large base, the ability to plant tent stakes through the sides, and stabilizing arms. 
Storage
The larger the storage of the wood burning stove, the more wood it can store for burning and so the longer you can take before you have to find more wood for your stove.
A wood burning stove with less storage will need you to frequently load it with more wood in order to keep the fire going. This can be tiring. A wood burning stove with more storage will have a greater load of wood between replenishments and so will burn longer.
On the other hand, if you don't use your stove for intensive purposes, such as cooking lots of food or warming yourself throughout the night, then you don't need one with large amounts of storage.
Remember that a stove with larger storage is also more likely to be heavier and larger, affecting its portability. You should therefore go for a stove with storage that matches your needs.
Heat efficiency
The heat efficiency of the stove has to do with how much fuel it needs to provide heat. The more BTUs it has (British Thermal Units), the greater its heat efficiency.
Remember, however, that stoves with more BTUs will require more wood fuel, since it burns through fuel faster, and is usually best for stoves that cook large amounts of food for many people. If you're cooking for 4 of fewer people, 10,000 BTUs should do, while more people may need upwards of 20,000 BTUs. 
Price
In the world of wood burning camping stoves, prices can range wildly. You can get basic stoves for as low as $20, or you can get a premium stove made with the highest quality materials and with lots of advanced functionality costing something over $100. 
For most wood burning stoves, however, the price is somewhere in the range of $40 to $70. This will get you a nice wood burning stove of high quality that will serve you for a long time without being too large or too heavy. 
Group size
How many people will you be bringing along for your camping trip? If lots of you are coming along, then you should consider getting a larger stove with higher storage capacity and more BTUs.
Note that this will be a bit pricey to purchase. On the other hand, if only a few of you are coming along, or you're going on the camping trip alone, then it might be a good idea to carry a smaller, cheaper, and more portable stove. 
Boiling time
The boiling time is related to the heat efficiency. The higher the BTU count, the shorter the boiling time and vice versa.
Here it really depends on whether you're time conscious or you're boiling water for leisure. If you're not in a hurry, then the boiling time of the stove really shouldn't matter. On the other hand, if you're time conscious and would like to get things done quickly, then you should get a stove with a high BTU count so it can boil water faster.
Collapsibility
In today's advanced market, there are lots of great portable wood burning camping stoves that are collapsible. They are made of thin metal sheets that come apart easily or fold down on hinges.
With that capability, you can take the camping stove and pack it in a small flat space, unfolding it only when you need it.
It should be noted that such stoves aren't nearly as stable as solid stoves, but they're pretty good if you're looking for a highly portable wood stove that fits in your backpack and want something extremely light. Most of them are made out of either titanium or steel. 
Extra functionality
The additional functionality of a wood burning stove is among the greatest factors that affect not only its portability, but also its price. At the very least, every wood burning stove will boil your water for you and keep you warm at night. However, there are lots of wood burning stoves that come with lots of added functionality. 
There have been lots of advancements in the design of wood burning stoves over the years, with new ones coming on the market that are even capable of charging your electronic devices. Others have integral kettles and pots for boiling water and cooking as well as grill trays.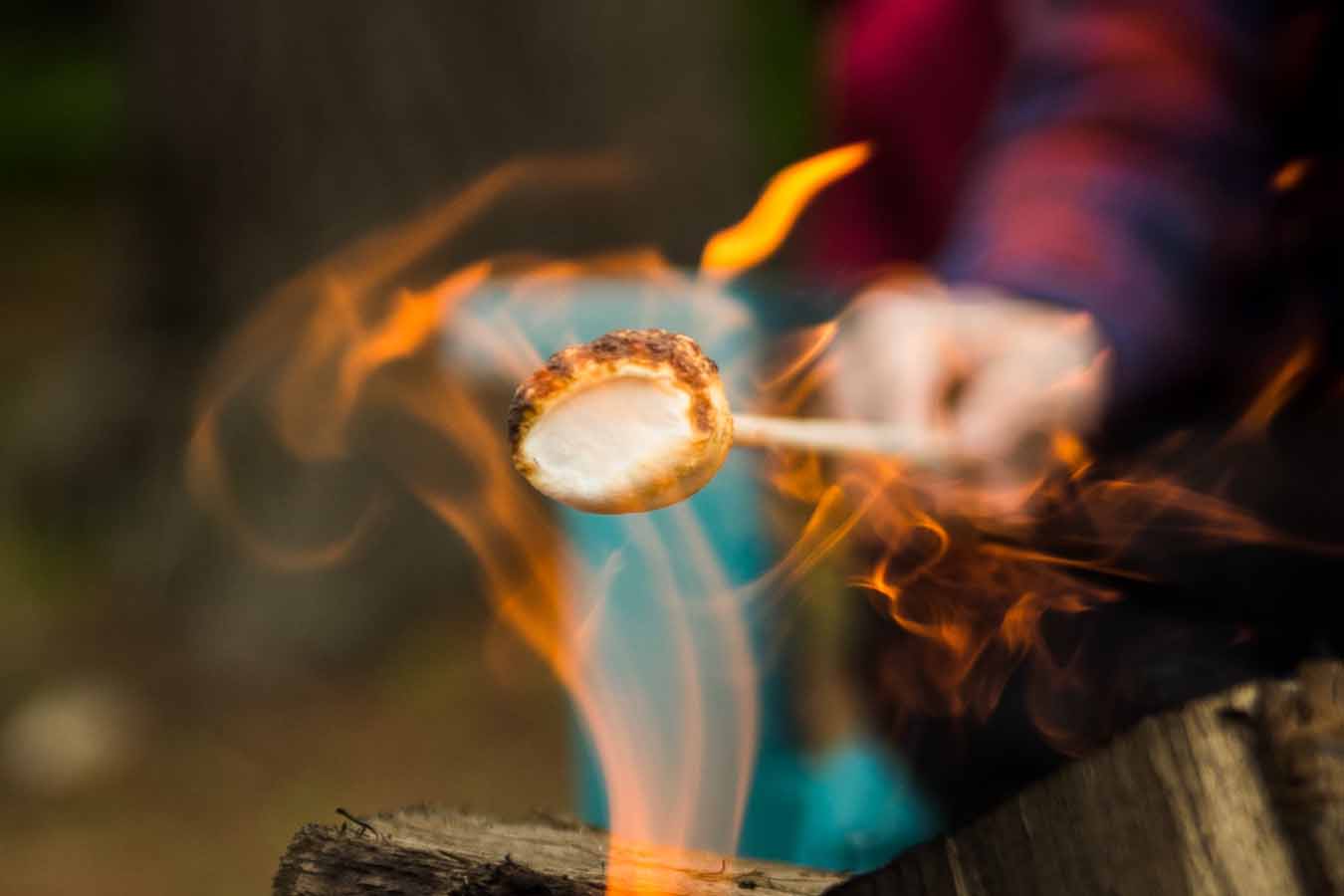 Benefits of wood burning camping stoves
There are lots of benefits to getting yourself a wood burning camping stove, as opposed to some other kind of stove, when you're going out camping.
With wood burning stoves, the wood is readily available. You can source it from the camp site. There is no need to transport fuel with you beforehand.

As a direct result of the above, wood is an extremely cheap source of fuel. In fact, it's absolutely free. 

Stoves are a great alternative to campfires, since there are lots of campsites that do not allow open fires.

Stoves use less fuel than an open fire. An open fire will, on average, use 8% more wood than a wood burning stove.

The process of finding and collecting wood around a camp site, especially if it's in the wilderness, can be lots of fun. Even just watching it burn and sharing stories.

Wood has a dual purpose, unlike gas, it can be used for cooking as well as a source of heat.

Wood is a renewable fuel source, and so is more environmentally friendly than gas.

Wood is great for winter camping, where it can be used to heat the inside of a tent.

Wood is also pretty effective for drying wet clothes, which can simply be hung near the wood stove. 

Wood is more practical than gas for backpacking and hiking. You don't need to carry your fuel along with you. 
Disadvantages of wood burning stoves
Despite all the benefits of wood burning stoves, there are a few disadvantages as well. 
A wood burning stove takes a lot longer than a gas stove to light and cook. The whole process of sourcing for wood, and then lighting it, takes longer than the instant lighting of a gas stove. Also, wood takes longer to cook and boil water than gas. 

Wood produces smoke, which can be a little unpleasant, especially in conditions of inefficient burning.

Wood is dirtier than gas. The handling of wood is bound to get your hands dirty. If that's not your thing, then you're probably going to be uncomfortable with it.

Wood needs to be found for it to be used. While the process of finding wood near the campsite to feed the stove can be fun, it can also sometimes be a cumbersome process. 

Wood can be difficult to handle when wet, as it won't light. Only dry, dead wood will light. 
Wood burning camp stove safety
While using your wood burning stove, it is useful to observe some safety procedures in order to avoid bringing harm to yourself and those around you. 
People often think that heat can only travel through loose embers, and so they take precautions there. However, heat can also travel through the ground. If something is close enough to a source of heat, it can spontaneously light on fire. That is why it is important to use a heat retardant mat when using a wood burning stove. 

You should keep all combustible and flammable materials away from the wood burning stove. This includes such things as aerosols and canisters. Make sure to keep all flammable materials away from the wood burning stove as well. 

In case you're using the wood burning stove in a sheltered space, make sure there is adequate ventilation to protect the occupants from carbon monoxide poisoning. 
Accessories for wood burning camping stoves
Even with a wood burning stove in your possession, there are a ton of accessories you might be interested in buying to make your experience better. Here are a few of them. 
Windshields
If you're ever tried to light a fire in the wind, then you know that it can be one of the most difficult and frustrating experiences you can have. Now, wood burning stoves are already designed in such a way that they are naturally shielded from the worst effects of the wind. However, the design isn't always perfect, and a little more improvement won't hurt. 
In case you can't find a natural windbreak stove on the market, you can consider buying a windshield for your stove as an alternative option. These are usually the form of a collapsible wall that you erect around your stove to protect it from the adverse effects of the wind. These windshields don't weigh too much and are usually designed to take up as little space and be as portable as possible. 
Fire starters
I mentioned that wood can sometimes be difficult to light, especially when the wood is damp, or there is a strong wind. For all their advantages, wood burning camping stoves aren't much use if you can't get the wood to light in the first place. 
If you're camping in a really damp spot, you might find it hard to get dry tinder for your stove, even if the weather is otherwise perfect and conducive to lighting a fire. Having to gather dry leaves to light your fire, or shaving down a branch to get to the dry parts can be a cumbersome process. 
This is where fire starters come in. They are tinder tabs that have been specially prepared to light up quickly with a ferro rod or lighter and burn with a very hot flame in order to start a wood fire going quickly. This will dry your kindling and get a fire going in no time.
Ferro rods and windproof lighters
While we're still on the topic of having a reliable way to start a fire when you have a wood burning stove, let's talk about ferro rods and windproof lighters. There are lots of lighting options, of course, including primitive methods like friction fire or bow drills, ferro rods, lighters, and matches. However, the ferro rod and the windproof lighter are the most reliable by far. 
Windproof lighters, in particular, have been around for a century and have been innovated to great levels. There are lots of them on the market, and you can choose whichever works for you.
Windproof lighters need a source of fuel or a charge to be lit. Once you get them going, they are a highly reliable source of ignition. 
"Ferro" is short for "ferrocerium", so ferro rods are really ferrocerium rods. These are based on old school steel and flint fire starters. All you have to do is scrap a piece of steel, such as a knife, rapidly across the surface of the ferro rod, creating a hot cloud of sparks that you can then use to ignite your wood fire. 
Pocket bellows
Another problem people often face when they're trying to get a fire going is getting enough air in to fan the flames. A successful flame needs not only fuel and heat, but oxygen as well. Sure, you could blow hard into your firebox, but that can get really exhausting really fast, and you definitely don't want your face too close to the fire. That's where pocket bellows come in. 
Pocket bellows will allow you to quickly feed enough air to your flames without getting your face too close to the fire. They are very light and don't take up much space when folded, making them highly portable.
Related guides
How To Find The Best Propane Tent Heater
Guide to Finding the Best Camping Tent Heater
Guide To Finding The Best Electric Tent Heater
How To Find The Best Solar-Powered Tent Heaters